ADATA HD710A USB 3.0 Rugged Portable HDD For Mac Review
By
Rugged External Storage For Mac Users
ADATA is very well known for their storage products which range from SSDs and thumb drives to memory cards and RAM modules. They also have a comprehensive line of external storage drives for nearly every application. We all know how fragile some external drives can be so they offer a line of "durable" drives meant to take the rigors of mobility in stride without putting your precious data at risk. For the mac users, ADATA has a version of this drive just for you with the HD710A Waterproof / Dustproof / Shock-Resistant USB 3.0 External Hard Drive. ADATA sent us a HD710A 1TB sample drive to see what we thought of it and we were happy to oblige.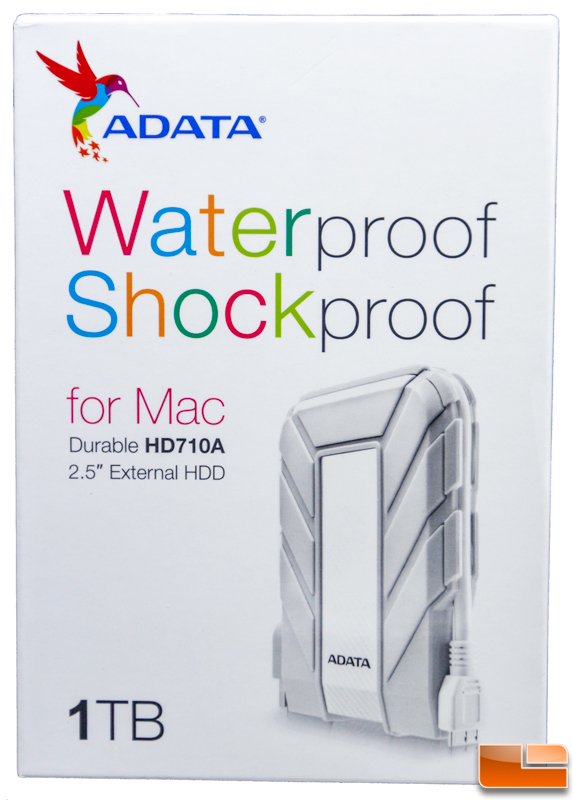 Available in 1TB and 2TB capacities, it's formatted from the factory to be compatible with Mac OS and play nice with Time Machine for easy backups. It comes in an Apple-like white and grey color scheme in contrast to its HD710 Windows counterpart which is offered in multiple colors and starting at $69.99 shipped for the 1TB capacity models. Other than the mentioned formatting and color schemes, the Mac oriented HD710A is virtually identical in specifications to the HD710. Amazon just this week started listing the HD710A and only has the 2TB model up for sale at $99.99 shipped, which is well under the $149.99 MSRP.
ADATA HD710A Waterproof / Dustproof / Shock-Resistant USB 3.0 External HDD Specifications & Features:
Designed for Mac supports Time Machine
Passes the strictest IP68 test for excellent waterproof and dustproof protection
Passes MIL-STD-810G military-grade shock-resistant test
Triple-layer construction with elastic silicone material for great shock absorption
Your choice of huge storage capacities: 1TB / 2TB
Wrap-around USB cable design for an elegant storage solution
Capacity: 1TB / 2TB
Color: White
Dimensions (L x W x H): 132 x 99 x 22mm / 5.2 x 3.9 x.9
Weight: 220g / 7.8oz
Interface: USB 3.0
Operating Temperature: 5-50C / 41121F
Accessories: USB 3.0 cable, Quick Start Guide
Warranty: 3 years
Model Number /Price: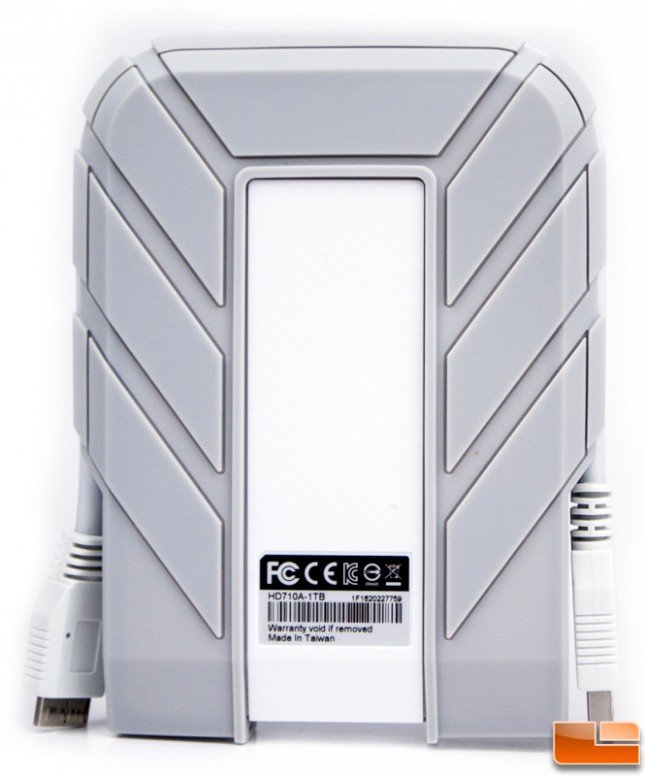 The exterior is wrapped in a triple layer elastic silicone compound which makes it durable enough to pass a MIL-STD-810G military-grade shock-resistant test. The center is hard plastic with a faux carbon fiber texture which doesn't show up well in all of the images but looks nice in person.

The silicone wrap has a channel around the outside edge that allows for easy storage of the accompanying USB 3.0 cable which is super handy as without the cable, it transforms into a paperweight. No more rubber bands or pouches needed to carry it compactly.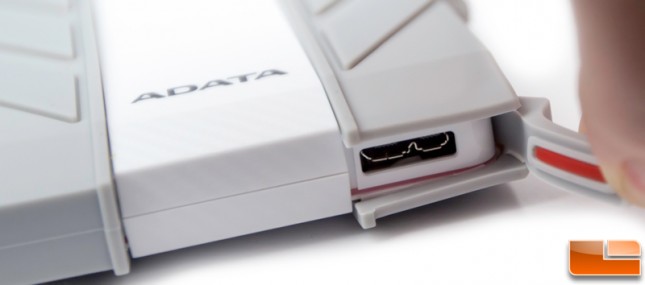 The USB port itself is covered with tab that's part of the silicone wrap. This is what protects it from water and dust which, per the ADATA specifications, it passes the IP68 test for waterproof and dustproof protection. This Ingress Protection rating is numerical designation representing the degree of protection from solids and liquids respectively with the solids ranging from 1-6 (6 being the best) and liquids from 1-8 (8 being the best). So a IP68 rating means it is impervious to dust and long term immersion up to a specified pressure, which in this case is 1.5 meters for up to 60 minutes.