ADATA DashDrive Elite 500GB HE720 External Drive Review
By
Free Space and Final Thoughts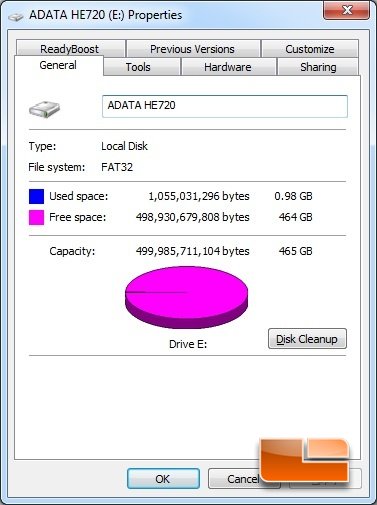 Taking a look at the capacity of the ADATA HE720 hard drive we see that in Windows, there is 465GB available to the user as reported by Windows. This is with the applications and folder that ADATA shipped with on the drive. The ADATA Sync software and users guide took up about 6MB of space.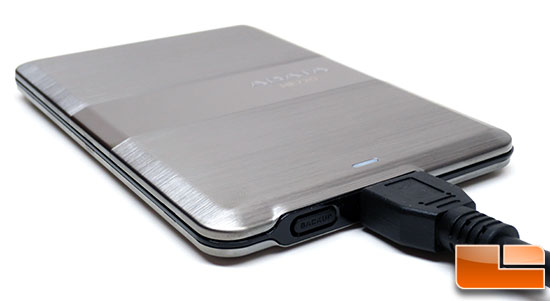 Final Thoughts and Conclusion:
The ADATA DashDrive Elite HE720 500GB external hard drive was found to have solid performance, but you can quickly figure out that this drive isn't about performance, it is about the form factor. ADATA wanted to create the thinnest external hard drive in the world and at 8.9mm, they were able to do just that with the HE720. Sure the performance, features and warranty of the HE720 don't stand out from the crowd, but the HE720 looks good and is thin! The WD My Passport Edge 500GB hard drive is 12.8mm thick, which makes it nearly 44% thicker than the ADATA HE720. We took a photo of the two sitting next to each other and you can see that image below.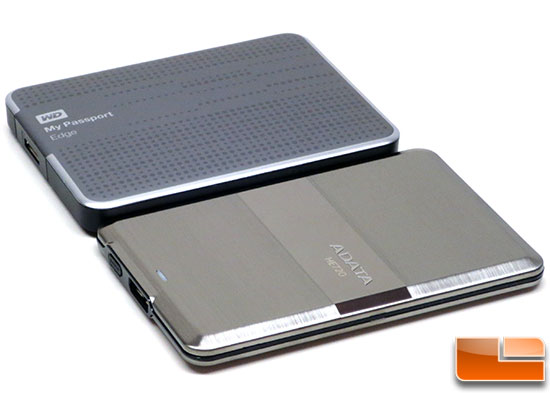 When it comes to performance the ADATA DashDrive Elite HE7720 500GB drive had 80MB/s read and 81MB/s write speed averages in HD Tune. These aren't the fastest numbers that we have seen for an external hard drive, but they aren't bad and good enough for most people that just want a simple drive to backup and transport data with. The ADATA Sync software is simplistic, but it gets basic backups going and the one tough backup button is nice.
The ADATA DashDrive Elite HE720 external drive for $79.99 shipped and it is only available in the 500GB capacity. The Seagate Momentus Thin 5400.9 500GB hard drive used in this model runs $69.09 shipped by itself. The HE720 comes backed by a 3-year warranty that covers both parts and labor. You also some value added software, including OStoGo, HDDtoGO, and Norton Internet Security (60 day free trial) with the purchase of this drive.
The ADATA HE720 is a solid portable drive and we found no flaws with it. The main selling point of this drive is that it is just 8.9mm thick and has good USB 3.0 data transfer speeds. So, if that is what you are looking for, you should have just found the right external storage drive!
Legit Bottom Line: The ADATA DashDrive Elite HE720 is the worlds thinnest external USB 3.0 hard drive and was found to have solid performance numbers!