Actiontec ScreenBeam Mini 2 Review
By
Actiontec ScreenBeam Mini 2
Recently, Actiontec announced their ScreenBeam Mini 2, their follow-up to their ScreenBeam Wireless Display device. Now in a much smaller package, it was developed to enable users to transmit any application to a HD device with an HDMI connection. The ScreeenBeam Mini 2 utilizes the Intel WiDi specification, a solution to make using Miracast more convenient. The ScreenBeam Mini 2, will transmit over the industry standard 2.4GHz, and the less congested 5GHz bands.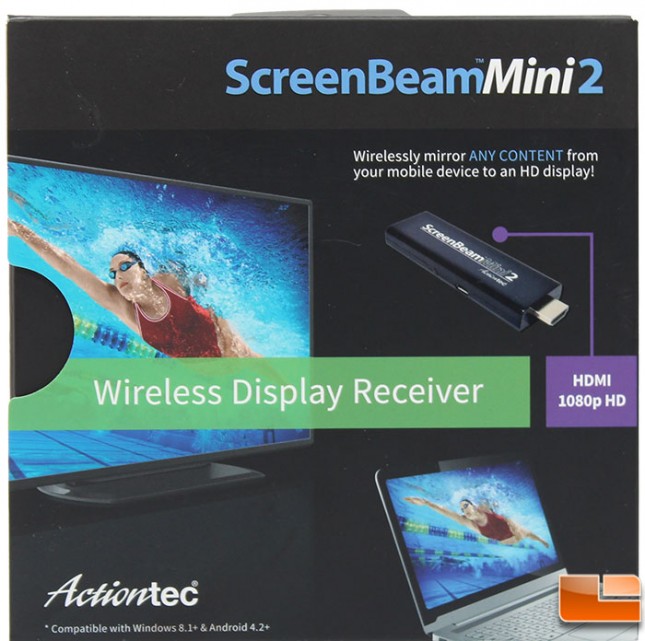 Once the Actiontec ScreenBeam Mini 2 becomes available, you might find it in a retail setting. As such the packaging is designed to catch a potential users attention. The front of the box proclaims that it will mirror any content from a mobile device to a HD display in 1080p. In small print, it does specify that it is for Windows 8.1 and Android 4.2. Reading the fine print, it is not compatible with Apple products. Currently you can find the ScreenBeam Mini 2 for its suggested retail price of $39.99 on Amazon with a one year warranty.
The Actiontec ScreenBeam Mini 2, is pretty basic looking. The front side of it, simply has the company name, and model of device on it, while on one of the ends is the HDMI connector. The entire device measures 3.8in x 1.2in x 1/2in (L x W x H), for comparison, a Corsair Voyager GT flash drive is slightly smaller at 3.2in x 1in x 1/2in (L x W x H).

Taking a look at the side of the device, we find a simple reset button and a micro USB port to provide power to the ScreenBeam Mini 2. Power can be provide either through a USB port or the included AC adapter.
Inside the box, there are very few add-ons included with the ScreenBeam Mini 2. With that in mind, everything you need to connect the device to your TV and use it is provided. A very simple one sheet quick start guide, micro USB cable, AC adapter, and a HDMI extension cable.
Features and Specifications
ScreenBeam Mini2 takes many of the same features of Actiontecs award-winning, market leading ScreenBeam Pro platform, and squeezes them into a tiny form factor perfect for connecting to todays flat-screen TVs, and at a groundbreaking low price. With ScreenBeam Mini2, you can enjoy your favorite videos, photos and movies on the best display in the house. Simply connect the tiny adapter to your HDTV and you can wirelessly display content from a compatible laptop, tablet, or smartphone.
Wirelessly stream all the things you love, including movies, videos, photos, music, applications, web browsing and more, directly to your big screen HDTV
Perfect for home, office, schools, and traveling
Compatible with millions of devices: Intel WiDi-ready Ultrabooks, laptops, smartphones and tablets; Miracast smartphones and tablets; devices running Windows 8.1+ and Android 4.2+
Supports up to full 1080p30 HD video and 2 channel stereo
Supports both 5GHz and 2.4 GHz WiFi frequencies
Share documents, presentations, and more with a projector or display
Use the TV as a second monitor for multi-tasking
Better than a media player: supports virtually any kind of online or local content
Works without a Wi-Fi network
Ultra-low latency for the best possible experience
USB-powered capable (Requires USB port with 5V 750mA)
Easy Setup…Everything you need is included
ScreenBeam Mini 2 Specifications
A/V Interface
HDMI Type A Male Connector
Video
Up to full 1080p30 HD
Audio
LPCM, Up to 2 channels
Wireless
802.11 a/b/g/n IEEE dual band 2.4 & 5 GHz
Wireless Security
WPA2, WPS virtual PBC, AES 128-bit
Content Protection
HDCP 2x
Power
USB or AC
Warranty
1 Year
Compatibility
WiDi-ready Ultrabooks, laptops, 2 in 1s, and tablets
Wi-Fi Certified Miracast smartphones and tablets
Windows 8.1+ and Android 4.2+