ABIT's AA8-DuraMAX — The Next Winner or Loser?
By
Testing Procedure:
Intel P4 560 — Intel D925XCV & ABIT AA8-DuraMAX (Intel 925X), 1GB (2x512MB) Crucial PC4200 @ DDR2 533 (4-4-4-12), ATI X600 XT 128mb (Catalyst 4.8), 120GB Seagate SATA150 HDD, Windows XP w/SP1 and DX9B.
All testing was done on a fresh install of Windows XP Professional build 2600 with Service Pack 1A and DirectX 9.0b. All benchmarks were completed on the desktop with no other software programs running. No overclocking was done on the video card durning any of this review. We did disable the Firewire, and LAN features if found in the BIOS menu for all the testing completed during this review.
Now for the results!
Memory Bandwidth Testing:
Everest 1.1 :
Everest 1.1 is a professional system information, diagnostics and benchmarking program for Win32 platforms. It extracts details of all components of the PC. It also tests the actual read and write speeds of your memory to give a fairly accurate look of true memory performance.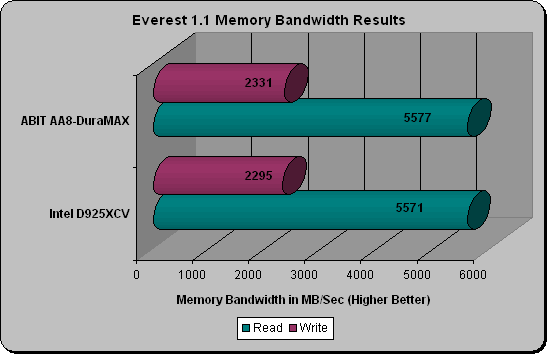 Sisoft; Sandra 2004:
Sisoft Sandra 2004 is designed to test the theoretical power of a complete system and individual components. The numbers taken though are, again, purely theoretical and may not represent real world performance. Higher numbers represent better performance in memory bandwidth.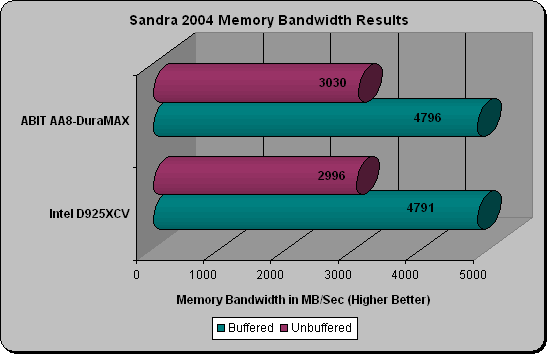 ScienceMark 2.0 Beta:
ScienceMark 2.0 is different from other benchmarks, in a sense the benchmark tests a series of different memory bandwidth algorithms. To top it all off the assembly source for these copy routines is available online to help assure the benchmark is not biased towards any one platform in particular.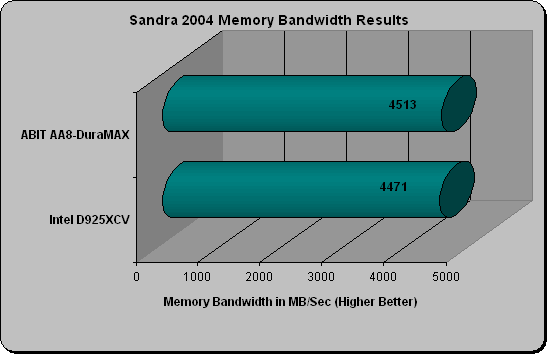 Results: It's fairly obvious that the Crucial 533MHz DDR2 memory faired close to the same performance on both the Intel Reference board and the ABIT AA8-DuraMAX. It was noted that the ABIT AA8-DuraMAX took a slight lead in every test showing more bandwidth.