ABIT RX600 Pro-GURU
By
Testing
I will run the RX600 in normal and turbo modes to give you an idea what kind of performance you can expect with these stock settings. I do want to emphasize that every card is different, you might see better or worse results from your own O/C attempts. For comparative purposes, I included results from another PCI-E card I had, NVidia's "mainstream" card, the 6600GT. At about the same cost, I'd expect comparable performance.
I?ll be using the following system:
RX600 Pro-GURU
XFX 6600GT
3.6GHz P4 socket LGA 775
ABIT AG8 motherboard featuring the Intel 915 Chipset
1 GB Kingston Hyper X 4300 @ 3-4-4-8
1 80GB Hitachi SATA HDD
Antec NEOPower 480 PSU
All testing will be run at a FSB of 200 on a fresh install of Windows XP Professional with the newest drivers for each card. All tests were run twice, with the first score tossed out.
Far Cry Demo 1.3
Doom 3 Time Demo 1
3DMark05 build 110
AquaMark 3
3DMark05 Build 110
3DMark05 is a premium benchmark for evaluating the latest generation of gaming hardware. It is the first benchmark to require a DirectX9.0 compliant hardware with support for Pixel Shaders 2.0 or higher. Resolution was set to 1024×768.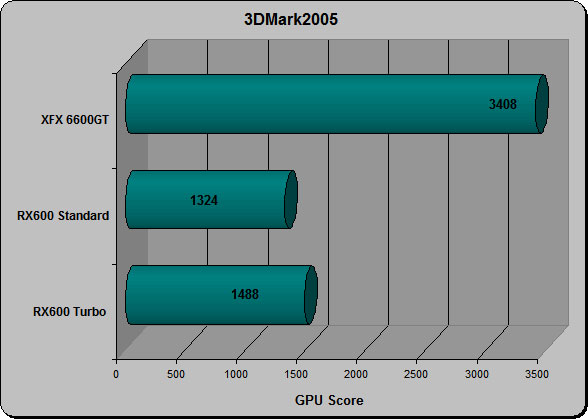 AquaMark 3
AquaMark3 is a powerful tool to determine reliable information about the gaming performance of a computer system. Again, resolution was set 1024×768.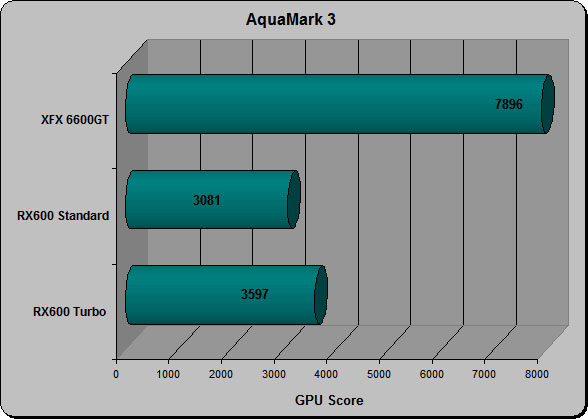 Doom 3
Doom 3 is one of the most system taxing games available. Its popularity also makes it a great choice for system benchmarking. I like to use Time Demo 1 with resolution set to 1024×768 with detail set to high.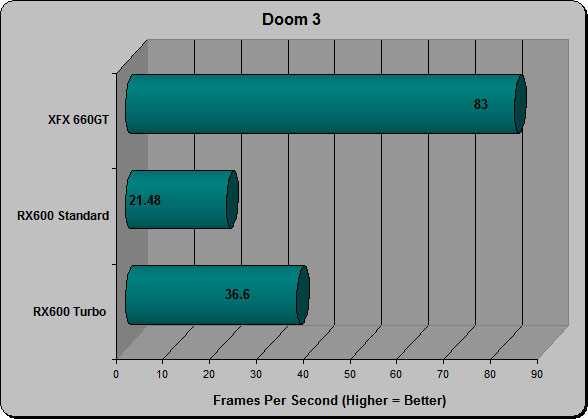 Far Cry
Another super popular FPS title. HardwareOC developed this specialized benchmarking utility that automatically runs the test twice and averages out the score. V 1.41 was used here, with a resolution of 1024×768 and detail levels set to high.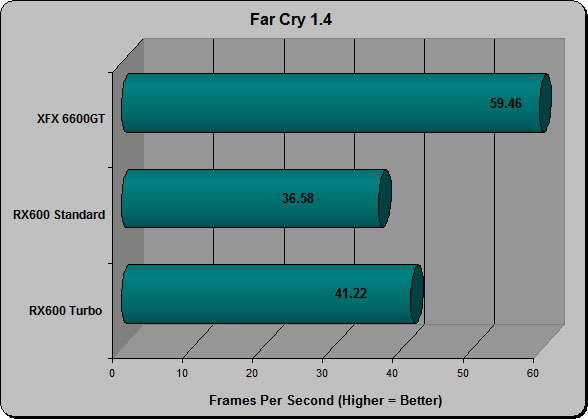 As you can see from the test results, there is nothing spectacular to be found with this card. The XFX 6600GT, a card only $25-30 more, simply obliterates the RX600 across the board, in some places more than doubling the RX600 Pro-GURU's performance.