256mb Corsair PC-3500C2
By
Benchmarks & Performance:
Our Test System:
AMD Athlon XP 1600+ (AGOIA stepping)
ABIT AT7-MAX2 (Enhanced settings enabled in BIOS)
Alpha PAL 8045 w/80cfm Delta (Air Cooled)
Albatron Ti-4200P Turbo (default)
256mb Corsair XMS PC-3500
Western Digital 30Gb ATA 100 7,200rpm
Soundblaster Audigy X-Gamer
Antec True Power 430W Power Supply
ViewSonic E90fb Monitor
Testing Procedure:
All testing was done on a fresh install of Windows XP Professional build 2600. The tests were done on the desktop with no other software programs running. We ran the Athlon 1600+ at 166FSB, giving us 1,754mhz during all tests. During this review the room temperature was 24 degrees Celsius, while the case temperature was 28 degrees Celsius.
Sisoft Sandra 2003 Pro:
Sandra is designed to test the theoretical power of a complete system and individual components. The numbers taken though are again, purely theoretical and may not represent real world performance. Higher numbers represent better performance.
Results: Nothing shocking here! Corsair XMS comes in and cleans up the house for speed.
PCMark2002:
PCMark is another benchmark from MadOnion which is a whole system benchmark, although we are only going to look at the memore results. PCMark specifically stresses the CPU, memory subsystem, graphics subsystem, hard drives, WindowsXP GUI (if WinXP is used), video performance and even laptop batteries. This benchmark was released March 12, 2002 and can be downloaded from Madonion if you would like to give it a test run on your computer to see how you do compared to our results. The chart below shows the results from the PCMark2002 memory test.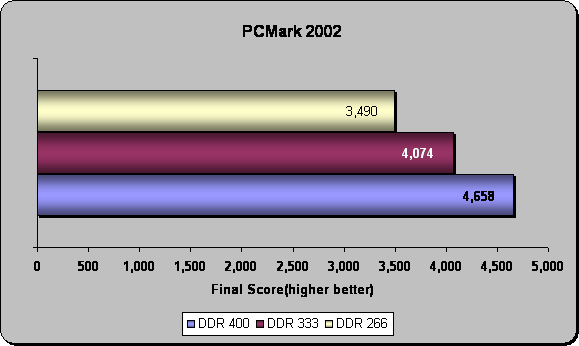 Results: PCMark 2002 is able to show how the larger Corsair PC-3500 performs above the mathmatical standard for each of the above bandwidths. This goes to show how Corsair is able to provide performance like no other comapny since they produce their own PCB and layouts.
Now that I have seen the results, let me sum up my overall impression of our 256mb stick of Corsair PC-3500!