256mb Corsair PC-3500C2
By
Features: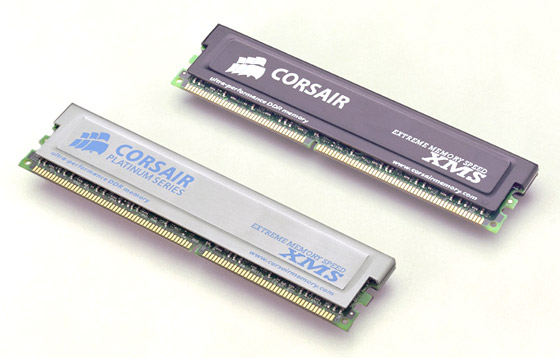 The Corsair memory came with with nothing but a recyclable plastic box. No manual, or software is needed with this bad boy, just plug and chug.
There have been no changes on the heat spreaders since the PC-3200 versions. For this review, the ram is the Platinum series, so they have the silver aluminium heat spreaders. I have heard a million rumors as to which ram is better to buy, but honestly the only difference is the color of the spreaders. I have to admit I was shocked by how much better the silver heat spreaders look in the case when I changed out the ram.
An important factor in buying memory is the warranty. Corsair's memory products carry a lifetime warranty. This means that Corsair products are guaranteed to operate, as specified by their datasheet, and in the operating environment for which they were intended, for the life of the product. Not a bad deal at all…
From the corsair website they state, "Corsair part number CMX256-3500C2, is a 256 MByte module guaranteed to operate at 434 MHz with a Column Access Strobe ("CAS") latency of just two cycles. The CMX256A-3500C2 is built using the same 32Mx8 DDR SDRAM components as the CMX512-3500C2. These 5 nanosecond RAMs have been carefully screened to meet these demanding performance requirements. The modules have been extensively qualified in motherboards based on the Via KT400 chip set. This memory has been verified to operate at 434 MHz (2-3-3, 1T command rate)."
Looks like Corsair aimed this at the gamers… Lucky for us we have some on hand ð
Key Features:
Memory amount: 256MB
Access time: 5.0ns
Implemented using 32M x 8M DDR SDRAMs
100% tested at 434MHz in high performance systems
Integrated aluminium heat spreader for improved thermal performance
Lifetime warranty
Six-layer construction
Each module is tested in an ABIT KD7 @ 434MHz
Latency: 2-3-3-7-1T if one module is installed @ DDR 434
SPD programmed at expected JEDEC values of PC3200
Population: 1 module/system
Moving on to the benchmarks, let's see this ram performs!