Intel Core i7-4770K Haswell 3.5GHz Quad-Core CPU Review
Sat, Jun 01, 2013 - 12:00 PM
CyberLink MediaEspresso 6.7
CyberLink MediaEspresso 6.7 is a blazingly fast media universal converter that can transcode your videos, photos and music files and out put them to a huge range of portable devices including mobile phones, portable media players and even game consoles. With technologies like Smart Detect, Direct Sync and CyberLink's TrueTheater video enhancements, you can not only forget about complicated format, resolution and output settings, but your converted file will come out the other side looking better than when it went in! MediaEspresso 6.7 can be used to output your slideshows and videos to mobile devices like an iPhone, iPod, PSP or Zune. Pre-set profiles eliminate the need for any complex settings and you can just drag-and-drop the video files you want to convert straight into the application.
We downloaded a clip that was encoded at 24 frames per second (fps) at a resolution of 1920 x 1080 (1080p). We then used MediaEspresso 6.7 to convert this clip to work on our iPhone 5 with the default mobile phone profile settings.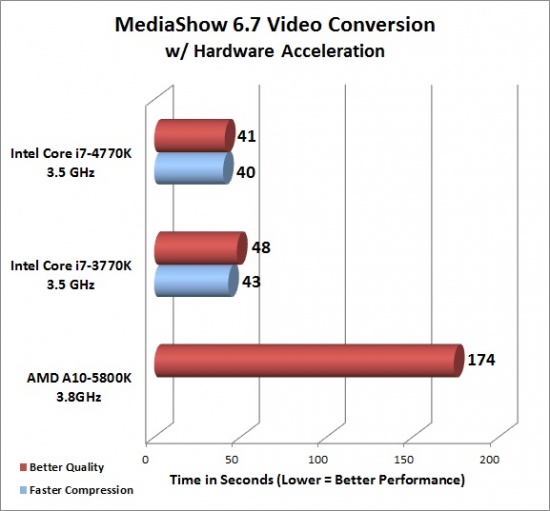 Benchmark Results: With full hardware acceleration enabled we found a seven second difference between the Intel Core i7-4770K and the Intel Core i7-3770K. The AMD A10-5800K finished in just over two minutes.

It should be noted that we Intel Quick Sync Video was enabled and we had the choice between the faster conversion and better quality profiles. AMD processors do not have these profile options and that it was only run once as there is just one default profile with hardware encoding and decoding enabled.