Intel Core i7-4770K Haswell 3.5GHz Quad-Core CPU Review
Sat, Jun 01, 2013 - 12:00 PM
Haswell Enhanced Graphics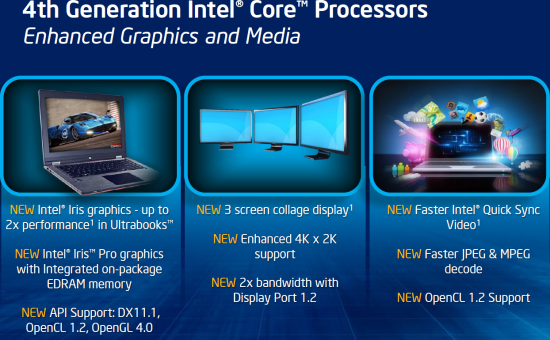 While Intel has certainly beefed up the CPU side of the processor, they have also put a ton of time and effort into making the GPU better. The integrated graphics offer support for the latest versions of the most important APIs, including DirectX 11.1, OpenGL 4.2 and OpenCL 1.2. Haswell's GPU also have new video codecs and are fully DirectX 11.1 compatible.
The hardware decoder supports MPEG4 SVC (an expansion of H.264 which combines streams of varying bitrates) and Motion-JPEG. The video encoder also works with the older MPEG2 codec, so that should really improve editing time on images and photos.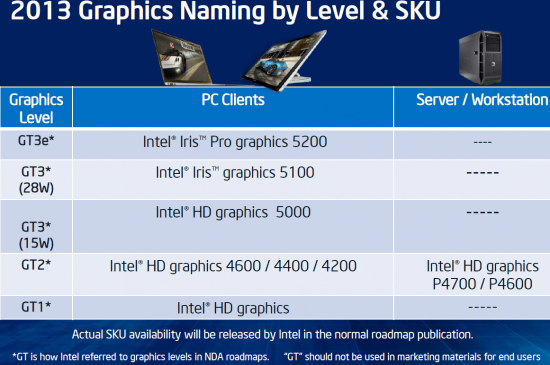 There were two versions of the Intel HD graphics with the Ivy Bridge processors. You either had HD 2500 or the faster HD 4000 graphics solution. Intel has greatly expanded their built-in graphics offerings as you can now find five different levels of graphics. You have old school Intel HD Graphics at the bottom, followed by 4200,400 and 4600 for LGA 1150 processors. BGA (embedded) processors get Intel HD Graphics 5000, Intel Iris Graphics 5100 and Iris Pro 5200.
Most desktop processors will get Intel HD 4600, which has 20 Execution Units (EUs), a 25% increase over Ivy Bridge. The clock speed has also been increased from 1150MHz to 1250MHz, a moderate 9% bump in clock frequency.
The Intel HD Graphics 5000 and Iris Graphics 5100 receive 40 EUs that give them basically twice performance of the new Intel HD 4xxx series graphics solutions. The best graphics part you can get is the Iris Pro Graphics 5200 which have 40 EUs gets a large embedded 128MB DRAM cache to greatly improve bandwidth performance.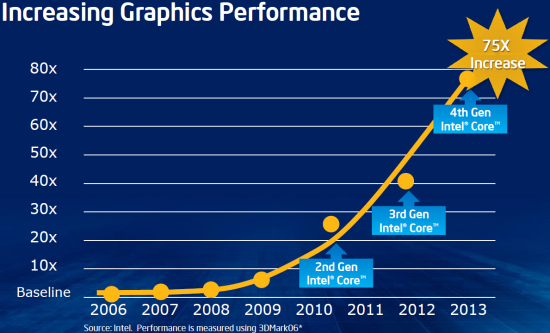 If you are running Intel integrated graphics from years ago, you might be wanting to update and you can see that in recent years Intel has really stepped up the game when it comes to graphics performance. Intel knows that they need to improve their graphics performance and in just a few short years you can see what happens when they put more effort into improving graphics. It is safe to say that at one point in time, integrated graphics was not a priority!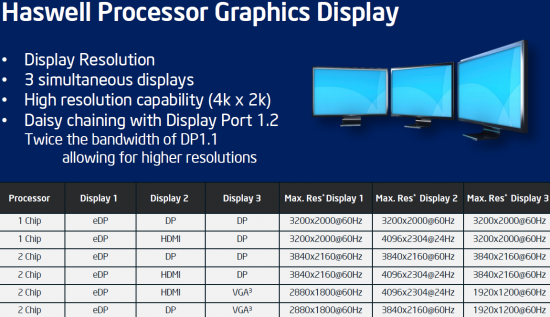 While the 3D performance of the integrated graphics has improved, so has display support. Intel Haswell processors support three simultaneous displays and can even handle Ultra HD 4K monitors. They also support daisy chaining with new DisplayPort 1.2 support in Haswell, so expect to see more motherboards offering DisplayPort on the board.