Cougar PowerX 550W Power Supply Review
Fri, Jan 18, 2013 - 12:00 AM
External Design of the PowerX 550W
Although the PowerX 550W unit is built inside a typical ATX chassis, Cougan managed to make it unique by simply replacing the cover with one that has the fan guard integrated and, well, is painted orange, obviously in an attempt to replicate the color of bronze. The rest of the power supply is black, which is a matching color, yet orange may not be the color of choice for many. The PowerX is a small power supply, fully compliant with the ATX design guide. All of the cables are hardwired onto the power supply.
On the right side of the chassis, Cougar simply embossed their company logo; a quick and effective way to enhance the appearance of almost any power supply. The logo however will be visible from a windowed left panel only if the power supply is installed with the fan facing upwards.
The sticker with the electrical specifications of the power supply covers most of the left side of the PowerX, reminding us of old-school designs. The sticker will be visible through the windowed side panel of almost any case which takes the power supply with its fan facing down.
The front side of the Cougar PowerX 550W power supply is perforated, with only a simple on/off switch right next to the A/C cable plug.
As this is not a modular power supply, the rear side of the Cougar PowerX 550W is plain and uninteresting, with only a large holes from which the cables come out of.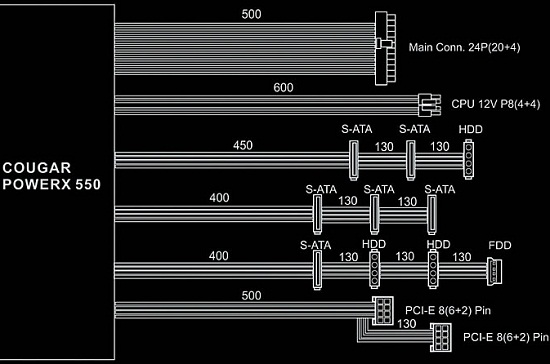 This power supply offers the following number of cables and connectors:
Connector

Main Connector

Peripheral Connector

Floppy Connector

CPU Connector

S-ATA Connector

PCI-Express Connector

Pin

24(20+4)
Pins

4 Pins

4 Pins

8(4+4)Pins

5 Pins

8(6+2)Pins

POWERX 550
CGR B4-550

1

3

1

1

6

2
Six SATA connectors and 2 PCI-E connectors should be enough for a common everyday system, yet we believe that the 3 Molex connectors could leave a few users frustrated on how to power their 4+ optical drives, fans and auxiliary devices.