WD My Cloud DL4100 Business NAS Review
By
WD's First 4-Bay NAS Server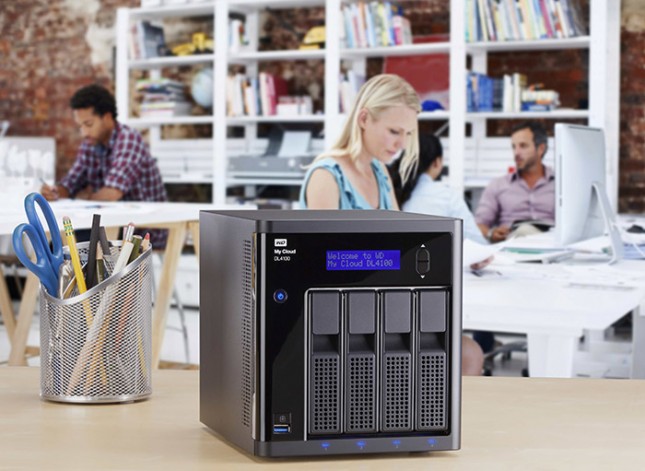 WD launched their My Cloud multi-bay network-attached storage (NAS) devices in 2013 and over the past two years WD NAS models went from making up 8% of the 2 and 4-bay NAS market to having 26% of the market share in December 2014. Not bad for a growing product segment and WD claims they are now the market leader with regards to market share in the growing 2 and 4-bay NAS market in the United States. Research firm Gartner shows that trend should continue for years to come as they estimate that each household will have 3.3TB of data by 2016 and people will need to backup that data and have it available to access when needed.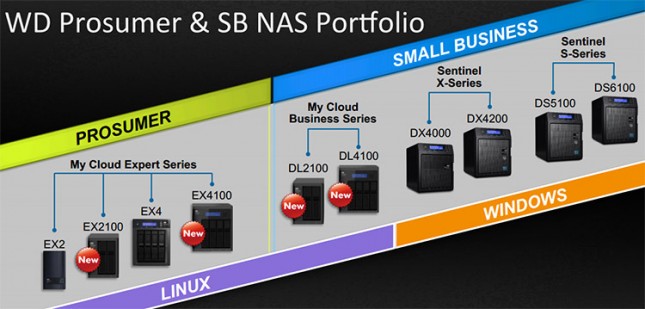 Legit Reviews took a look at the WD My Cloud EX4 back in 2013 and found it to be one of the easiest to setup and use 4-bay NAS models on the market at that time. The WD My Cloud EX4 was part of the Expert Series, which meant it ran Linux and was aimed at Prosumers. If you wanted to step up to a businesses line you had to move up to the Windows powered WD Sentinel series and you were talking more than double the price. The divide between the prosumer models and the small business models were crystal clear thanks to the significant price gap. All that changed last week when WD launched the WD My Cloud Business Series with the DL2100 (2-bay) and DL4100 (4-bay). These new business models were designed from the ground up to be a high-performance NAS solution designed for small businesses, so you'll find business class hardware features like a high-performance Intel Atom C2338 dual-core processor, 2 GB of expandable DDR3 memory, dual NICs and dual power ports. You then have the My Cloud OS that gives you a full suite of tools and applications to allow you to setup things like iSCSI target and initiators, Distributed File Systems (DFS), Simple Network Management Protocols (SNMP) and more. WD has also increased the warranty to 3-years on the My Cloud Business series, so they have beefed up the hardware, software and warranty for their latest NAS series.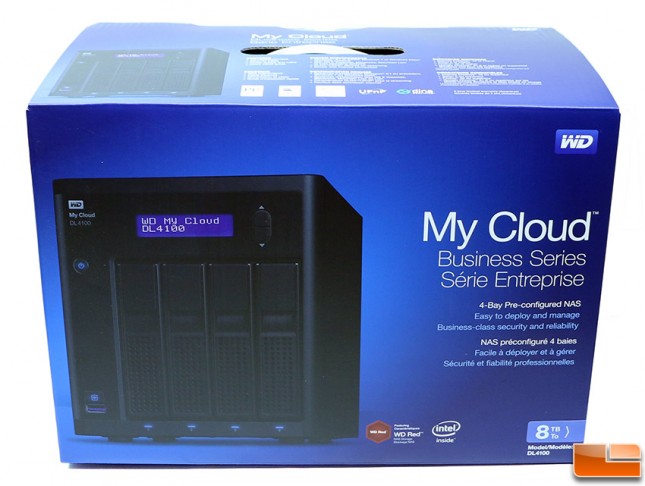 The WD My Cloud DL4100 4-bay NAS is available in four different storage capacities to help fit the storage criteria of various business and home user capacity needs. You start out with a drive-less 0TB model for $529.99 and then jump up to an 8TB version for $849.99, 16TB for $1169.99 and a 24TB model for $1529.99. All of the My Cloud DL4100 Business series network storage servers use WD Red hard drives that are optimized for high-performance NAS devices. It should be noted that the 8TB model comes populated with 2 x 4TB drives so you can only run RAID 0/1 with it out of the box. The WD My Cloud DL4100 comes with 4 x 4TB drives and then the 24TB model comes with 4 x 6TB drives, which means you'll be able to run all the supported RAID formats and can setup the NAS for improved redundancy over the 8TB model. We'll be taking a look at the WD My Cloud DL4100 8TB version that is sold under part number WDBNEZ0080KBK-NESN and has an MSRP of $849.99.
WD My Cloud DL4100 General Specifications:
Processor: Intel Atom C2338 at 1.7GHz
Memory: 2GB DDR3 (upgradeable to 6GB with internal SO-DIMM)
RAID Options: RAID 0, 1, 5, 10 or JBOD, spanning
Powerful: Up to 117MB/s read and 107MB/s write speeds
Robust: Twonky 7.2 DLNA-certified, 1.5 media server and iTunes support
LAN Interface: 10/100/1000 MB Gigabit Ethernet
USB 3.0 Ports: Two (1 front, 1 rear)
USB 2.0 Ports: One (rear)
Height: 7.56 in (192.6 mm)
Length: 9.13 in (232 mm)
Width: 6.69 in (170 mm)
Weight:

7.63 lbs (3.46 kg) without hard drives
10.60lbs (4.81kg) for the 8TB model
13.60lbs (6.17kg) for the 16TB model
14.03lbs (6.36kg) for the 24TB model

Warranty: 3-years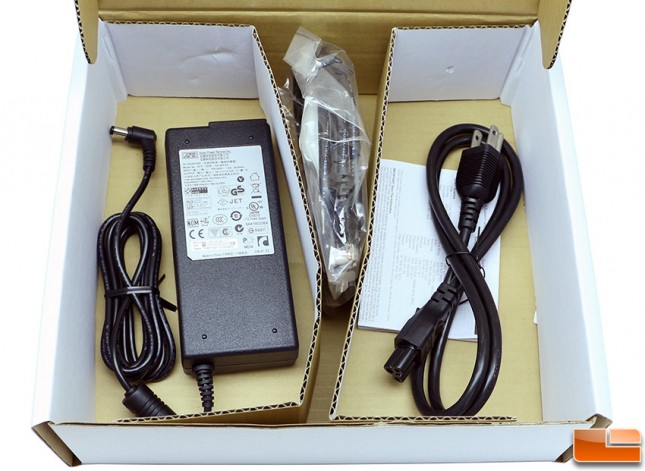 Inside the retail box you'll find the four-bay My Cloud DL4100 NAS along with a single Ethernet cable, quick install guide, AC-to-DC power adapter and a mickey mouse style power cord. The WD My Cloud DL4100 8TB comes already configured in a RAID 1 setup, so you just need to plug it in and create an account to get going!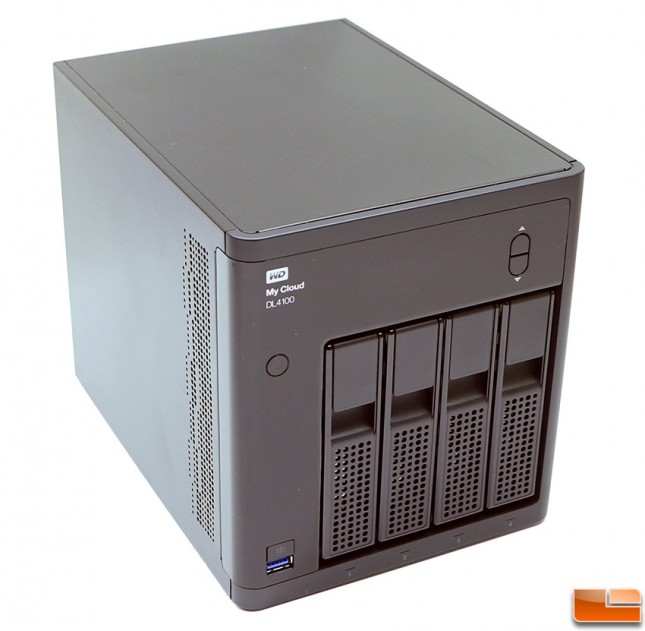 The WD My Cloud DL4100 looks very similar to the WD My Cloud EX4 from 2013, but enclosure has been entirely updated. The body of the enclosure is made from metal and the front panel that snaps into the metal frame is made from plastic. The LCD Panel has two lines that are each capable of displaying 16 characters of text that WD uses to give you basic crucial information about the NAS when it is being used. Below the power button you have a USB 3.0 port on the front panel that has a one-touch USB 3.0 copy button that allows you to automatically copy files from an external storage device by simply touching this button. The left side of the WD My Cloud DL4100 has some small ventilation holes located along the front edge.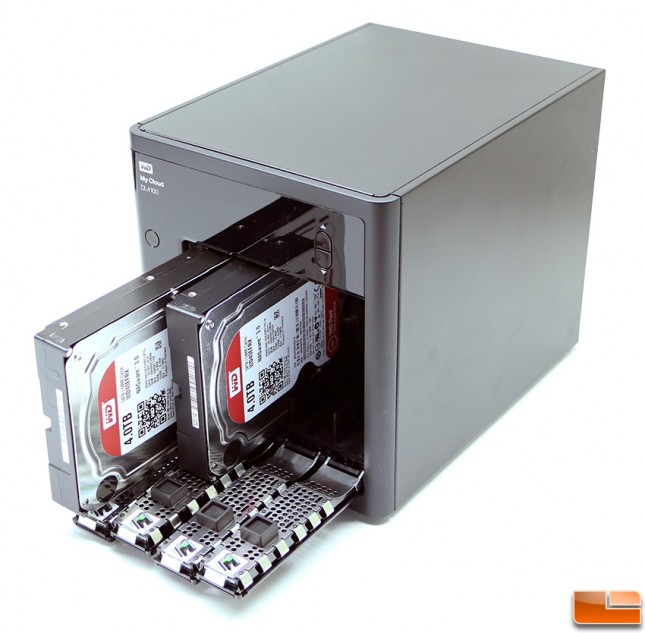 Our WD My Cloud DL4100 8TB model comes populated with two WD Red 4.0TB hard drives. WD ships this model in RAID 1, but the 16TB and 24TB models come with a RAID 5 array (block-level striping with distributed parity.) A RAID 5 array distributes parity along with the data and can handle a single drive failure. All of the hot swappable hard drive bays are trayless and tooless! This means that when a drive fails that you just open the drive bay door swap the drive and close it. The entire drive swapping process takes a few seconds per drive.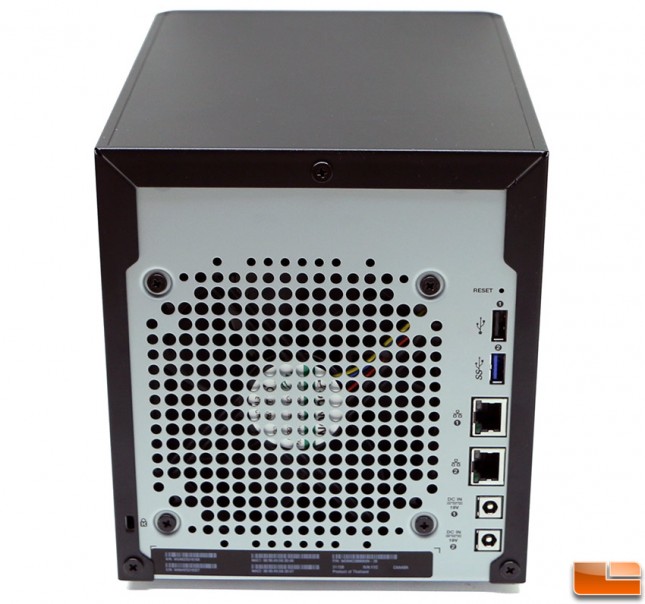 On the back of the WD My Cloud DL4100 you have a recessed reset button, USB 2.0 port, SuperSpeed USB 3.0 port, dual Gigabit Ethernet ports and dual power ports. The dual power and network redundancy is nice for critical business data and WD has implemented an auto failover mode should a port ever fail. You can also daisy-chain the DL4100 to another NAS device for increase network storage capacity. The rear 120mm fan is the only cooling fan in the DL4100 and runs at 540 RPM in an idle state which is good enough to usually keep the processor at around 30C.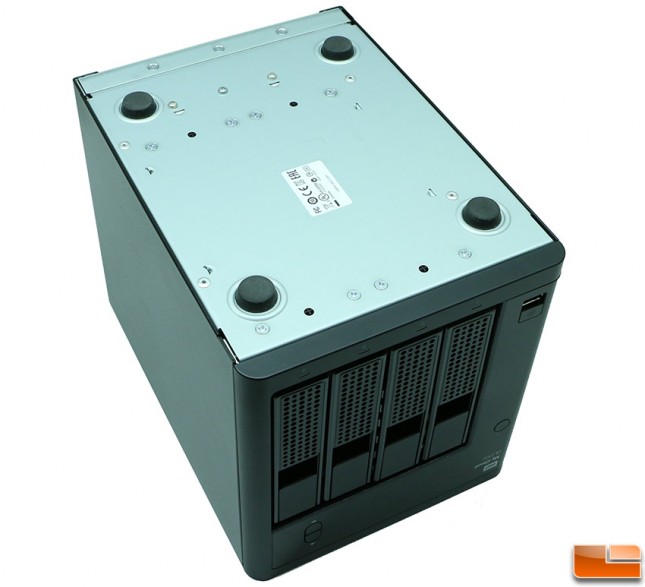 The bottom of the DL4100 NAS has thick rubber feet to keep from scratching whatever it will be placed on. Overall the WD My Cloud DL4100 appears to be well designed and built, so let's take a peak inside and see what it looks like.