VisionTek mSATA Mini USB 3.0 SSD Enclosure Review
By
VisionTek mSATA mini Enclosure
Mini-SATA (abbreviated as mSATA) was announced by the Serial ATA International Organization in September 2009 and has been widely popular since being brought to market over the past several years. mSATA devices were big in the mobile market, on Small Form Factor (SFF) PCs and a number of desktop motherboards offered them for cache drives or boot drives. The problem with mSATA was the fact that they were performance limited by the SATA host controller. It has become clear that the market is moving over to the PCI Express host controller to move beyond the SATA III 6Gbps performance bottleneck, which is great for consumers, but the death blow to mSATA. M.2, formerly known as the Next Generation Form Factor (NGFF), will be quickly replacing replace mSATA. M.2 uses the PCI Express host interface and is basically the small form factor implementation of the SATA Express interface. M.2 was designed to maximize the usage of the card space, while minimizing the footprint of the drive. This means that M.2 cards will be smaller and offer more bandwidth with no real negatives or reasons for designers and engineers to use any other form factor. So, that means mSATA SSDs will be phased out and that means price cuts and good deals on them. There will also be people out there that have an mSATA drive or two laying around from previous builds. What can you do with that old small capacity mSATA cache or boot drive that isn't being used? VisionTek has a product just for you!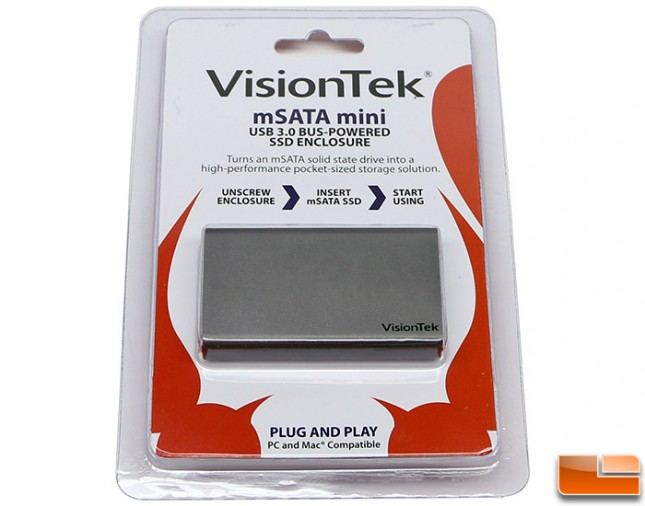 Meet the VisionTek mSATA mini USB 3.0 Bus-Powered SSD Enclosure, priced at $29.99 MSRP and backed by a three-year warranty. This small little drive is sold under part number 900696 and solved the problem of what to do with that leftover mSATA SSD. This small enclosure acts as a basic housing for a SATA I/II/III mSATA SSD and will allow you to use it like a USB 3.0 Flash Drive or storage drive.
"The mSATA mini solves the dilemma of what to do with a perfectly good SSD after performing an internal drive upgrade. Now, instead of tossing the SSD into a desk drawer, you can easily and affordably create an ultra-portable high-performance external drive." – Mark Bilson, Executive Vice President of VisionTek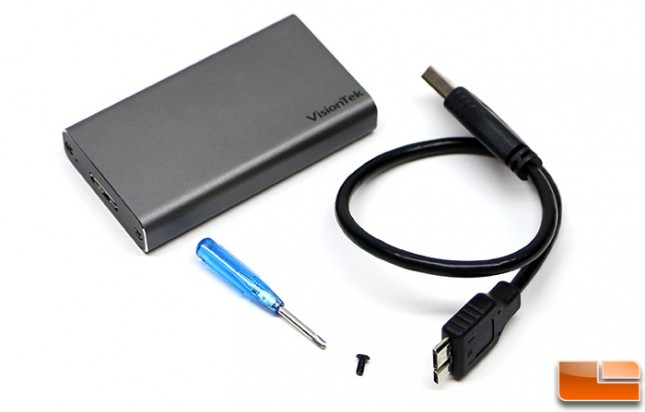 The VisionTek mSATA mini Enclosure comes with the rugged aluminum housing for the mSATA SSD, 10.5-inch long USB 3.0 data cable, screwdriver and a spare housing screw in case one of the four ever falls out or gets lost. The enclosure measures in at 2.88″ x 1.63″ x 0.51″ for our English friends or 73mm x 41.5mm x 13mm for the rest of the World. This is pretty small, but it is certainly larger than a traditional USB Flash drive.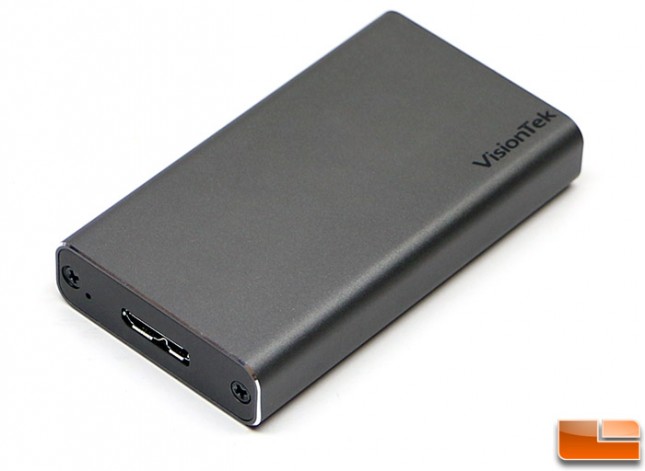 On one end of the enclosure you'll find with micro-USB 3.0 data port along with a small white LED power/activity light that off on the left side in the image above. Other than the USB 3.0 port and LED light there is really nothing more to say about the rugged aluminum housing. We like the titanium colored finish with the beveled edges that reveal raw aluminum as a finishing touch.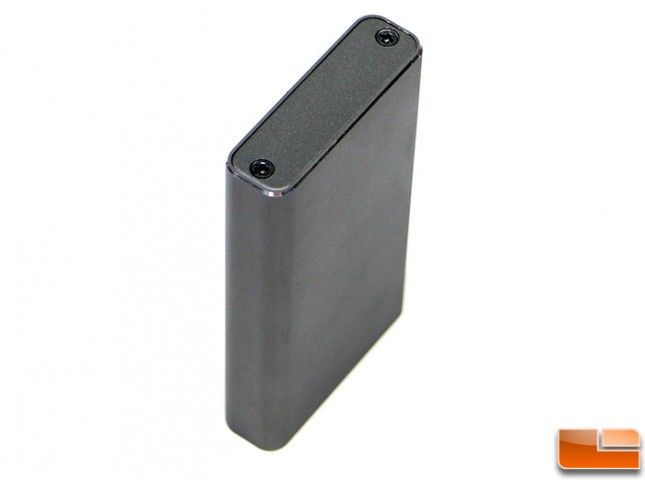 Flipped the drive over you can see that the other sides have no features or logos on them. We are glad that VisionTek didn't put their logo all over the drive!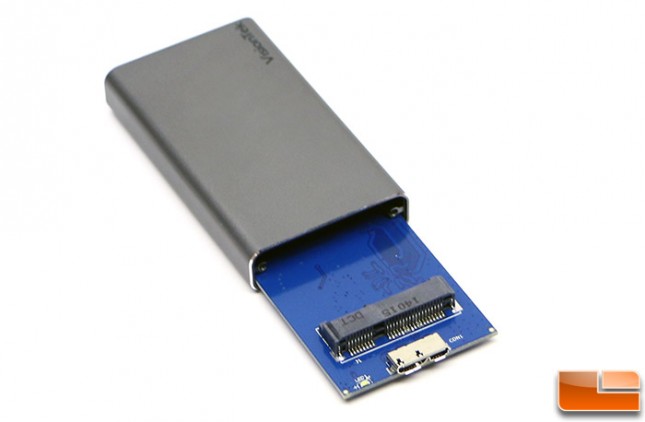 To use the VisionTek mSATA mini enclosure you just remove the two screws on that hold the end plate of the mSATA mini enclosure with the included mini screwdriver and slide out the mSATA card holder. From there you can pop in the SATA I/II/III mSATA SSD that you'll be using and then you reassemble enclosure and connect to a PC or Mac via the included USB 3.0 cable. The installation process is very simple and anyone can do it as all of the parts are included (besides the mSATA SSD).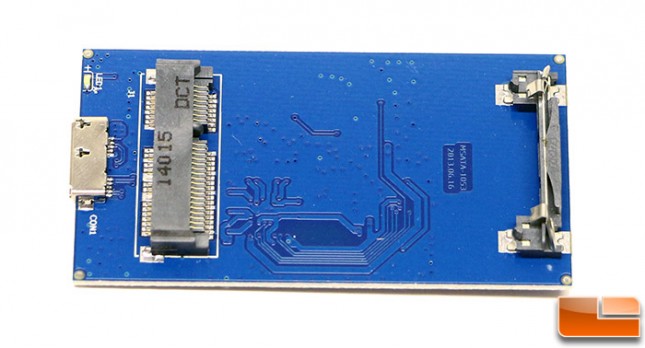 Here is a closer look at the blue PCB that comes inside the VisionTek mSATA mini enclosure. On this side you have your typical mSATA slot and hold down retention mechanism that keeps the card flat and in-place. This device supports SATA II 3Gbps and SATA III 6Gbps mSATA SSDs that are 50mm or 25mm. It is NOT compatible with 50mm Mini PCI-e SATA SSDs.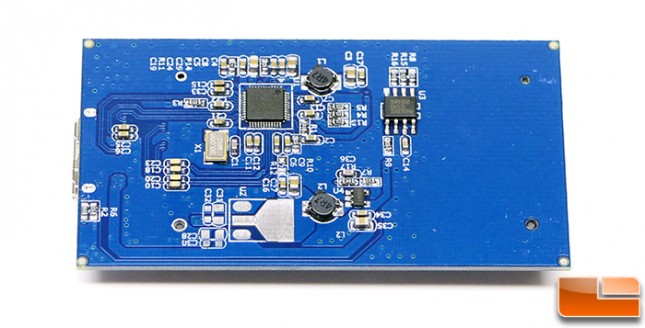 On the other side you have some basic circuity and the controller chip that is used to convert the data from the SATA standard to USB.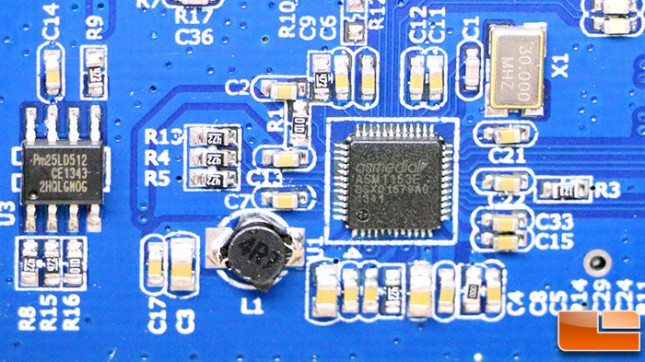 VisionTek tapped ASmedia for and went with the ASM1153E single chip controller to bridge the Serial SATA host interface with SuperSpeed USB3.0. The ASMedia ASM1153E is a third generation chip and is fully compliant with USB 3.0 Specification Revision 1.0 and Serial ATA Specification Revision 3.0.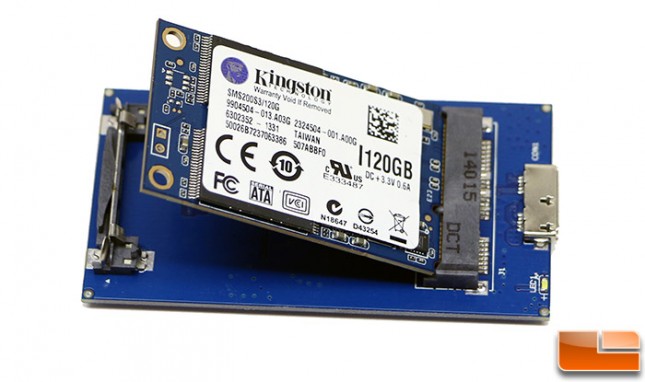 We will be testing out the VisionTek mSATA mini enclosure with a Kingston 120GB SATA III 6.0Gb/s mSATA drive. The part number on these drives is SMS200S3-120G and they run about
$95 each shipped
. Kingston
recently announced
that they have come out with larger capacity mSATA drives, so you can go beyond 120GB now and get 240GB and 480GB models from Kingston. Kingston uses the LSI SandForce 2241 (30GB, 60GB, 120GB) and 2281 (240GB, 480GB) controller with the SATA Rev. 3.0 (6Gb/s) interface on these drives. You can use any mSATA drive in the ASUS Hyper Express enclosure though. Legit Reviews has
already reviewed this exact model
mSATA SSD before and we were getting 271MB/s Read and 160 MB/s write speeds on benchmarks like CrystalDiskMark. Those are pretty quick speeds and should make this little mSATA storage drive really fly.
The installation process for a mSATA is simple. Align the notches on the mSATA SSD with the notches in the mSATA socket, then insert as shown.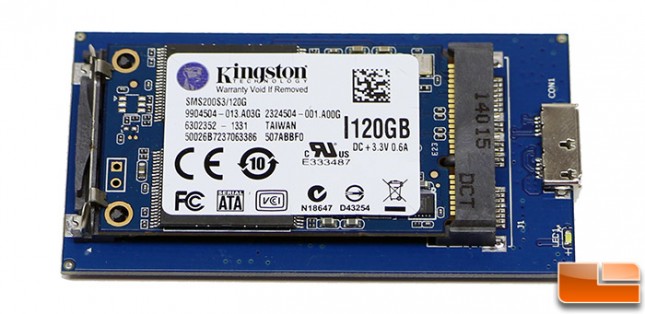 Since this board uses clips to hold the mSATA SSD securely in the socket, you gently push down on the end that isn't in the socket and it will clip into place. There are no screws needed as the clips hold the drive securely in place.
Let's take a look at performance numbers on an AMD AM1 test platform.