VidaBox Wireless HTPC Media Keyboard with Laser Trackball
By
A HTPC Wireless Keyboard By VidaBox
Today we are looking at the VidaBox Premium Wireless Keyboard with Integrated Laser Trackball. This keyboard was designed to work with your Home Theater PC (HTPC) for media use, but it also works great for every day web surfing. The keyboard was made by VidaBox, a company that was started back in 2005, and makes everything from home surveillance equipment to custom-made windows-based media centers that include this particular keyboard. This keyboard in particular is the fourth generation of this model and features a compact, but functional keyboard and trackball combo. This keyboard utilized an RF connection, meaning you do not need to maintain line-of-sight with your PC all the time. This is ideal for media PCs and they are usually not in direct line-of-sight with where you are sitting with the keyboard. Let's get to it and start unboxing the VidaBox Premium Wireless Keyboard.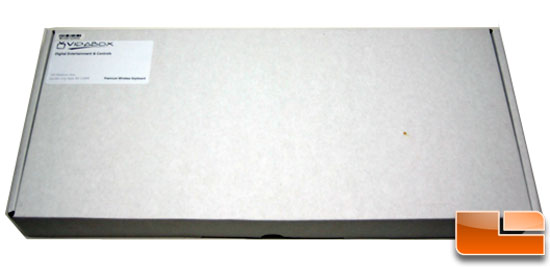 Above you see the packaging that the VidaBox premium Wireless Laser keyboard comes in. The packaging isn't flashy, but everything inside the box is well secured, so you don't have to worry about items banging into each other during delivery.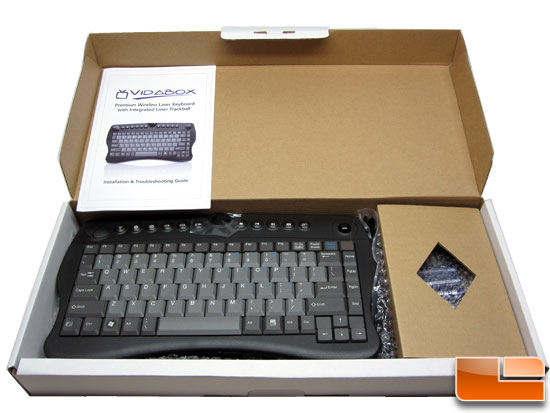 When you open the box you are immediately greeted by your keyboard and the Installation & Troubleshooting Guide. Underneath the keyboard you can find the premium anti-dust Keyboard pouch and just to the side you find the three AA batteries included for your keyboard and of course the the USB receiver.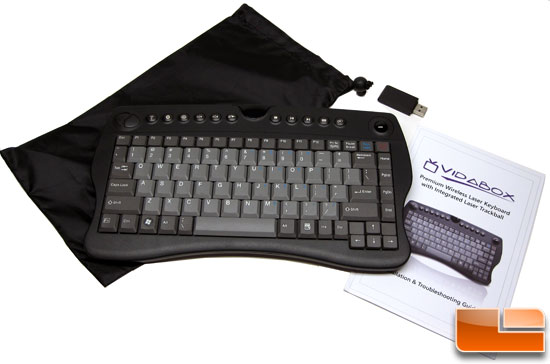 Getting a better view of the bundle, you are able to see everything that is included. Like mentioned before, you have the keyboard, anti-dust bag, USB receiver and the instructional guide.
Some of the key features to this keyboard include:
30 ft wireless range
Compact factor with integrated 2000 dpi Laser trackball pointing device and mouse buttons.
Auto shutoff feature preserves battery life
Requires 3 AA batteries included (Alkaline or rechargeable)
Battery Life: Six (6) month standby time
High performance, high frequency wireless allows minimal dropped
signals/dead zones
Premium anti-dust keyboard pouch included
Dimensions: 12.83″ x 5.04″ x .97″ (326mm x 128mm x 24.72mm)
Weight: 1.13lbs (512 grams)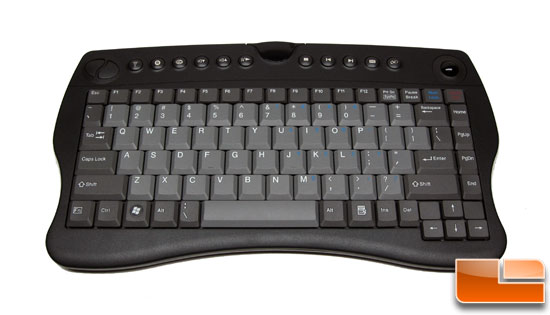 The Vidabox wireless keyboard measures in at just under 13″ long and uses a standard QWERTY layout. This keyboard is about the size of what you would expect on a 14″-15″ notebook in terms of spacing, so it is fairly small and compact. The keyboard is matte black, with solid plastic mouse buttons on the top-left and the laser mouse-trackball on the top-right. The standard qwerty keys are colored gray while all of the other keys are all a darker shade of grey. You have your full row of F-keys across the top and above those are ten multimedia commands, which includes a hotkey that launches Windows Media Center. The RF receiver is located in the center of the keyboard facing where the HTPC usually is located.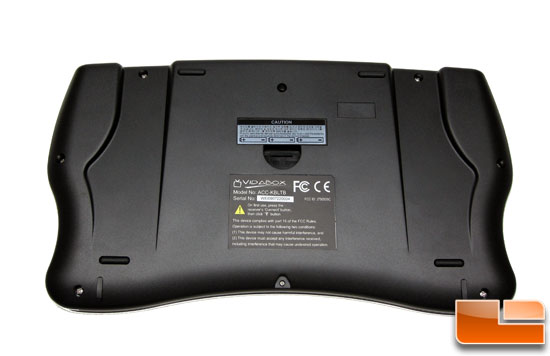 Flipping the keyboard over gives you a better look at the battery compartment, four rubber feet to keep from scratching things and an inset for easy grip when holding the keyboard in your hands. The keyboard itself is powered by three AA batteries, so you don't need a docking station to recharge the keyboard and the batteries are inexpensive to replace. VidaBox said the batteries should last about six months, so we will have to take their word on that one as we haven't had the keyboard for that long!