Ultra X-Finity 2G 600 Watt Power Supply Review
By
Testing and Conclusion
Testing
To test the X-Finity 2G, I will be comparing it to a Cooler Master 380w PSU. The Cooler Master PSU is similar to what most would find in a case that comes with a PSU, and what most people replace last. The PSU is usually one part of a system that is overlooked or just not high on the priorities List.
The testing was done on the following set up; all measurements were made with a digital multi-meter. All voltages where taken from the ATX power connectors after the system set idle for 30 minutes and again after 30 minutes under full load.
Asrock Conroe 945G-DVI
Intel P4 560J 3.6Ghz
Zalhman 9700LED CPU Cooler
1gb (2×512) Kingston Hyper X DDR2
XFX G-Force 6600
Seagate 300gb IDE 7200 RPM hard drive
Sony 8x DVD-RW
Now since the G-Force 6600 card Im using does not have the need for external power, and the Cooler Master does not have a 6 pin PCIe plug; I decided to run a second test for the Ultra PSU with a G-Force 7900 GTX installed.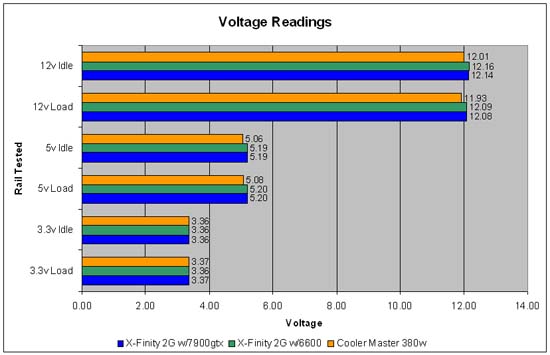 As you can see the Ultra was more stable than the Cooler Master in both tests, even with the more power hungry 7900 GTX.
Final Thoughts
The X-Finity 2G is a stable, quiet power supply that would suit all users; its single 12V 37A rail should handle the demands of most modern systems just fine. There is more than enough power connectors for your stuff, and the Force Flex cables should help the chore of hiding cable for that clean look. If your case is on the small side, due to the length of the cables you may have a challenge on your hands.
The one downside to the X-Finity 2G is also an upside, its the finish. Its nice and all, but it is easily scratched and hard to keep clean. On the flip side of that the finish does look rather sharp and it would look really nice in a clear case. So if you do get this, Id suggest leaving it in the box until you are ready to install it. Even then take care in the handling and have a bottle of window cleaner handy to wipe it down afterwards or wear thin cotton gloves during the install process to keep fingerprints and smudges to a minimum.
Conclusion
With the street price of around $100.00 Ultra has provide a nice looking, well performing, quiet power supply that can hold up to most of todays modern systems. The mirror finish is a easy on the eyes but could be a little more scratch resistant for my liking. With the amount of connections you should not run out of plugs, but if you are tight on space and in a small form factor case you may want to consider a modular PSU.