Ultra Aluminum Hard Drive Cooler Review
By
Are Hard Drive Coolers Worth It?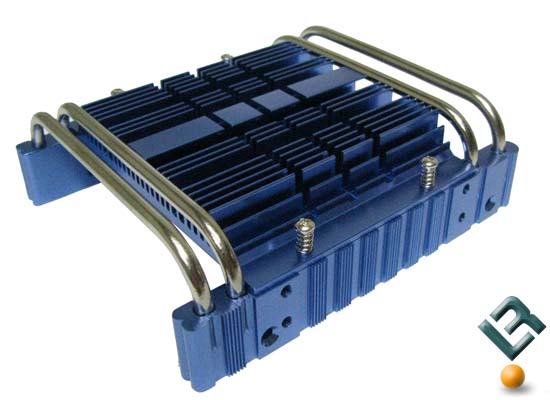 Most people dont give a whole lot of thought to cooling of their hard drive. Ill admit that I have neglected my share of drives over the years, but a cool running drive is a longer lasting and more stable drive. Many of you are thinking just slap a fan in there and go on with life. Well, in the never ending quest for the silent system, a fan may not be an option or the case doesn't have room to fit a fan. Thats were items like the Aluminum Hard Drive Cooler by Ultra comes in. It is a high efficiency passive heatpipe cooler for 3.5 hard drives, which also provides vibration isolation. Lets look at the specs before we get to into the cooler.
Specifications
Heatpipe Material: Sintered Powder Heatpipe
Heatsink Material: Aluminum
Grounding: Wire Grounding
Dimensions: 143 x 122 x 42mm Weight: 402g
Features
Passive Thermal solution for Hard Drives High performance sintered powder heatpipe dissipates heat efficiently.
Rubber dampers reduce HDD noise and vibration.
Top heatsink fins provide an outstanding cooling surface area.
Fan-less operation .
Packaging and Accessories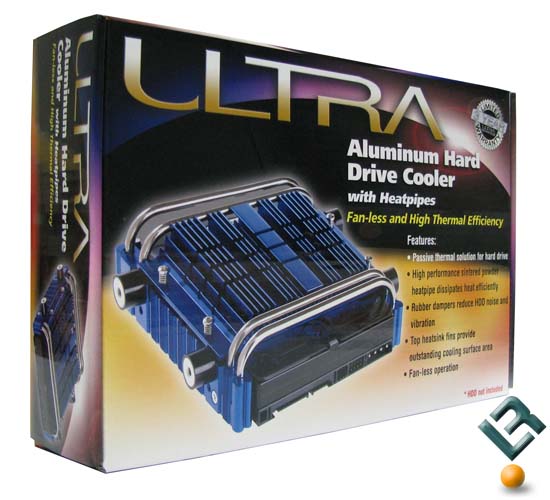 Ultras drive cooler comes in a very study box sporting some nice artwork and the specs.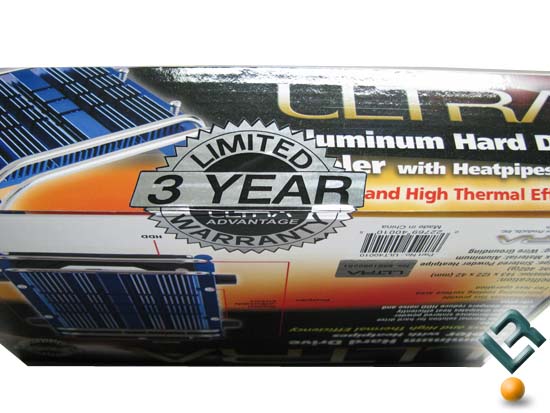 Before you can open the box, you have to cut the seal on one side that informs you the cooler has a 3 year warranty. The way the cooler is built I doubt one would ever need it, but hey, its a nice thing to have.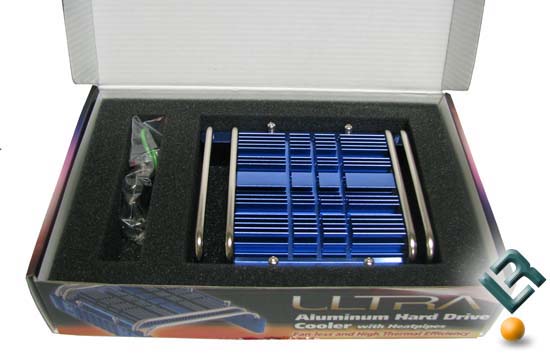 Inside the box, we can see that the cooler is very well packed in stiff foam. Protecting the top of the cooler is a 1/4 layer of foam, and the instructions.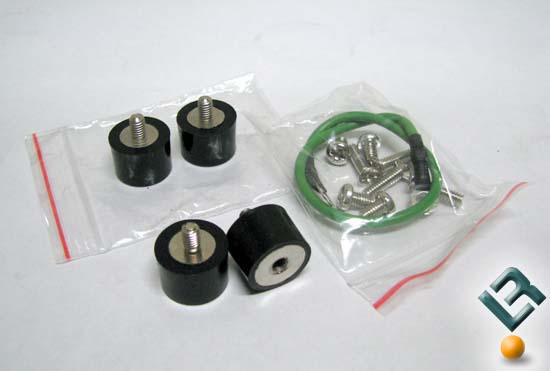 Here, we have the included mounting hardware. You get the screws needed to mount the drive to the cooler, the rubber isolators for mounting it all into your case, and a grounding wire.