TTGI TT-600K04 (600W) Modular ATX/BTX PSU
By
A Look Inside
I started my testing off by measuring rail voltages using a Fluke 187 digital multimeter. The PSU was plugged directly into the board where LOAD vs Idle could be measured. Thuis is much more accurate then my original method which employed a simple bridging plug and mulimeter readings. I retested following ExtremeOC's PSU testing guide.
Fluke 187 readings @ IDLE:
3.3V = 3.34V
5V = 5.21V
12V = 11.81V
Fluke 187 readings @ LOAD
3.3V = 3.31V
5V = 5.17V
12V = 11.77
The 12V rail was slightly low but still within spec, the other rails were at or above specifications. Unfortunately there's no external, nor internal access to voltage rail adjustment as on earlier TTGI model's. Removing the unit's cover exposed no "hidden" pots for rail adjustmet, but does give us a look into the build and parts quality.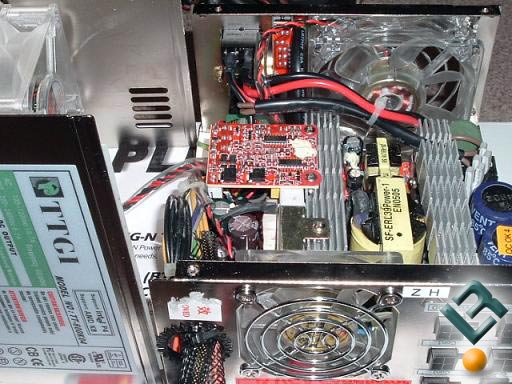 The heatsinks aren't as large as I've seen in other designs, however; with four fans the alminum heat-sinks spec'd are well suited. As stated earlier there were no voltage pots anywhere within the unit.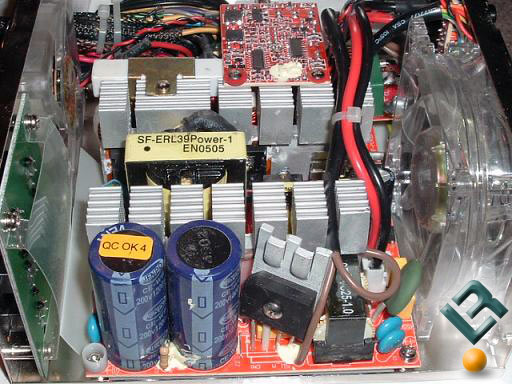 As usual TTGI spec's their PSU's with quality parts and the build quality is organized and clean. The unit runs relatively cool, even under Silent mode. There are three fan speed modes including Auto, SIlent, and Turbo adjustable via a switch located on the back of the unit. Each mode has a designated LED indicator, shown below in Auto mode. Running under Silent or Auto mode the unit is barely audible, under Turbo mode; however, it's audible although not annoyingly so.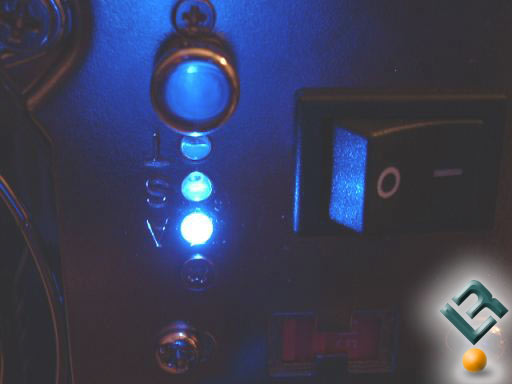 Of course the unit's primary feature is it's modular capability which eliminates the often crowded, cumbersome cabeling supllied with most PSU's. As heatsinks grow in size or enthusist's turn to H20 cooling windowed cases have become the norm, and ergonomics has become an impotant consideration for more PC-user's. The TT-600K04 offers 4-universal modular connectors, 1-SATA modular connection, and 1-VGA/HDD modular connection.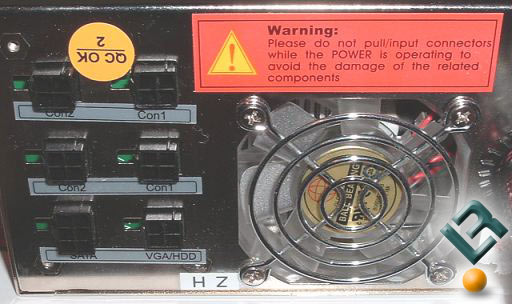 Now let's take a look at some real performance numbers using our test system and see how this PSU holds up against a power hungry Intel Pentium 4 550 Processor.