TTGI TT-600K04 (600W) Modular ATX/BTX PSU
By
Introduction/specs
TTGI USA (aka Super Flower) builds some of the best budget power supplies on the market. Their TT-520W was very popular in overclocking circles several years ago, and it's predeccsseor the TT-550W 4-fan mirrored model featuring a 55A – 5.5V rail, and 22A – 12V rail can be found for under $75. As the industry changes so too does TTGI and their newest line-up is a Switching Modular PSU line offering 2, 3, 4-fan and 14cm-fan models. They are all ATX/BTX compatible with an included adpater for ATX boards, and a PCI-ex graphic card power cable, also standard. As usual the PSU arrived in great shape, and well packaged.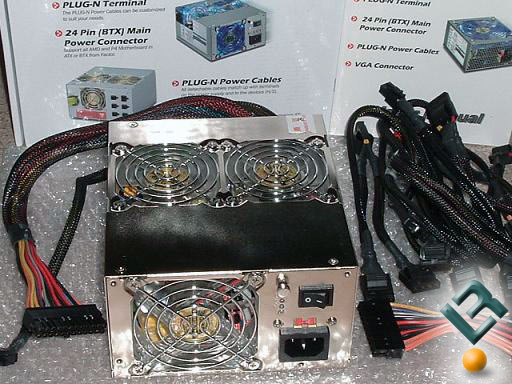 TT-600K04 Specifications (including amperes per rail):
+3.3V = 35A

+5V = 53A

+12 = 30A

Combined +3.3V & +5V = 285W

Total Combined +3.3V & +5V & +12V = 538W

Total Power 570W

Max Peak 620W

AC Input 100 ~ 120Vac 10.7A

AC Input 200 ~ 240Vac 6.2A

Frequency 50/60Hz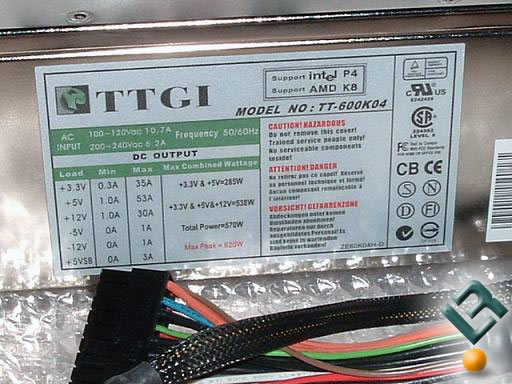 The unit features all aluminum casing and four cooling fans which provide above average ventillation aiding in exhausting case heat. On a sidenote, TTGI's 14cm PSU's are some of the best units available which also aid in case cooling. Our test unit will be evaluated in my reference Intel system based on the Abit AA8 Duramax and a Retail P4 550 (3.4GHz). Watercooling the LGA Prescott will be handled by Alphacool's Xtreme Pro Set switching out the NexXxos XP waterblock for the NexXxos BOLD block.
System Specs:
CPU – P4 550 (3.4GHz) LGA 775

Motherboard – Abit AA8 Duramax (BIOS 19)

Graphics – ATI X800 XT, 256MB PCI-ex

HDD Storage – Maxtor Diamond Max 9 Plus, SATA150/120GB

Memory – Corsair Twin-2X4300C3PRO, 1024MB pair @ CL3-3-3-6

Optical Drive – TDX CD/RW VeloCD

PSU – TTGI USA TT-600K04, OCZ PowerStream 420W BTX/ATX

Case – Thermaltake Shark

Operating System – WinXP Professional
Now that we know a little bit about the power supply lets take a closer look at the inside and the performance that it offers.