Tt eSPORTS Poseidon Z RGB Mechanical Gaming Keyboard Review
By
Tt eSPORTS Poseidon Z RGB Mechanical Gaming Keyboard
Are you looking for an RGB mechanical keyboard without the crazy looks and without the silly price? The Tt eSPORTS Poseidon Z RGB might be up your alley. Thermaltake released the modest looking monocolor backlit Poseidon Z keyboard last year with a fairly low price for a mechanical keyboard. It was also a change from many of the many other gaudier looking Tt eSPORTS keyboards some which also had questionable seemingly unnecessary features, yet the simpler looking Poseidon Z looked good with its more minimalist design. The Poseidon Z RGB is an RGB version of that keyboard that looks to shake up the market with a repeat of that clean look and lean price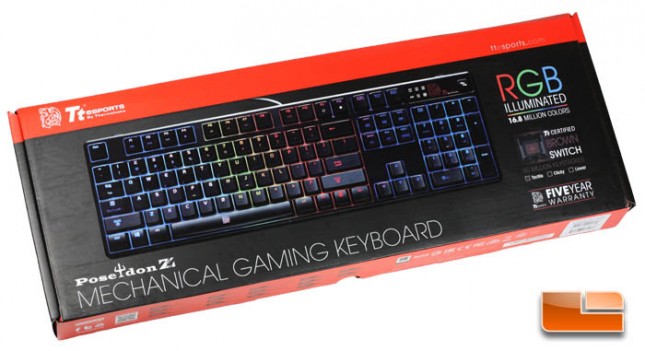 We previously reviewed the original Poseidon Z with favorable comments. Though this new RGB version looks mostly the same, the insides are different and a good number of new features have been introduced. The Poseidon Z RGB features RGB Kailh mechanical switches in a choice of either tactile Brown (KB-PZR-KBBRUS-01) or clicky Blue (KB-PZR-KLBRUS-01), fully programmable keys, on-board memory, five profiles, N-key rollover up from six on the original, and a switch for disabling the Windows and now also the CTRL key. The Poseidon Z RGB comes with a generous five year warranty and can be found on Amazon for $97.99 shipped.
Tt eSPORTS Poseidon Z RGB Mechanical Gaming Keyboard Features:
Fully 16.8M RGB LED Back-lit Mechanical Keyboard With 5 Levels of Brightness
Full 104 Layout Keyboard, CLASSICE SHAPE With LIGHT And Sleek Styling
Upgraded 32 Bit ARM Contex-m0 MCO (Microcontroller Unit)
Disable Windows Key: Turn Windows Key Into CTRL Key
Full Anti-ghosting Keys No More Worries On Ghost Keys!
USB N-key Rollover Support Fully N-key Rollover Support Via USB
Switchable N-key Rollover / 6-key Rollover Function
Enhance Benefits of Per-key 16.8 Million Color Animated Backlighting
Impressive Wave, Ripple, Unique Lighting Effects And Other Splendid Features
Programmable Macro Feature Via Keyboard Software or On-the-fly
All Keys (besides Win And Fn Key) Can Become A Macro Key In Game Mode, Total Support 510
Macro Sets (5 Profiles X 102 Macros)
Tt eSPORTS Poseidon Z RGB Mechanical Gaming Keyboard Specifications:
Color: BLACK
No. of Macro Keys
Normal Mode: NO
Game Mode: Full key 102 (besides Fn and Win Key) total 510 macro sets
No. of Game Profiles: 5(Each contain Normal and Game Mode)
Weight: 995 GRAMS
Dimension: 440 x 133 x 37 mm
Interface: USB
Membrane, Mechanical, Plunger: Mechanical
Anti-Ghosting Keys: 100% Anti-Ghosting with 104 key rollover on USB
On-Board Memory Size: 512KB
Polling Rate: 1000 HZ
Back-Light: RGB 16.8Million Color
Wrist Rest: NO
Smart Cable Management: YES / 3 ways
Multimedia Keys: 7
Keystroke Lifecycle: 50 MILLION
Cable Length: 1.8M
Other Features: ADJUSTABLE BRIGHTNESS
Graphical UI: YES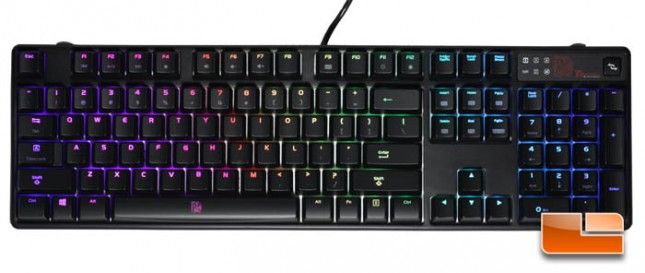 The features listed above were taken from a product sheet downloaded from the Tt eSPORTS website. There is drastically less information listed on the box which has been transcribed below.
RGB illuminated 16.8 Million colors
Tt certified switch: 50 million keystrokes
Five year warranty
Programmable macro feature: Enhanced macro function with 32 bit MCI for full spectrum RGB lighting effects, plus fully programmable macro keys
Poseidon Z RGB customize you life: Tt eSPORTS Lighting Option software gives you the power to personalize the color lighting effects of the Poseidon Z RGB keyboard. 16.8 million colors with a spectrum of visual effects let you take your gaming experience to the next level
16.8 million colors: Fully backlit mechanical keyboard featuring 16.8 million colors with 6 levels of brightness adjustments
Music track keys
Volume keys
On-the-fly macro recording
Brightness keys
CTRL/ Windows key switch
Profile switches
N-Key / 6-Key Rollover switch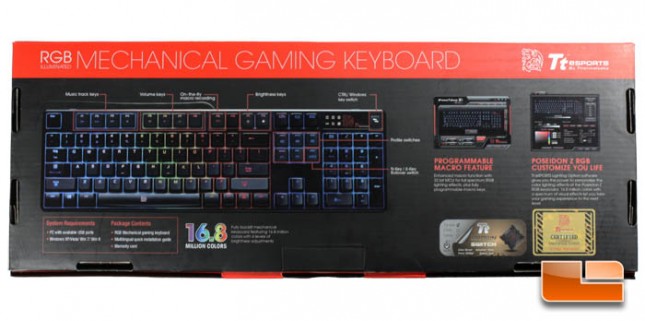 Not much is included with the Poseidon Z RGB keyboard. Just a Multilanguage quick start guide and warranty information.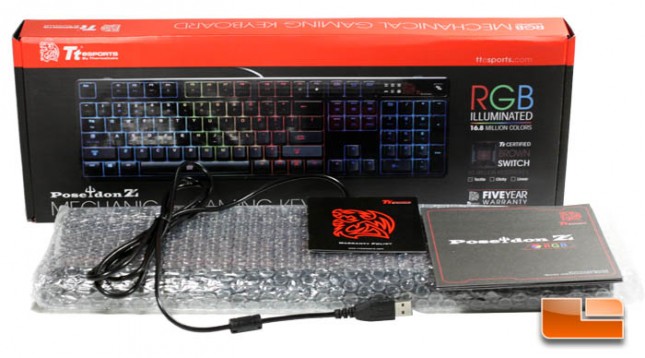 On the next page, we take a closer look at the keyboard.