TRENDnet WiFi Baby Cam Review – TV-IP743SIC
By
TRENDnet WiFi Baby Cam with Night Vision
When you find out that you are having a baby everything starts to get a little crazy quickly. There are so many products you have to look at and decisions you have to make. One of the many products you have to research would be baby monitors. What kind do you want? There are some that have viewing display with it and others that you can watch through your smartphone or tablet. If you wanted to be able to check on your baby when you are at the office, you might need one with Cloud services. There are hundreds of baby cameras to pick from at various price points, so it can be a tough decision.
Today we are going to look at the TRENDnet WiFi Baby Cam with nightvision (part number TV-IP743SIC). Gone are the days of the old walkie talkie baby monitors, now we have baby monitors with nightvision and recording capabilities that play soothing songs and can be viewed on four different devices simultaneously. Oh and did I mention that it has a microphone so that if your baby is crying you can try talking to him first through your monitor instead of having to rush in to turn on the lights and really wake him up? So, let's take a closer look at the TRENDnet WiFi baby cam with nightvision that you can find on Amazon for $67.99 shipped.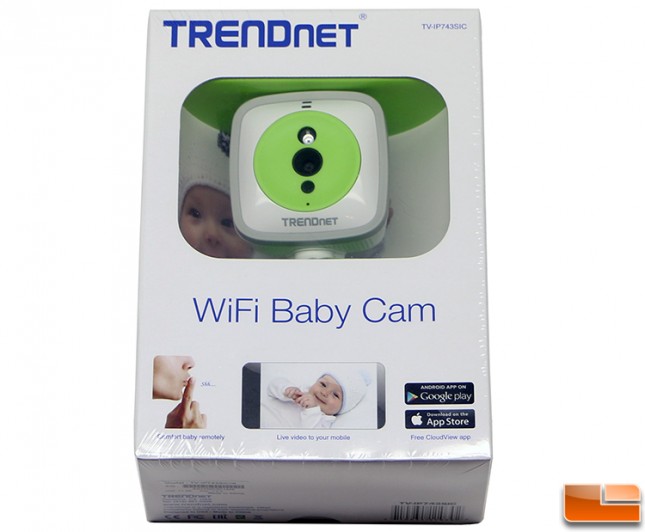 The TRENDnet WiFi Baby Cam comes in a nice looking retail box that highlights all the key features. This camera works with smartphones, tablets, PC's so it should work in pretty much any home in the world. You can enable up to four video profiles for the camera and simultaneously stream the feed to multiple iOS and android users. The camera also has automatic nightvision, so you don't have to manually switch it. It is also more than just a camera though as it allows for two way communication (like an intercom), which means you can hear your baby and console them if needed through the device. The TRENDnet monitor also plays five different songs that can be played when needed or put on a loop.
TRENDnet WiFi Baby Cam Specifications:
Lens
Focal length: 3.6 mm, F2.8
Focal depth: 20 cm – infinity
Lens: fixed
Sensor: 1/5 CMOS
Zoom: 4x digital
Viewing Angle
Horizontal: 45
Vertical: 35
Diagonal: 55
Minimum Illumination
IR off : 1 lux
IR on : 0 lux
5 m (16 ft.) IR illumination distance
Video Resolution
H.264: 640 x 480 up to 30 fps
MPEG4: 640 x 480 up to 30 fps
MJPEG: 640 x 480 up to 30 fps
Audio & Wireless
Built-in microphone
Built-in speaker
Built-in IEEE 802.11b/g/n wireless antenna
Operating Temperature: 0 – 40 C (32 – 104 F)
General
Dimensions: 70 x 65 x 88 mm (2.8 x 2.6 x 3.5 in.)
Weight: 102 g (3.6 oz.)
Maximum Power Consumption: 5 Watts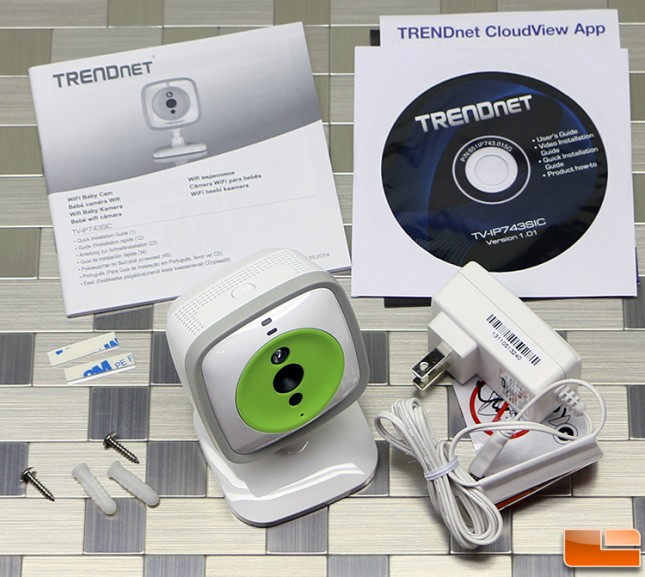 The TRENDnet TV-IP743SIC WiFi Baby Cam comes with a multi-language quick installation guide, CD-ROM (users guide), the AC-to-DC Power adapter (5V DC, 1A) with a 1.5 m/5 ft micro-USB power cord and finally the camera mounting hardware.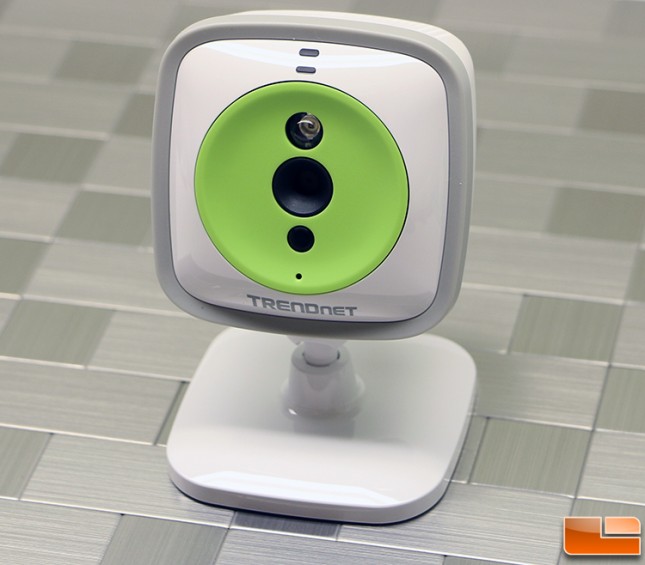 On the front of the TRENDnet WiFi baby monitor you will find the camera, LED light indicator and the microphone.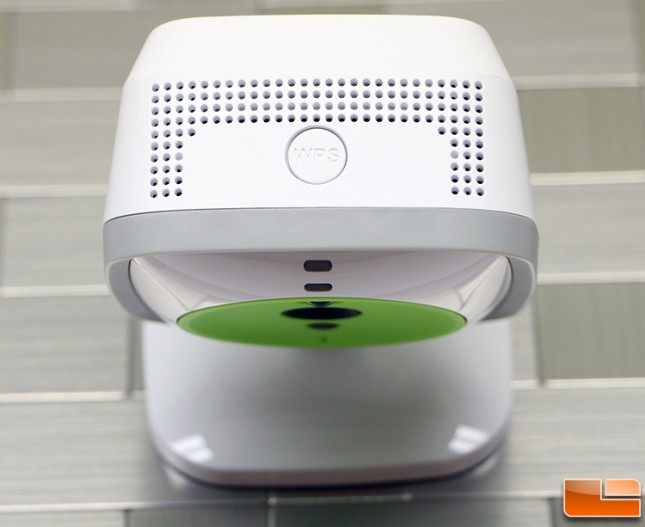 On the top of the camera you will find the WiFi Protected Setup Button (WPS) and vent holes for heat. You will find similar holes on the bottom of the camera as well.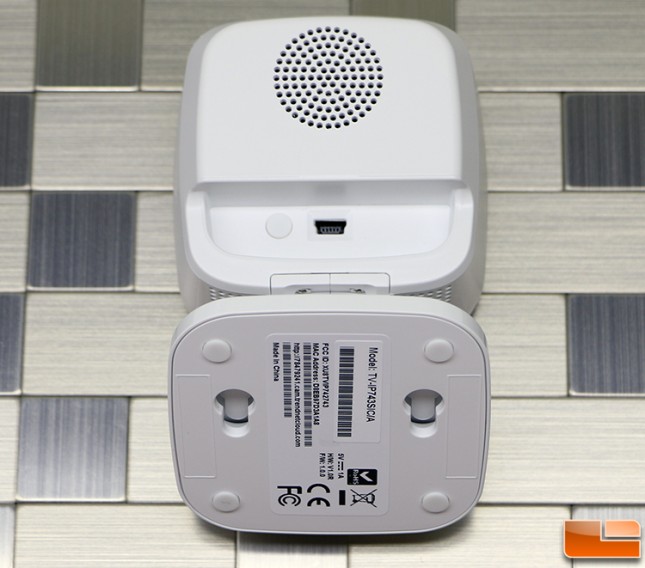 On the back of the monitor you will find the power jack (mini-USB) as well as your speaker.On the stand of the TRENDnet WiFi baby cam you will find a flexible mounting base and mounting holes for wall mounting. TRENDnet includes the hardware to wall mount in its included bundle.
Let's take a look at setup and use!