Transcend 64GB SDXC Ultimate UHS-I Memory Card Review
By
Transcend's Ultimate 64GB SDCX Card
If you are a camera enthusiast that is looking for a new memory card you should be looking for a Ultra-High Speed Class 1 (UHS-I) card to get the most from your camera. When you are shooting in 'burst' or 'continuous' mode your camera's internal buffer usually runs after a bit and you have to wait for the camera to catch up. Since you can't easily increase the buffer of the camera the only thing you can do is get a really fast memory card that allows the data to be written to the memory card from the buffer as fast as possible. The fastest memory cards today are UHS-I memory cards and on UHS-I supported devices, the cards should allow the camera to take more shots per burst and increase the frame rate (fps). UHS-I rated cards have speeds of up to 104 MB/s and when you see the logo on a product, you know it is one of the fastest SD cards available today. Today, Legit Reviews will be looking at the Transcend Ultimate 64GB SDXC UHS-I Memory Card that is available online for $62.66 shipped.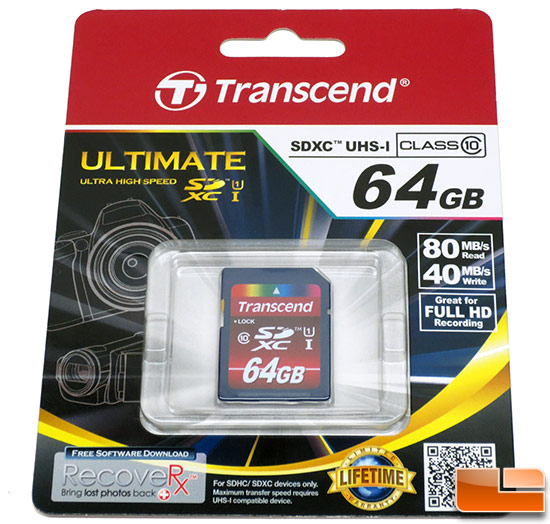 The Transcend 64GB SDXC Ultimate memory card comes in cardboard packaging that is easily opened without scissors. The packaging clearly shows the product name, speeds, what it is for and that is comes a free download of RecoveRx data recovery software. This SDXC card isn't the fastest on the market, but the 80MB/s read and 40MB/s write speeds put it in the top tier and only a few cards feature faster ratings.
According to Transcend, this 64GB SDXC card can store a full 16 hours of 1080p High-Definition footage (1920×1080 9Mbps H.264 AVC compression) or over 4000 RAW images (based on 14MB file size)!
Transcend 64GB SDXC Class 10 UHS-I Ultimate Features:
Supports Ultra High Speed Class 1 specification (U1)
Speed Class 10 compliant
Fully compatible with SD 3.01 standards
Supports exFAT file system
Easy to use, plug-and-play operation
Built-in Error Correcting Code (ECC) to detect and correct transfer errors
Supports Content Protection for Recordable Media (CPRM)
Supports auto-standby, power-off and sleep modes
Suitable for SDXC compatible devices
Mechanical write-protection switch
RoHS compliant
Free download of RecoveRx data recovery software
Limited Lifetime Warranty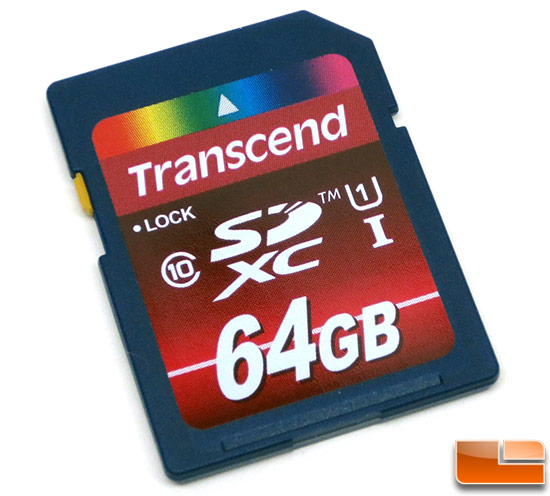 This memory card is called Secure Digital eXtended Capacity (SDXC) since it features a capacity over 32GB and below 2TB (2048GB). Any card that is under 32GB is considered a Secure Digital High Capacity (SDHC) card. The Transcend SDXC Ultimate line is only offered in capacities of up to 64GB, so this is as big as you can go. Transcend does offer a larger 128GB SDXC Class 10 card (TS128GSDXC10) for $109.99, but it is not UHS-I rated and is speed rated at up to just 22MB/s read. The Transcend 64GB SDXC Ultimate UHS-I card that we have today is rated at up to 80MB/s read!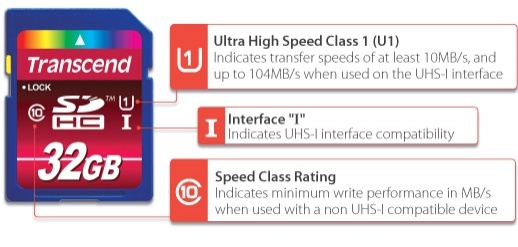 In case you are wondering what all the markings mean on the Transcend memory card here is a nice little break down that was provided by Transcend.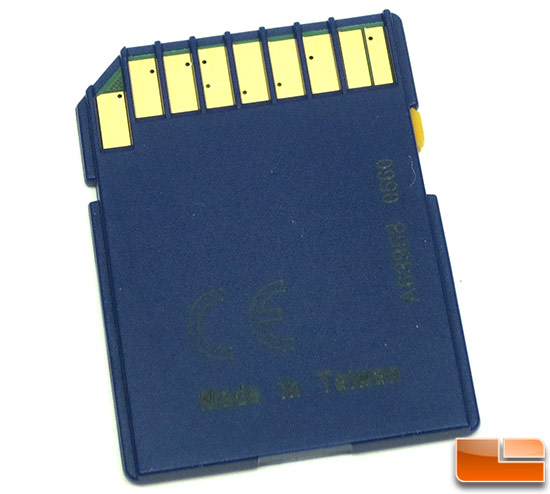 The back of the Transcend 64GB SDXC Ultimate card shows that it was made in Taiwan and has the usual CE marking that is required in teh European Economic Aera (EEA). With the CE marking on a product, the manufacturer declares that the product conforms with the essential requirements of the applicable EC directives. The gold pins on this SDXC cards in them have small holes in them, which are unlike anything we have seen before. Transcend says that this card is very durable and says that it can handle 10,000 insertion/removal cycles before the pins wear out. Transcend also puts a lifetime warranty on the memory card, so if it should ever malfunction or break you should be able to send it in for replacement.