Toshiba OCZ VX500 512GB SSD Review
By
Toshiba OCZ VX500 Drives Arrive To Replace The VT180
The Toshiba OCZ VX500 was released this morning and it will be replacing the current OCZ Vector 180 or the VT180 as it is called by Toshiba. The OCZ Vector 180 with the OCZ Barefoot 3 controller debuted back in March 2015 and over the past 1.5 years it failed to take off. The mainstream SATA SSD market is extremely tough these days as what can you do to stand out? The SATA III interface has been a bottleneck that has blocked performance advancements and is why it's hard for any company to claim they have the fastest SATA SSD. Performance drives now utilize the PCI Express interface and have moved onto the NVMe instruction set to get massive performance increases. That leaves high-performance SATA drives in an interesting spot as the enthusiasts no longer want them for their primary drives as they have moved on. SSD manufacturers have recognized this, so these days they are trying to get the best balance of performance and price for mainstream class drives.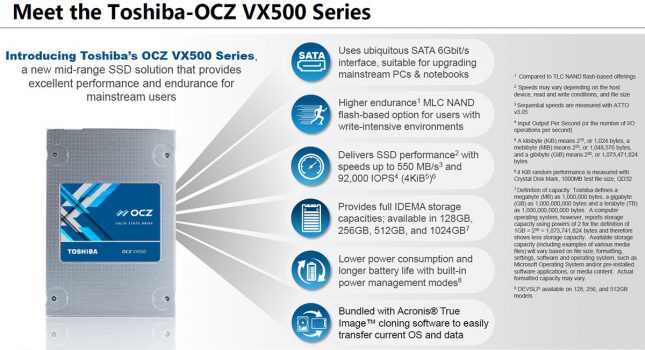 The Toshiba-OCZ VX500 SSD series is aimed at those upgrading from a hard drive or smaller capacity SSD. This might should strange to enthusiasts that upgraded to an SSD years ago, but many brand new store bought systems today still feature traditional hard drives. We just looked at the CyberPowerPC Gamer Xtreme VR desktop gaming PC ($720) and while it happens to be ready for VR gaming it has a 1TB hard drive and lacks the speed of an SSD. The VX500 series of SSDs is targeted at owners of systems like that. You can buy a Toshiba OCZ VX500 SSD and use the bundled Acronis True Image 2016 Cloning Software to easily transfer your OS, applications and data from the slow hard drive over to the faster SSD. The old school rotational drive can be used for mass storage (ie: your Steam game directory).
OCZ VX500 Performance, Endurance & Pricing:
| | | | | |
| --- | --- | --- | --- | --- |
| | 128GB | 256GB | 512GB | 1024GB |
| Max Sequential Read | 550MB/sec | 550MB/sec | 550MB/sec | 550MB/sec |
| Max Sequential Write | 485MB/sec | 510MB/sec | 515MB/sec | 515MB/sec |
| Max Random Read (4K QD32) | 62,000 IOPS | 90,000 IOPS | 92,000 IOPS | 92,000 IOPS |
| Max Random Write (4K QD32) | 49,000 IOPS | 58,000 IOPS | 64,000 IOPS | 65,000 IOPS |
| TBW | 74 TB | 148 TB | 296 TB | 592 TB |
| Daily Usage | 40 GB/day | 81 GB/day | 162 GB/day | 324 GB/day |
| MSRP in USD | $63.99 | $92.79 | $152.52 | $337.06 |
The OCZ VX500 series is available in 128GB, 256GB, 512GB and 1024GB capacities. Pricing starts at $63.99 for the 128GB drive, $92.79 for the 256GB drive, $152.52 for the 512GB drive and $337.06 for the largest 1TB drive. When it comes to performance numbers you'll find sequential read/write speeds of up to 550 MB/s and 515 MB/s, and random read/write performance of up to 92,000 and 65,000 4KiB input/output operations per second (IOPS). The performance varies between the capacities, so be sure to check out the table about for specifics.
The VX500 is based off a Toshiba OEM product and Toshiba doesn't like to talk about hardware specifics. They would only tell us that it uses a Toshiba controller and MLC NAND Flash memory. Luckily we took apart the drive and found out what is using ourselves. More on that in a bit!
OCZ VT180 versus OCZ VX500:
| | | | | |
| --- | --- | --- | --- | --- |
| Capacity: | VT180 240GB | VX500 256GB | VT180 480GB | VX500 512GB |
| Part Number: | VTR180-25SAT3-240G | VX500-25SAT3-256G | VTR180-25SAT3-480G | VX500-25SAT3-512G |
| MSRP: | $149.99 | $63.99 | $269.99 | $152.52 |
| Sequential Read Speed: | 550 MB/s | 550 MB/s | 550 MB/s | 550 MB/s |
| Sequential Write Speed: | 530 MB/s | 510 MB/s | 530 MB/s | 515 MB/s |
| Random Read (4KB QD32): | 95,000 IOPS | 90,000 IOPS | 100,000 IOPS | 92,000 IOPS |
| Random Write (4KB QD32): | 90,000 IOPS | 58,000 IOPS | 95,000 IOPS | 64,000 IOPS |
| Steady State Rdm Write (4K QD32): | 20,000 IOPS | Not Given | 23,000 IOPS | Not Given |
| Endurance (TBW): | 91 TBW (40GB/Day) | 148 TBW (81GB/Day) | 91 TBW (40GB/Day) | 296 TBW (162GB/Day) |
When it comes to generational performance improvements the VX500 is actually slower when looking at the four corner performance tests. The only 'improvement' over the VT180 drives that the VX500 has on paper is in the endurance ratings. The OCZ Vector 180 came with a five year warranty that supported 40GB/day of writes (~91TB Total Bytes Written) when it came to an endurance rating. OCZ is keeping the 5-year warranty, but has significantly increased the TBW rating on all of the new VX500 drives.The table above shows the VT180 versus the VX500 drives in the 240/256 GB and 480 / 512 GB capacities.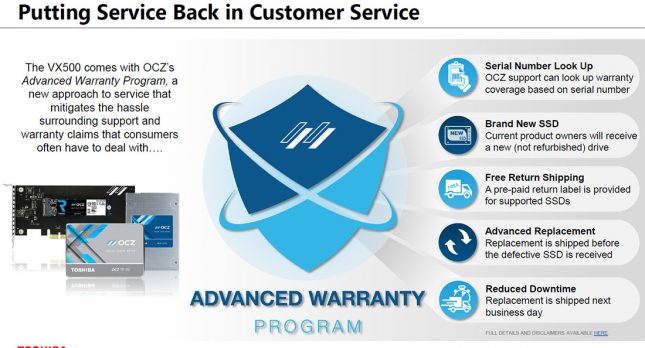 OCZ's public image over the years have without a doubt had highs and lows, but they are owned by Toshiba now and things have greatly stabilized in recent years. OCZ has been working on offering the best warranty program for the SSD market and is offering what they call the Advanced Warranty Program. With the Advanced Warranty Program you only need the drive's serial number (found on the back drive label), with no proof of original purchase necessary. You are provided with a pre-paid return label and you'll be shipped a non-refurbished replacement drivethe next business day. This means you'll get your replacement drive fast and that is always a good thing when you are talking about a storage drive. Hopefully you'll never need to use the warranty program, but all drives can fail regardless of who the manufacturer happened to be.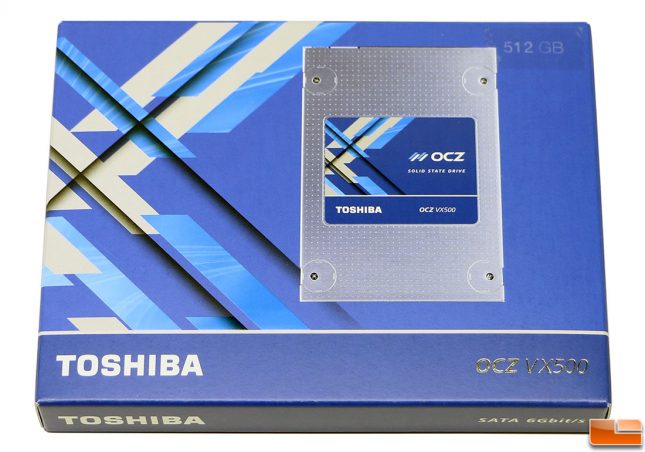 The drive that we'll be taking a closer look at today is the Toshiba OCZ VX500 512GB SSD. This drive is sold under part number VX500-25SAT3-512G and has an MSRP of $152.52. This is likely going to be a popular model due to its capacity and price. Hard to complain about the price when you are looking at $0.30 per GB based off the MSRP and you know street prices will be lower.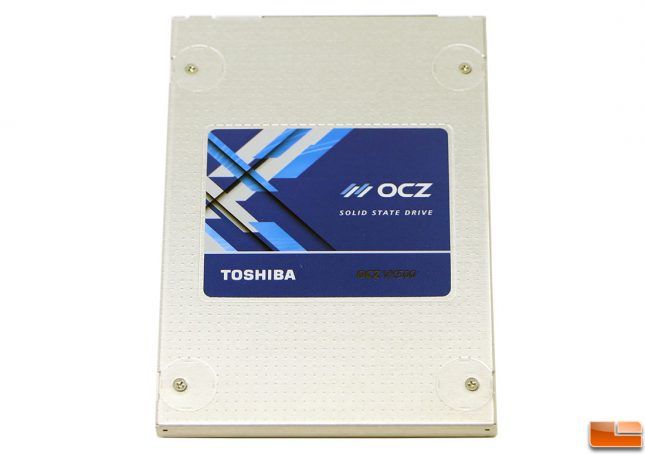 The Toshiba OCZ VX500 SSD uses a silver aluminum enclosure that looks like any other Toshiba OEM drive housing for nearly the past decade. The VX500 is just 7mm thick, so you shouldn't have any issues fitting it inside a laptop that supports 2.5-inch SATA III drives.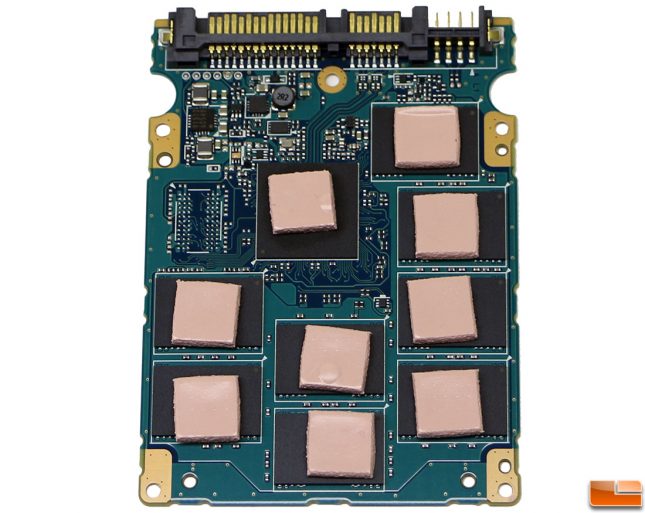 Inside you'll find a single sided PCB that has Toshiba's own TC358790XBG controller along with eight 64GB 15nm MLC NAND Flash chips. Notice that there is no DRAM chip on this drive! This controller has been around since 2013 as we've seen it before on the Toshiba Q Series Pro. In fact, if you go back and look at some of those review pictures you'll see that the layout is generally the same.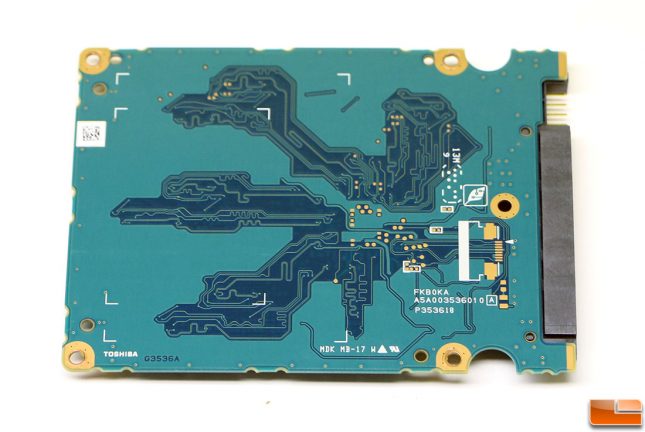 Toshiba is finally moving away from Advanced 19nm NAND or A19 NAND for their mainstream drives and is using Toshibas next-gen 15nm planar MLC NAND! So, basically you have a controller that is a number of years old that has been updated with the latest MLC NAND and have had it all tied together with the latest firmware to optimize it all for the mainstream market. This is one of the reasons that the VX500 series doesn't have any encryption support as the Toshiba TC358790XBG controller has never supported hardware based encryption.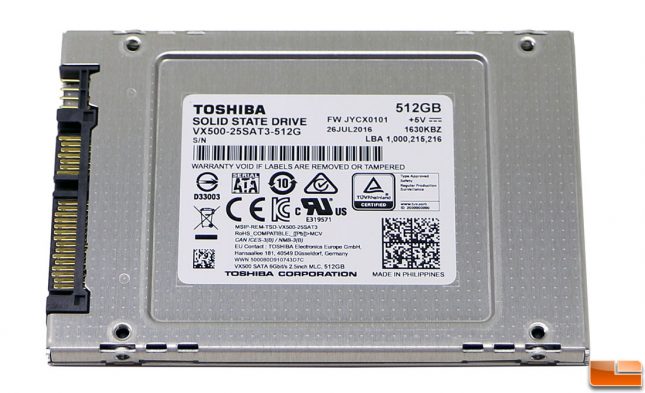 The back of the VX500 has the product label on it that has all the usual information.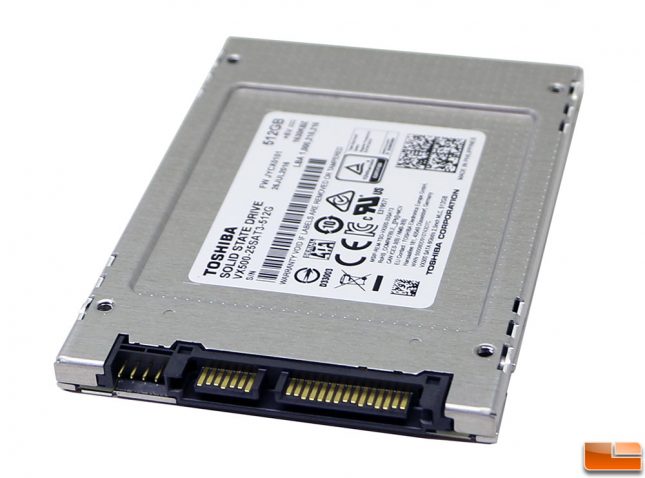 The VX500 uses a standard 2.5-inch SATA III drive interface and next to the SATA connector are some pins for a debug header. This is something that will never be used by an end user as they are just a way for Toshiba/OCZ to pull logs and other information for failure analysis.
Let's take a look at the test system and then some performance numbers!