Thermaltake Water2.0 Pro CPU Cooler Review
By
Thermaltake Water 2.0 Pro 120MM Dual PWM
Thermaltake has been around for as long as I can remember. Over the years they have made just about every accessory for a PC. They have even done water cooling. In the past Thermaltake had the Big Water series, a user assembled kit that took a couple of 5.25″ drive bays and could be expanded on. Then came the Pro Water series, which was also a user assembled kit that mounted in a more traditional way like most custom water loops. Both the Big Water and Pro Water kits where expandable, so GPU water blocks and extra radiators could be added to the loop.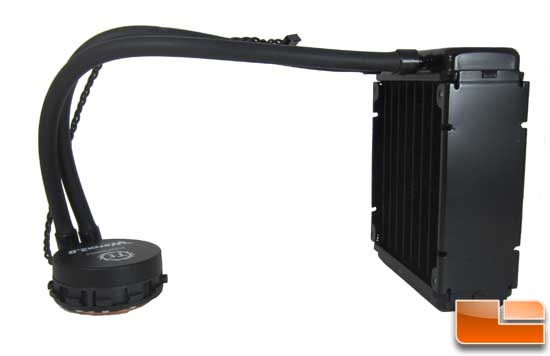 Now Thermaltake has teamed up with Asetek and brought the Water2.0 line to market. The Water2.0 line consists of 3 All-In-One sealed water coolers.
The Water2.0 Performer, a slim 120mm radiator cooler with twin fans.
The Water2.0 Pro, a thick 120mm radiator cooler with twin fans.
The Water2.0 Extreme, a thin 240mm radiator with twin fans.
We recently looked at the budget friendly Water2.0 Performer that retails for $62.99 shipped and found it to be a very good cooler for the money. Today we have the Water2.0 Pro for you to take a closer look at. The Water2.0 Pro runs $98.91 shipped and features a double thick 120mm aluminum construction radiator with twin 120mm fans in a push/pull arrangement. The Thermaltake Water2.0 Pro costs 57% more, so it will be interesting how much better performance will be.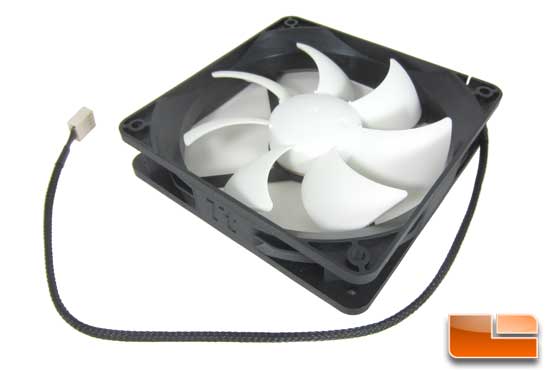 The fans are PWM controlled and operate between 1200 to 2000 RPM pushing a max of 81.3CFM @ 27.4dBA.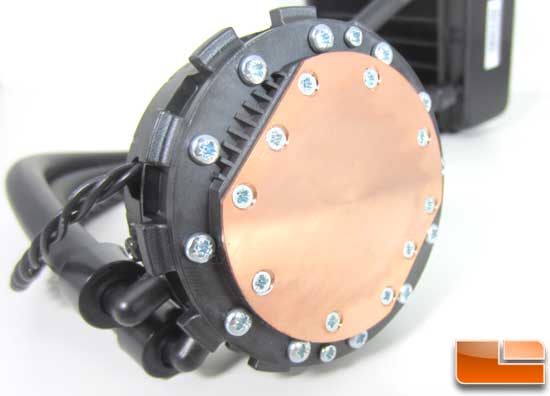 The water block is all copper and the pump is connected to the radiator with flexible black rubber tubing.
Features of the Thermaltake Water 2.0
Pro
Powerful and Robust Pump Maximizes the Liquid Cooling Circulation. No Refill Needed.

High performance Copper base plate accelerates the heat conductivity.
High reliability low profile pump provides quick liquid circulation lowering the temperature.
Pre-filled coolant reduces the liquid replenishment hassle.
Low evaporation tube decreases the loss of coolant effectively.
The high-tech sealed circulation system prevents leaking issue.

Thicker Radiator Benefits from the Larger Cooling Surface

Powerful fan blows the heat of radiator out to the chassis to maximize cooling performance.
Dual Automatic Adjustable 120mm PWM Fans maximize the cooling performance and tranquility.
PWM control function fan (1200~2000rpm) automatic adjust the fan speed according to CPU temperature, minimize overheating possibility.

Universal Socket Compatibility & Accessory Package

Universal socket support:
Intel: LGA2011, LGA1366, LGA1156, LGA1155,
AMD: FM1, AM3+, AM3, AM2+, AM2
Specifications of the Thermaltake Water 2.0 Pro
Motor speed: 2800+-150 RPM
Rated Voltage: 12V
Rated Current: 220mA
Fan
Dimension: 120 x120 x 25mm
Speed: 1200~2000RPM
Noise Level: 27.36dBA(Max)
Rated Voltage: 12V
Rated Current: 0.5A
Max. Air Flow: 81.32CFM
Connector: 4 Pin
Radiator
Dimension: 149.9×119.9×48.8 mm
Material: Aluminum
Tube
Length: 326 mm
Material: Rubber
Weight: 1,060g
Compatibility
Intel: LGA 2011, 1366, 1155, 1156, 775
AMD: FM1, AM3+, AM3, AM2+, AM2
Let's move on to the next page where we can take a look at the retail packaging and then take a closer look at this CPU cooler.