Thermaltake Water 2.0 Performer CPU Water Cooler Review
By
Thermaltake Water 2.0 Performer
Way back in 2004 Thermaltake released their original water
cooling kits, with the Bigwater series. Today Thermaltake has brought us their new
Water 2.0 Performer, the first in their new series of all-in-one water cooling
kits. With a market that already has a few all in one coolers available; well
see what Thermaltake has changed to make their Water 2.0 series stand out.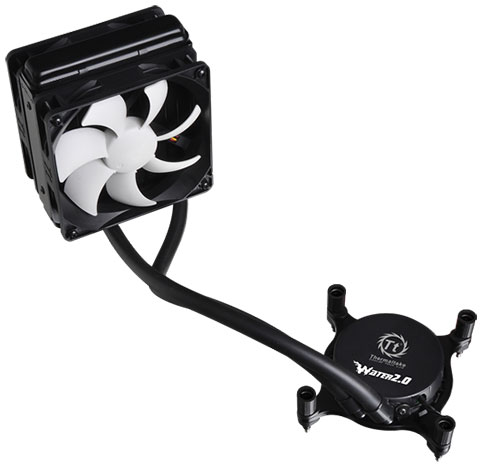 The Water 2.0 Performer is a single 120mm radiator liquid
cooling system. The maintenance free design means you just install it and leave
it alone. You never have to change the liquid or hassle with any of the stuff
that users who run custom water cooling loops have to deal with. This makes
this type of cooler extremely appealing to those who want to try water cooling
out without having to completely assemble an entire loop. With the Water 2.0
Performer being priced at $68.50 shipped at the time of this article,
its definitely aimed at the person who wants water cooling performance without
the hefty price of a full water cooling loop.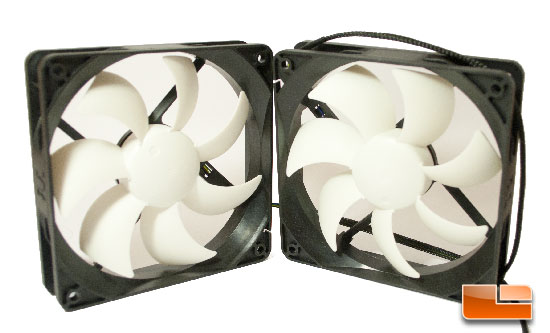 The Water 2.0 Performer comes complete with two 120mm Thermaltake fans to work together in a
push/pull configuration. The way this works is one fan pushes cool air over the
fins of the radiator, and the other one pulls the warm air out the back of the
case after its been used to cool the liquid inside the radiator. These fans
are PWM (Pulse Width Modulation) and rotate at speeds of 1,200-2,000RPM and can
move up to 81.32CFM at just 27.36dBA.
Main Features of the Thermaltake Water 2.0 Performer:
Flexible All-in-One liquid cooler that provides easy and safe
installation with no refilling needed
Dual 120mm PWM fans to maximize the cooling performance and heat
transfer
Universal socket compatibility
Thermaltake Water 2.0 Performer Specifications:
Model: CLW0215
Block material: Copper
Pump speed: ~2800RPM
Fan Size: 120x120x25mm
Fan Speed: 1,200-2,000RPM
Fan Noise: 27.36dBA
Max fan Air flow: 81.32CFM
Fan Connector: 4 Pin PWM (Pulse Width Modulation)
Radiator Material: Aluminum
Radiator Dimensions: 151x120x27mm
Weight: 815 grams
Warranty: 1 Year Parts and Labor
Socket Compatibility:
Intel LGA 775/1366/1156/1155/2011

AMD
AM2/AM2+/AM3/AM3+/FM1