Thermaltake Tsunami Dream Tower Case
By
Introduction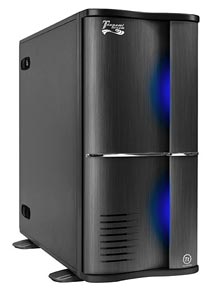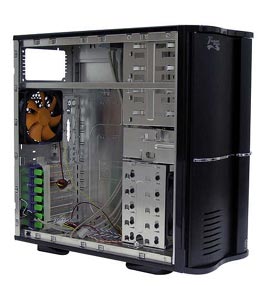 Today we take a look at the Thermaltake VA3000 Dream Series case. Thermaltake has always been known as a maker of quality cases. When I picture a Thermaltake case in my mind, I see something that could withstand a nuclear blast, a head on collision, or being thrown out a second story window at 3 A.M. (We won't get into that story here). My point is, Thermaltake cases have always been extremely sturdy and very roomy cases.
When I first looked into reviewing this case, I was very skeptical; after all, this case looked to be a clone of Cooler Master's Wave Master Case. How in the world could Thermaltake possibly make a mid-tower case that could even compare to the extremely popular Wave Master? Let's see how it stacks up.
Specifications:
Case Type: Modern Dream Tower Chassis
Weight: 5.6 kg (12.3lb)
Dimensions (H/W/D): 495 x 210 x 478
Cooling: Front (Intake)/ Rear (Exhaust) 120x120x25mm, 2000rpm, 21dBA case fans
Material: (Chassis) .8mm all aluminum made, (Front Door) Aluminum
Drive Bays: 11 Total device bays (external) 4 x 5.25, 2 x 3.5, (Internal) 5 x 3.5
Expansion Slots: 7
Colors: Black or Silver.
Supports ATX, Micro-ATX, and Extended ATX forms
Features :
High Efficient ventilation:
Dual 12cm silent fan in front & rear
Mirror coating
Dual USB 2.0, IEEE 1394 Firewire, Audio & Speaker ports
Ultra light: 5.6 kg (12.3lbs)
Excellent security with Lockable safety side-panel, chassis intrusion detection, and a 3-way lockable case door.
Retractable foot stand
Highly flexible "Silent Purepower supply" unit supports PS/II for PC case (optional)
Screw-less PCI/AGP slots for easy installation
Sliding rail design for easy installation of 5.25 drives
Lint free cloth for wiping down the exterior
Packaging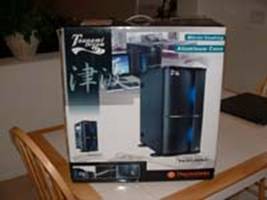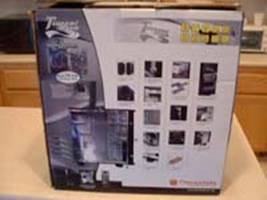 When I opened the door for the delivery man, I was a little worried. The case was not double-boxed or reinforced with any extra tape or padding. Just the same box you might expect to see at your local retailer. Not to worry though! As I was opening the box I realized that it was extremely thick cardboard, and it would take a really good drop for UPS/USPS to damage the case. I have to say that the carton does an extremely good job of describing the case and features; it isn't very often that you can actually make a good judgment on pictures and diagrams alone, but Thermaltake did an outstanding job on the product packaging. Once I got the box opened, I was even more pleased, there was no bubble wrap or cheap plastic wrapper, Thermaltake used a padded foam cover along with the standard foam wedges. It would take some kind of incident to damage the case in this packaging.