Thermaltake Purepower Power Station 520W PSU
By
Introduction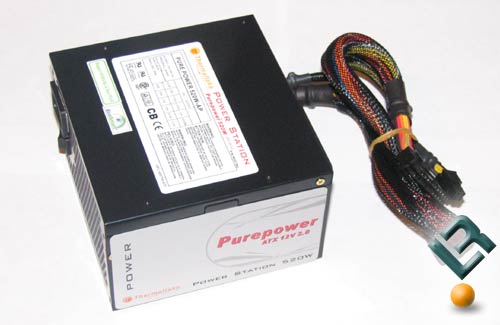 Today we are going to take a tour of one of Thermaltake's latest PSUs from the Purepower product line. The Purepower Power Station 520W modular power supply (PN: W0073) offers to power your latest system with ease!
Power supplies have really advanced in the last 2 years. Some of the advancement is from innovation, the other is from the necessity for more strict power guidelines. With power hungry processors and video cards on the market, older PSUs are becoming obsolete because they can not handle the load todays PC parts require. With this in mind, we are going to retire a Thermaltake 360W Purepower PSU and replace it with a new Thermaltake 520W Purepower Power Station that is ATX 12V 2.0 compliant. This upgrade should show most of the reasons one would want to upgrade their PSU.
Features
Modular Design – The ingenious Modularized Cable Management and Power Station that allows you to arrange cables easier and smarter.
Main Power Station (PST) mounts to any 5.25″ drive bay. Mini-PST can be mounted anywhere for easy, clean cable management at a various location.
Rubber sleeved cables provide better air flow and a cleaner look and feel.
Active PFC provides higher energy efficiency.
Protections against Over Power, Short-Circuit, Over-current, Overload, and Over-temperature.
Dual 6-pin PCI-Express connectors for High-end VGA cards.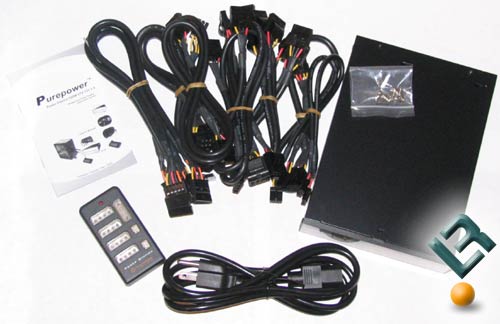 The Purepower Power Station line of PSUs from Thermaltake provide everything needed to connect most anything that would be found in a standard case. Even if you have a RAID and SLI/Crossfire setup, Thermaltake has provided plenty of cables to power all of your hardware. They have even included some double-sided tape for mounting the Mini-PST. Screws, power cable, and manual are also all included.