Thermaltake Level 20 RGB Titanium Edition Gaming Keyboard Review
By
Thermaltake Level 20 RGB Titanium Edition Gaming Keyboard Review
Thermaltake has added a new keyboard to their Premium product series, the Level 20 RGB Titanium Edition gaming keyboard. This keyboard is a combination of outstanding build quality with the ability to synchronize lighting effects across a variety of TT RGB Plus compatible devices. Along with the desktop version of the TT iTAKE Engine software, there is a mobile version of the app with voice-controlled AI for changing different keyboard settings. The mobile app also features a patented designed Virtual Game Controller (VGC), which turns the smartphone/tablet into a wireless gaming controller. This keyboard comes in four variants: the non-Titanium models with Cherry MX Blue and Speed switches, and the Titanium Editions with Cherry MX Blue and Speed switches. Priced at $149.99 shipped on Amazon, we will take a look at the Level 20 RGB Titanium Edition with Cherry MX Speed switches.
Thermaltake Level 20 Titanium Edition Specifications
Color
Titanium
NO. OF MACRO KEYS
NO
NO. OF GAME PROFILES
SIX
GRAPHICAL UI
YES
Weight
1500 GRAMS
GOLD-PLATED USB
YES
Dimension
482 x 185.96 x 43.93 mm
Interface
USB
ANTI-GHOSTING KEYS
YES / N KEY Rollover (USB)
ON-BOARD MEMORY SIZE
4M bit
POLLING RATE
1000 HZ
BACK-LIGHT
16.8 Million RGB Colors
WRIST REST
NO
AUDIO AND USB PASS-THROUGH
YES
MULTIMEDIA KEYS
5 + Volume Wheel
BRAIDED CABLE
YES
Cable Length
1.8 M
SWITCH TYPE
Mechanical
SWITCH NAME
CHERRY MX RGB BLUE MECHANICAL
ACTUATION POINT
RGB BLUE : 2.2 0.6 MM
KEY STROKE
RGB BLUE : 4 0.5 MM
ACTUATION FORCE
50g(BLUE) with Optimized Tactile Feel
KEY LIFESPAN
50 Million Clicks Lifetime
The box for the Level 20 RGB Titanium is rather simple with an illustration of the product with some details on the Cherry MX Speed RGB Silver switch. More features and specifications are listed on the back of the box.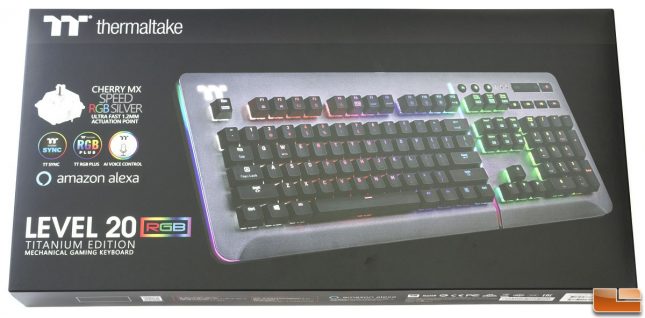 Opening up the box, we can see the keyboard nicely packaged inside of a white foam bag. On the left and right, there are two thick foam pads to protect the keyboard. Because this is a rather heavy keyboard, this packaging method will prevent the keyboard from minor damage during shipping.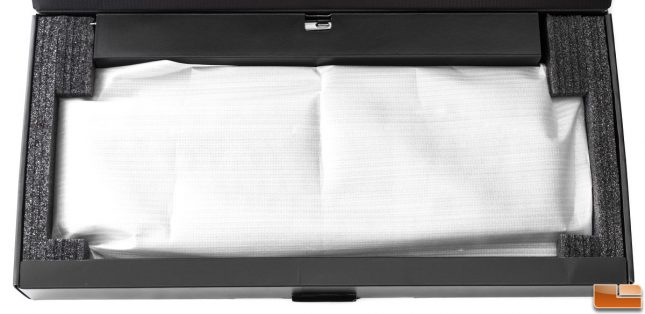 In terms of accessories, we get an installation guide, a warranty booklet, a few red colored 1234, QWER, and ASD key caps, and a key cap puller.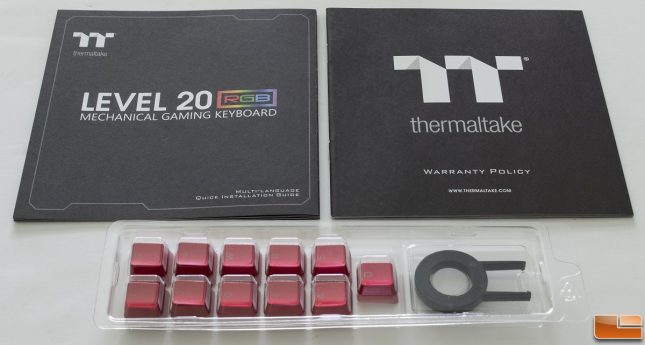 The Level 20 RGB Titanium keyboard looks great with its 2mm aluminum top plate and simple design. The LED light bar in the center of the keyboard will provide some extra lighting. It also makes the keyboard look better overall with some advanced lighting effects. We can see there are dedicated media control keys with a volume scroll wheel. This is a great thing to see on a keyboard at this price range.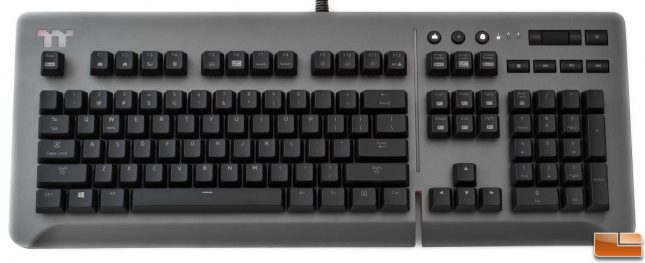 At the bottom of the keyboard, there are five rubberized feet to allow the keyboard to sit on the surface. There is a gap towards the bottom of the picture for the LED light bar.

Taking a closer look at the Level 20 RGB Titanium, we can see a few shortcuts as secondary functions for the F1-F4 keys.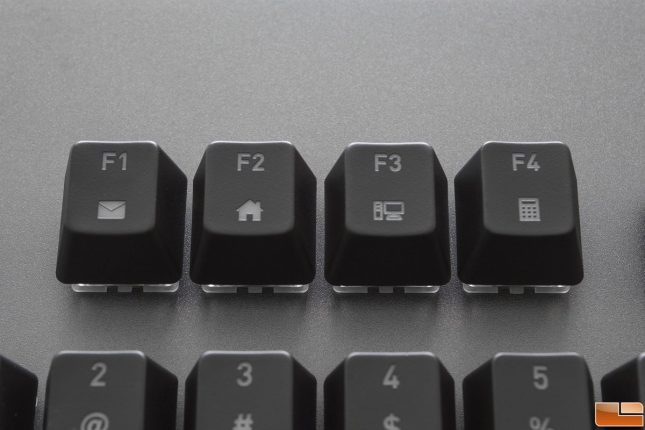 The F5 key brings up the default media player, while F6-F8 controls RGB lighting effects. There are 13 front-side and 14-side facing effects with five individual levels of brightness and lighting speed.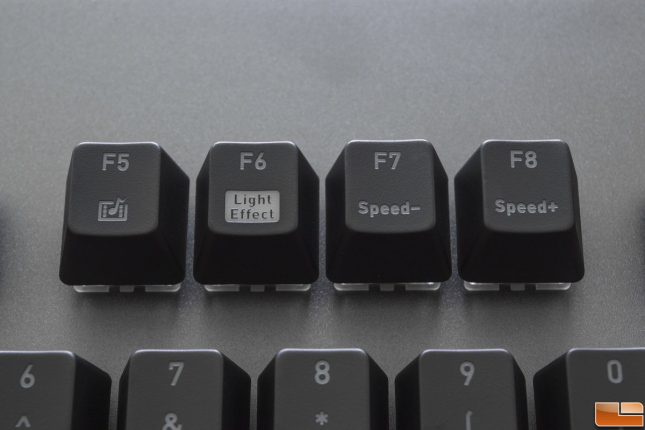 F9-F12 has secondary functions for customizing RGB colors straight from the keyboard without the software.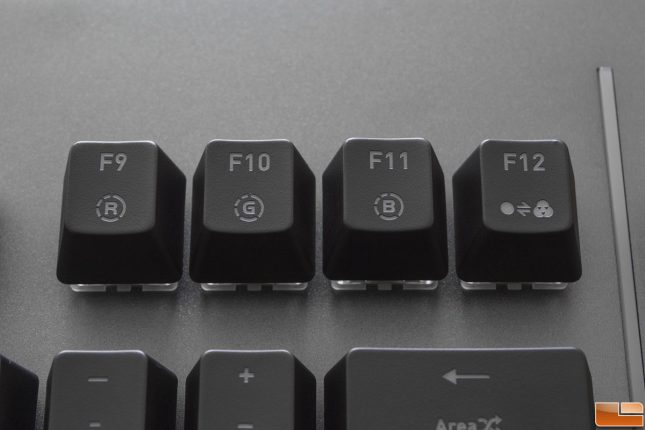 The editing keys also have secondary functions for the six different profiles, macro recording, and other lighting functions. Here we can get a closer look at the dedicated media control keys and the large volume scroll wheel. The circular buttons control profile switching, brightness, and Windows key lock.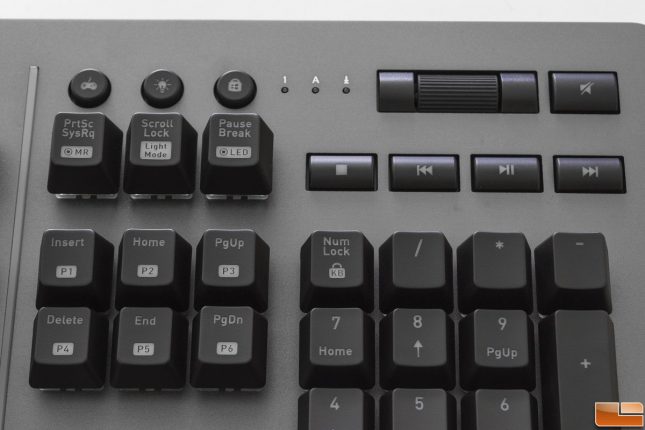 Behind the keyboard, there is a USB 2.0 port and a headphone/microphone jack. This is a great feature to see as it makes connectivity much easier than hunting for ports behind the computer.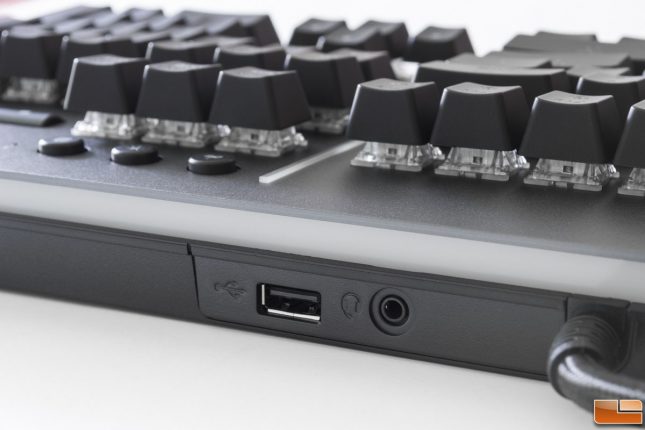 Let's take a look at the iTAKE desktop and iOS mobile software in the next section.