Thermaltake Frio OCK CPU Cooler Review
By
Thermaltake Frio OCK HSF
Since 1999 Thermaltake has been bringing us enthusiast grade computer accessories, chassis, and cooling products. In 2010 they released the original Frio, which was widely accepted as a fantastic cooler. Today were taking a look at one of the successors, the Frio OCK (Over-Clocker King). Priced at $79.99 shipped at Newegg, this cooler definitely seems to be aimed at the higher end of the enthusiast market.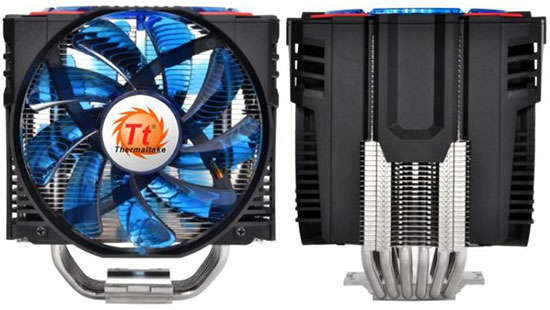 The Frio OCK is a dual tower style heatsink that features six 6mm heatpipes and comes equipped with two 130mm fans, which are controllable via Thermaltakes attached VR fan controller. The included fans are capable of pushing 121 CFM at 48dBA, and they operate from 1,200 to 2,100 RPM. Unlike many other fans that are bundled with coolers on the market, the OCKs fans are not PWM controlled. The fins on the Frio OCK are made of aluminum and are 0.4mm thick. The Frio OCK is compatible with Intels LGA 775/1156/1155/1366/2011 and AMDs AM3+/AM3/AM2+/AM2 sockets.
With a weight of 1093 grams it measures 143 x 137 x 158mm (LxWxH) with both fans attached. The Frio OCK isnt exactly a small cooler. With this cooler being compatible with CPUs all the way up to 240 watts, it has to be fairly beefy. The Frio OCK takes a lot of its style and design from the popular PC game, StarCraft II. The top part of the fan shroud is designed to resemble a Terran Bunker from the game.
Thermaltake Frio OCK CLP0575 Features:
Six, 6mm heatpipes
Includes two 130mm controllable fans
Supports up to 240 watt CPU
Universal socket compatibility
StarCraft II Themed (Fan cover Resembles a Bunker)

Thermaltake Frio OCK CLP0575 Specifications:
Model: Frio OCK (CLP0575)
Materials: Aluminum fins, aluminum and copper base
Dimensions: 143(L) x 136.8(W) x 158.4(H) m (with both fans installed)
Weight: 1,093 grams (with both fans installed)
Compatibility:
Intel LGA 775/1156/1155/1366/2011
AMD Socket AM2/AM2+/AM3/AM3+
Fan size: Dual 130x130x25mm fans
Fan Speed: 1,200 2,100 RPM
Fan Noise: 21 48 dBA
Air Flow: 121 FCM @ 48 dBA
Connector: 3-Pin
Warranty: 3 years