Thermaltake Core X71 Full-Tower Chassis Review
By
Thermaltake Core X71 Full-Tower Chassis Final Thoughts and Conclusion
I have to say, I think Thermaltake did a great job designing this case. The absolutely massive amounts of cooling potential and so many places to hide wires, you could build one wickedly awesome [looking] system inside this case. With only a few minor flaws to be found, I believe the Core X71 will be a hit. Take for example the shot that Thermaltake sent us – it looks pretty darn cool.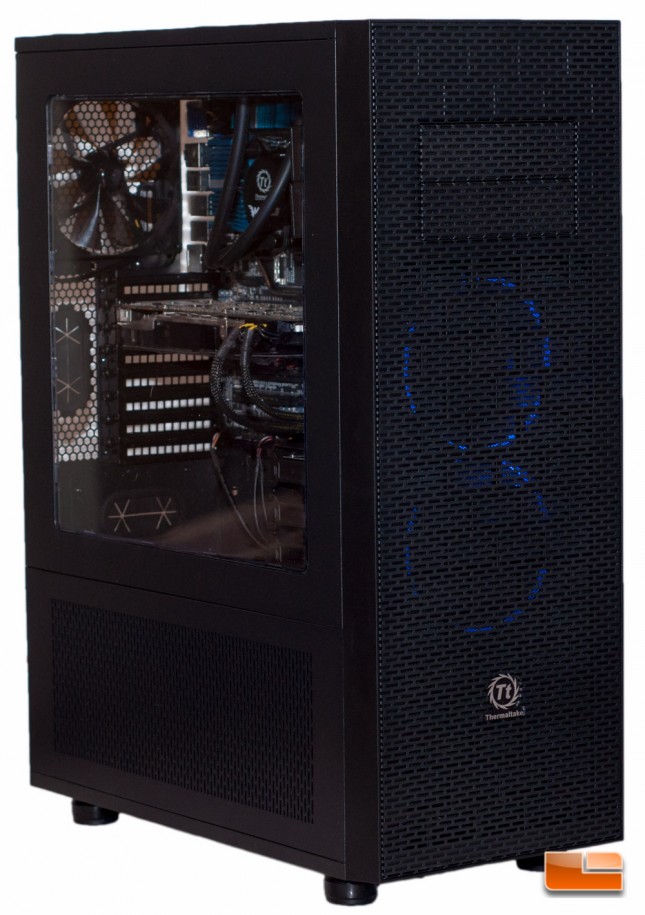 The outside of the case is very simplistic but nice looking. The patterns found throughout the chassis are pleasing to the eye and give it that little extra pop that a plain black case needs. I am ever gracious that Thermaltake decided to put easy-to-remove filters throughout. I cant begin to tell you how much I dislike using a case that the bottom filter can only be removed from the rear, or the front filter can only be removed if I take out the fans (or something else attached to the fans). The magnetic filters are a favorite of mine and I was happy to see them included here.
The interior of the case is where all of the awesome happens. Sure there isnt a whole lot going on inside, but its a fully modular design, meaning you can rip out most parts to make room for what you need inside. This fully modular design is what assists in the cases custom water cooling loop potential. I really like the dual chamber design, but you have to realize that it adds a large amount of bulk to the case. If youre not one wanting a massive case, then you might have to think twice about this case. On the other hand, if you like working with tons of room inside a case and want what seems like infinite possibilities for cooling, then this case is absolutely for you.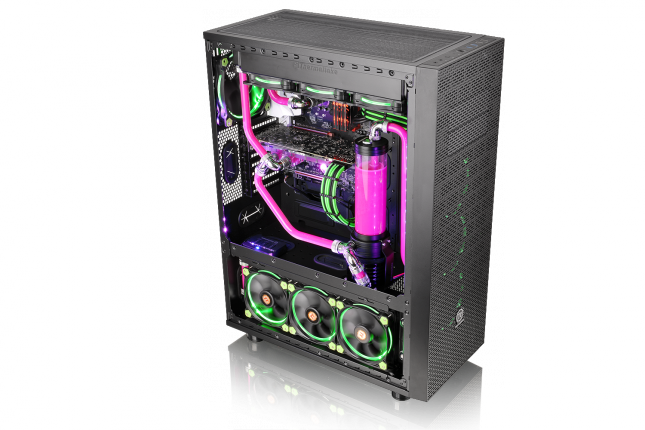 I think the only thing that this case could use, is a little bit more storage potential in a centralized location. You do have a total of three 3.5-inch slots to install drives, plus you can take over the 5.25-inch bays and install an additional two 3.5-inch or up to four 2.5-inch drives. Also, on the backside of the motherboard tray, you will find two spots for 3.5 or 2.5-inch drives, with a spot to install a third if you had a third bracket. Unfortunately should you choose to use the third bracket and the HDD cage in the upper chamber, you will find yourself cursing as you wont be able to connect your SATA connections. Your remedy for this issue: Move the cage to the lower chamber. I also noticed that the HDD cage in the main area of the case appears to have slots to possibly accept an add-on drive cage, so Im hoping these parts become available.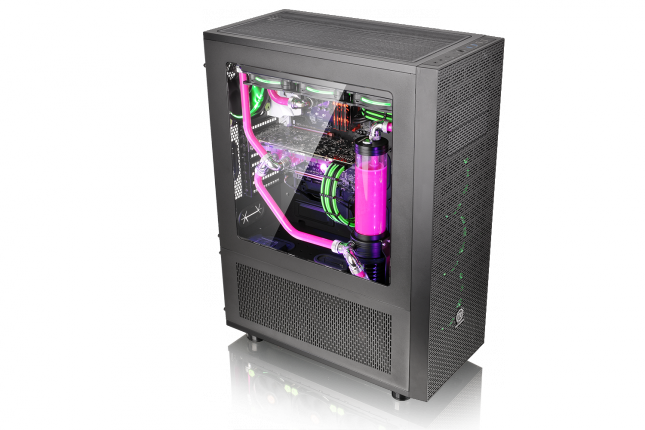 With an MSRP of $149.99, and being available starting January 22nd on Newegg, I think Thermaltake will find themselves replenishing their distributors often. The price point for a full-tower chassis of this magnitude is spot on with what Id expect to pay. The 3-year warranty is always a nice thing to have with your Thermaltake chassis purchase.
Overall I think this case will be a giant success for Thermaltake. I know when I get around to it Ill be moving my main gaming rig over to this case. I cant wait to see what else I can throw inside, as I refresh my main system for 2016.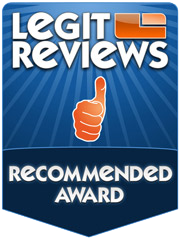 Legit Bottom Line: Near limitless cooling possibilities in a dual chamber design and at a solid price point make this case a Must Have for any serious enthusiast.