Thermaltake Core X71 Full-Tower Chassis Review
By
Introduction to the Thermaltake Core X71 Full-Tower Chassis
Today were going to take a look at a brand new case that Thermaltake is announcing at CES 2016 in Las Vegas, NV. Kicking off our review coverage today, well take a look at what this full-tower case all has to offer, and show you what makes it so special.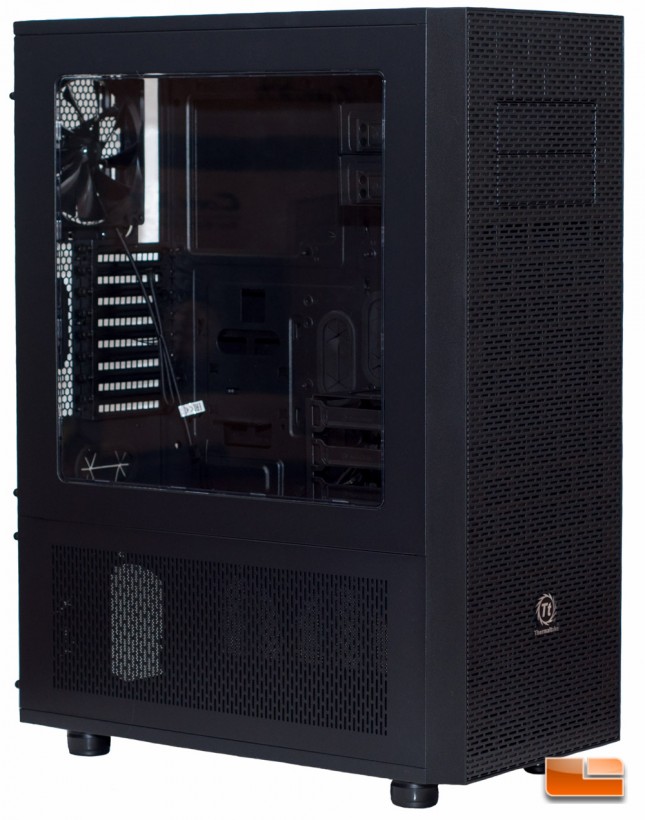 The Core X71 is a massive full-tower chassis, featuring two chambers for advanced cable management and/or various liquid or air cooling opportunities. Inside this case you will find no shortage of cooling potential, so right off the bat I think this case may be a hit amongst enthusiasts. We will have to find out how well these features look like they will work, along with how well the case is built.
Should you like what you see in this review, you will be able to have your very own Core X71 for $149.99 (MSRP) and will be available starting January 22nd on Newegg. We will update this article should we find it for sale at an online retailer, such as Amazon. Like all other Thermaltake PC Case products, you will find a 3-year warranty included.
You will only find the Core X71 in a matte black finish, with a large window on the left side, which is pretty common today. Inside is a fully-modular design, allowing you almost limitless potential with how you want to configure your system. Included with the case are two 140mm Riing LED Blue intake fans and one 140mm Turbo exhaust fan. This case has easily removable filters darn near everywhere, so as long as you maintain your filters, you should have a fairly dust-free interior.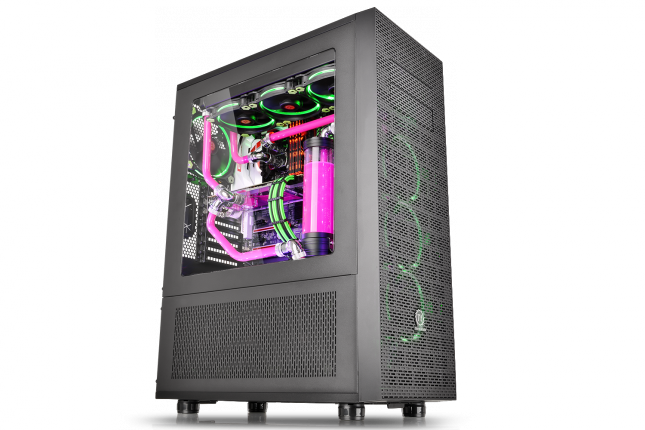 Core X71 Technical Specifications:
Model
Core X71
P/N
CA-1F8-00M1WN-00
Case Type
Full Tower
Chassis Dimension (H*W*D)
677 x 250 x 511 mm (26.7 x 9.8 x 20.1 inch)
Net Weight
12 kg / 26.5 lb
Side Panel
Transparent Window
Color
Exterior & Interior : Black
Material
SPCC
Cooling System
Front (intake) :
140 x 140 x 25 mm Riing LED Blue fan (1400rpm, 28dBA) x 2
(1000rpm, 22dBA with LNC)
Rear (exhaust) :
140 x 140 x 25 mm Turbo fan (1000rpm, 16dBA)
Drive Bays
-Accessible
-Hidden
2 x 5.25
3 x 3.5 or 2.5 (HDD Cage)
2 x 3.5 or 2.5 (Behind the M/B tray)
Expansion Slots
8
Motherboards
6.7 x 6.7 (Mini ITX), 9.6 x 9.6 (Micro ATX), 12 x 9.6 (ATX)
I/O Port
USB 3.0 x 2, USB 2.0 x 2, HD Audio x 1
PSU
Standard PS2 PSU (optional)
LCS Upgradable
Supports 1/23/81/4 water tube
Fan Support
Front: 3 x 120mm or 3 x 140mm or 2 x 200mm
Top: 3 x 120mm or 3 x 140mm or 2 x 200mm
Rear: 1 x 120mm or 1 x 140mm
Bottom: 2 x 120mm or 2 x 140mm
Left / Right Side: 3 x 120mm or 2 x 140mm
Radiator Support
Front: 1 x 480mm or 1 x 420mm
Top: 1 x 360mm or 1 x 280mm
Rear: 1 x 120mm or 1 x 140mm
Bottom: 1 x 120mm or 1 x 140mm
Left / Right Side: 1 x 360mm or 1 x 280mm
Clearance
CPU cooler height limitation: 180mm
VGA length limitation: 278mm(with HDD rack)
420mm(without HDD rack)
PSU length limitation: 180mm (With One Bottom Fan)
220mm (Without Bottom Fan)
Lets move on and see what the outside is all about, and follow that up with checking out the interior, and finally build a test system inside, seeing how easy or difficult it is. I have a feeling this will be a pretty awesome case!