Thecus N5200BR NAS Server Review with 5 drives in RAID 6
By
Building A NAS Server For The Home
With more data going digital the need to backup personal and business data is becoming necessary these days. One of my neighbors brought over a laptop the other night after the hard drive failed in it and informed me that all of his honeymoon pictures were on it. The drive was completely toast and he was in the dog house to say the least. He took the drive to Best Buy the next morning and paid the Geek Squad $59 to tell him the same exact thing. They offered to send the drive off to another repair facility where the prices started at $259 and the sky was the limit. He ended up sending the drive off to Drive Savers and refused to tell me how much he paid to get the data recovered. If I had to guess it was close to a thousand dollars, which isn't bad depending on what exactly is being recovered.
Right after this happened, my girlfriend started to question how we backup our data and rightly so. The secondary drive I tossed in the Home Theater PC that was networked across the house was a great place to backup data, but it was not redundant. Since my girlfriend is big time into scrapbooking (and has a room to prove it for just that) it only makes sense to invest in a Network Attached Storage (NAS) Sever that was redundant.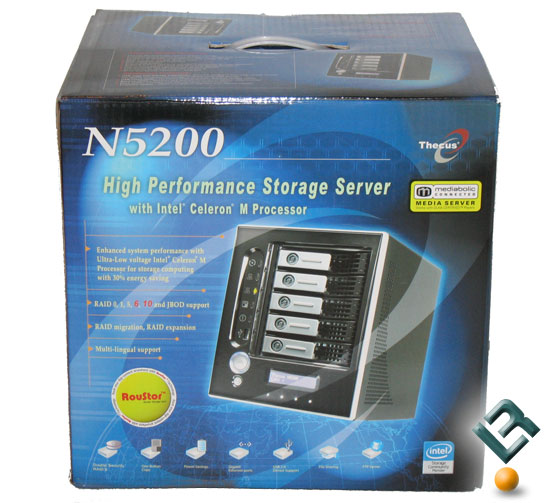 Since I knew that we would be backing up all of our personal and business data in one place it had to be robust, easy to use and offer redundant RAID arrays. I knew right off the bat that I wanted to run RAID 6 (Striped set with dual distributed Parity) due to the fact that two of the five drives could fail and no data would be lost. This meant that a NAS sever supporting at least five drives was needed. The Thecus N5200 high performance storage server seemed to gel with our needs and fit in the budget.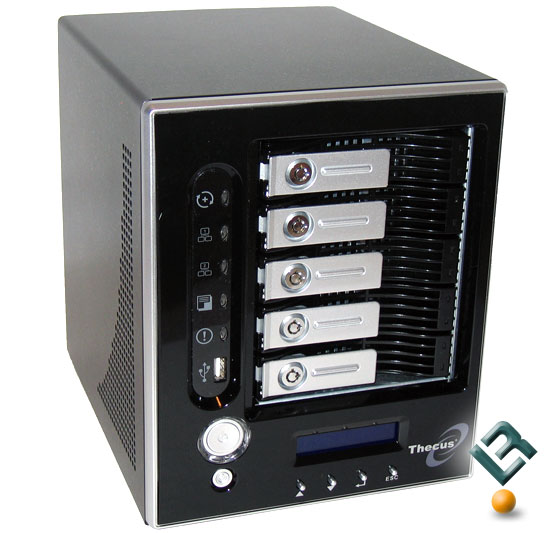 The Thecus N5200 uses an Intel Celeron M processor running at 600MHz and 256MB of DDR memory for powerful data-processing capabilities. The N5200 has the capacity for five 3.5″ SATA hard disks for over 3TB of storage (Thecus does offer an N5200 model that supports 5TB, but that wasn't needed for this application)! To keep data secure, the N5200 features various RAID modes, including RAID 0, 1, 5, 6, 10 and JBOD. Managing your RAID array is easy with the N5200's built-in RAID management features, including auto rebuild, hot swap, hot spare, disk roaming, and more. To backup your data, the N5200 comes with the Thecus Backup Application, as well as a feature called Nsync. With Nsync, users can have the N5200 automatically upload files to an external storage device via FTP at a designated time. The Thecus N5200 includes 3 USB ports, a Gigabit Ethernet port, and a 4-port Gigabit switch for excellent connectivity options. Users can even install a USB 802.11 b/g dongle for Wi-Fi capability. The Thecus N5200 NAS server has a ton of features that make it a solid choice for most home or business applications!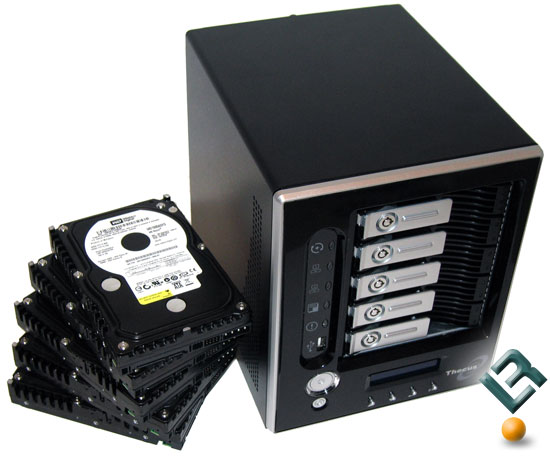 I dug up five Western Digital WD1500 SATA Raptor hard drives to use in the Thecus N5200. As previously mentioned these drives would be run in RAID 6 as I wanted fault tolerance from two drive failures (the array continues to operate with up to two failed drives). RAID 6 is often used to make larger RAID groups more practical as it lengthens the time needed to recover from the failure of a single drive. Single parity RAID levels are vulnerable to data loss until the failed drive is rebuilt, which is critical if you don't keep a spare drive on hand. Dual parity gives time to rebuild the array without the data being at risk if one drive, but no more, fails before the rebuild is complete. Let's take a closer look at the Thecus N5200 before we fire it up with the drives inside.