The Vapochill Micro Review
By
Introduction
When people think of high quality, extreme cooling products, Asetek is definitely a name that comes to mind. The Vapochill phase change cooler is one of the premier, high performance/ high cost cooling solutions on the market, while Asetek's Waterchill line kits is very highly regarded among the enthusiast crowd for their performance, ease of installation, and price point.
One thing that has been missing from Asetek's line of products to this point has been an air cooled solution. That all changes today as we take a look at Asetek's newest product, the Vapochill Micro. Combining heat pipe technology with what Asetek describes as phase change cooling (no, there is no compressor), the Vapochill Micro definitely piqued my interest when it was announced earlier this year.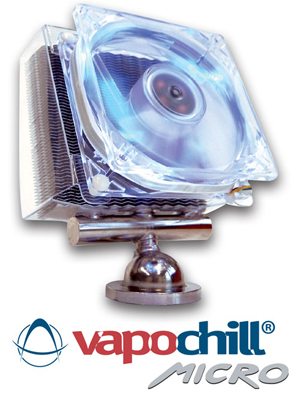 Lets look over the Micro's features and specifications before moving on to the cooler itself.
1. PERFORMANCE. By standards of weight, size, price and a 150W cooling capacity the VapoChill Micro? series is clearly the most powerful cooler technology on the market. No more no less. The VapoChill Micro? (copper chamber) is placed directly on the CPU unlike existing heat pipe technologies. This mean better and more efficient absorption and transportation of heat from the CPU.
2. MASSIVE NOISE REDUCTION. The combination of the extreme cooling capacity of 150W a selection of top-quality fans and fan regulation offers the lowest possible noise levels.
3. LOW WEIGHT. The VapoChill Micro? coolers weigh only a revolutionary 350 grams and do not break your motherboard or fry your CPU because of weight pressure.

4. UPGRADEABLE. All socket clips can be universally applied across all coolers – if you want to change CPU platform. Also, allowing you to experiment with performance and airflow, you can fit ANY 92mm fan on the VapoChill Micro? coolers.

5. AUTOMATIC and/or MANUAL FAN
CONTROL. High-End Extreme Performance fans are prepared for PWM (Pulse With Modulation) motherboards allowing the motherboard to adjust fan speed to actual CPU load.

6. MOTHERBOARD COOLING! 99% of the high-end heatpipe coolers on the market ONLY have horizontal airflow. This means they DO NOT cool the critical components on the Motherboard. The VapoChill Micro? coolers are specifically designed to separate both vertical and horizontal airflows. In short: no overheating mother-boards.
7. EXCEPTIONALLY EASY INSTALLATION.

8. AGGRESSIVE PRICING. Those alternatives close to the performance and low noise levels of the VapoChill Micro? are up to 100% higher priced!!
Specifications:
| | |
| --- | --- |
| Cooler (HxWxD) | 139x103x85mm (incl. fan) |
| Application | ATX midi/tower cases |
| Cooler material | pure copper base/tubing |
| Weight | 355g (incl. fan) |
| Heat removal | up to 150W |
| Fan (HxWxD) | 92x92x25mm |
While the cooler we'll be testing today is for AMD's 754/939/940 platforms, the Vapochill Micro is available for all major platforms (AMD socket A/462 as well as Intel's socket 478 and LGA 775). Note: The VapoChill Micro series does not fit Gigabyte's socket AMD K8 motheboards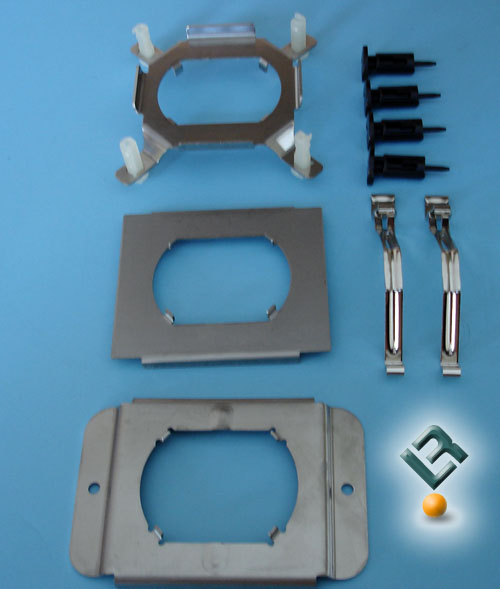 While we'll only cover one platform, we will be covering Asetek's full line of the Vapochill micro to include the Extreme, High End, and Ultra Low noise. What seperates each kit is the included fan. Though all are 92mm, each fan comes with appreciably different features which will appeal to different users.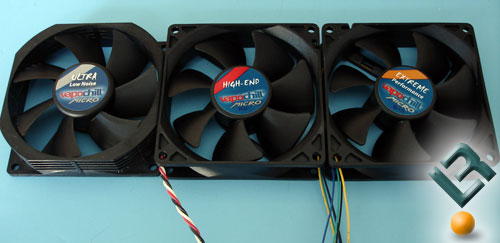 Extreme Performance fan:
Noise Level: <28 to 39dB(A)
Rated Speed: 3800 RPM
Air Flow: 73.656 CFM @ full speed
Life Expectancy: 31,000 Hours
High End:
Noise Level: 35dB(A)
Rated Speed: 3800RPM
Air Flow: 67,o CFM @ full speed
Life Expectancy: 31,000 Hours
Ultra Low Noise:
Fan Type: Panaflo Hydro wave bearing
Fan Noise: <28dB(A) @ full speed
Rated Speed: 2300RPM
Air Flow: 17.657CFM @ full speed
Life Expectancy: 50,000 Hours