The Free After Rebate Ultra 500W Power Supply
By
What Do You Expect For Free?
Last week, I heard that Frys had the Ultra Products V Series 500W Power Supplies for $40 with free shipping and a $40 rebate. This would make the power supply free after the rebate and who can pass up free? I got out the credit card and figured that I'd bring ship one to LR and play around with it for fun. On the test bench I use a couple PC Power & Cooling Turbo-Cool 1KW power supplies, but these are out of the price range of many because they cost $579.99 each! How does a $40, 500 Watt power supply do when run on current hardware? We are about to find out!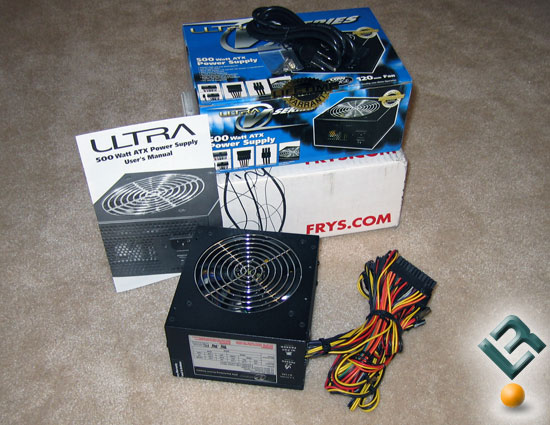 Included in the box was the user's manual, power cord, installation screws and power supply. The Ultra V series 500W 24-pin power supply has a matte black finish and sports a single 120mm fan to keep things cool yet quiet. While the 500W power supply has enough power to run many current platforms it does lack the 8-pin +12V connector that is used on many of the popular enthusiasts boards. It also has only one 6-pin PCI Express connector, so unless adapters are used SLI and Crossfire configurations are out of the question. The Ultra V Series 500W PSU is clearly aimed at those with mainstream systems having just a single PCIe video card and up to two hard drives.
Connections:
1 – 20/24 Pin Motherboard Connector
1 – 4 Pin +12V Motherboard Connectors
8 – 4 Pin Molex Connectors
2 – 4 Pin Floppy Power Connectors
1 – PCI Express Connector
2 – SATA Connectors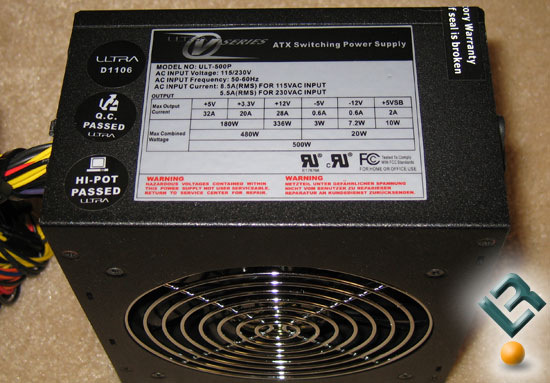 The Ultra V Series power supply has a max combined wattage of 500W. The single +12V rail is rated at 335W and can handle 28A, which is 2A higher than the recommended 26A for a single NVIDIA GeForce 8800 GTX graphics card. This power supply does not have Active PFC and as a result is only 70% efficient. If you are looking for an envriomentally friendly power supply you might as well stop reading as this is far from an 80 Plus certified power supply, but hey, it was free after rebate!
Could this free power supply run high-end graphics cards? Let's take a look and see how it does with something like the XFX GeForce 7900 GS!