The DFI 875P-T — LGA 775 meets Intel's 875 chipset
By
Introduction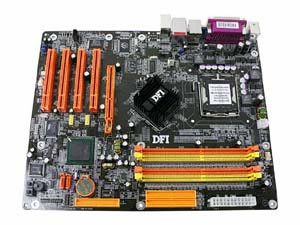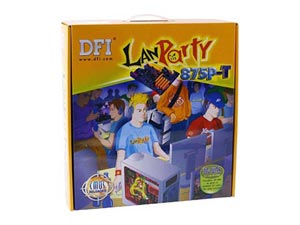 Today we'll be taking a look at one of DFI's latest entries for the LGA 775 motherboard market, the DFI LanParty 875P-T. It is a unique, and very interesting, "hybrid" board that mixes Intel's new LGA 775 processor with the previous generation's 875P high performance chipset.
With the release of their LanParty and Infinity series motherboards last year, DFI jumped from relatively unknown OEM board manufacturer to enthusiast market powerhouse among motherboard makers. Delivering great looking and incredible performing boards, DFI has become a major player not only for gaming or overclocking enthusiasts, but every user who demands performance from their system.
With Intel's recent release of the 915 and 925 chipsets, most motherboard makers have switched their attention away from the socket 478 to the LGA 775. In doing so, they have forced end users to make a choice, stick with the older socket 478 and its AGP and DDR 1 based chipsets, or adopt the newer LGA 775 processor, and chipsets that instead rely on PCI-Express and DDR 2. Although the newer technology hasn't nearly hit its stride, everyone fully expects both PCI-Express and DDR 2 memory to show incredible performance improvement over their predecessors. The main issues to this point are price to performance, with the newer technology showing only slight performance gains over the older technology, and availability, both PCI-E video cards and DDR 2 memory are hard to find and extravagantly priced. Given the fact that Intel's newest chipsets are not yet showing vast improvement over the older chipsets, why would anyone (other than those who need to be cutting edge) choose to replace their entire system to adopt this new technology?
A few motherboard makers have released boards that bridge this gap in the 865 chipset, these "budget boards" allow users to upgrade their CPU to the new LGA 775 while continuing to use their AGP and PCI based hardware, but none of these boards really stand out performance wise. With the release of the 875P-T, DFI became the first motherboard maker to mix the high performance 875 chipset with Intels newest processor line, the LGA 775. The DFI 875P-T allows users to realize the full potential of the LGA 775 processor while still using their current AGP video card and DDR 1 memory. This allows users to upgrade incrementally instead of replacing their whole system at once.