The Booq Python XL Laptop Backpack Review
By
Final Thoughts & Conclusions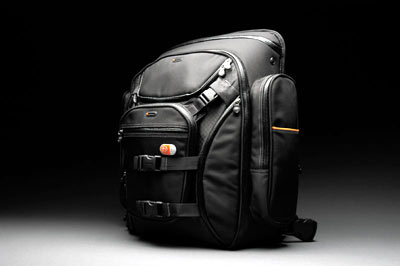 Ken Brown?s Final Thoughts:
Many times we don?t think about the accessories that augment our computer build or purchase. The temptation is to use what we have laying around and only spend money on the hardware. If you an owner of a laptop and you use it for any sort of commute, you?d better have some form of protection and storage. After looking at Booq?s line of bags and cases, we have found what we think is one of the best combinations of protection, style and overall features in the Python XL.
For those of us who do quite a bit of traveling or even those of us who commute with a laptop everyday for work or for school, you will be hard-pressed to find a better laptop case on the market. Booq has done an exceptional job ? some would say overkill ? of giving consumers a high-end alternative to laptop carrying cases. From each individual zipper to the many pockets and high-quality padding, the Booq Python XL is build around quality for the consumer who is not trying to skimp on protection for their mobile rig. The Booq?s Python XL is not cheep by any stretches of the imagination, but you truly get what you pay for: Shock protection for not only your laptop inside, but also for your back as you walk to class; Protection from weather and the elements; Functionality with more than 10 exterior pockets and zippers and almost double that on the inside; A sense of unique style ? this isn?t your dad?s plain-Jane Targa case ? this case is unique and built for the on-the-move enthusiast.
If the Booq Python XL is too big for your needs be sure to check out the Booq Python XM as it is aimed at the 15″ and under notebook crowd and comes in at a lower price point with all the same features.
Legit Bottom Line:
With a street price of $200 and a lifetime repair warranty, this is easily the best backpack carrying case we have used. Tons of pockets, storage room, and padding, this is the ultimate case for road warriors who want to protect their investment.