The Booq Python XL Laptop Backpack Review
By
Real-World Performance
We got the "XL" model to fit one of our 17″ laptops ? a Mac PowerBook G4. The great thing about Booq?s lineup is that if you have a smaller computer, you can get the Python in a smaller size. The Python XM is a large-capacity laptop backpack for 15-inch laptops (fits 14.2 x 11.25 x 1.6″ sized computers).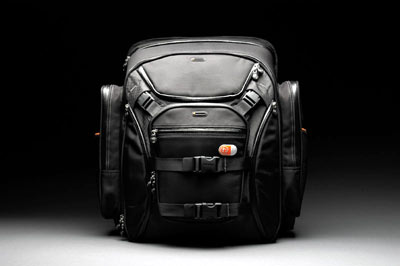 When you first look at this bag, you see something that is incredibly stylish, unique, and built for protection. Because of its rigid design, it can stand on its end with no problem, perfect for those of us waiting in line to check-in at the airport or trying to get through security. The top zipper has very easy access to your rig stored inside so you can easily slip out your laptop for class.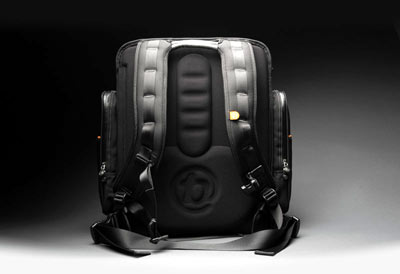 When you carry a laptop in this bag, it is well protected with a wall of padding between your back and the laptop itself. When we stored our 17″ PowerBook in the Python XL, we actually had extra room on the top and the sides. We could have stored more files, magazines or even a small textbook if needed. One thing we were looking for was a strap or tie-down to keep the laptop secure when moving. We never had a problem with the contents shuffling around or being jostled however. It just seems natural to have an extra way of securing the contents.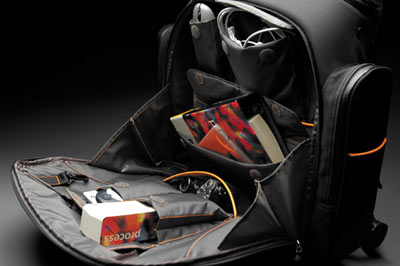 The Python has at least 2,000 pockets and compartments.okay, well, not that many, but it has places to store everything from your business cards, to your iPod, to spare parts.whatever you need to take with you, you can put in this bag. Be careful though, it has so many pockets and places to put things, you might end up loosing something. As you can see in the pictures, there are pockets that have Velcro fasteners, zipper fasteners and some pockets that use elastic. Depending on what you are securing – and how quickly you want to secure things, you have a variety of choices you can make with this carrying case. Even the "Ecto" removable bag is sweet. It's got tons of pockets and heavy-duty zippers as well. I find myself putting small things like keys, pens or even a small digital camera or whatever there. The Ecto ships with a removable shoulder strap so you can dismount it from the Python to create a sort-of day-pack. You have the option of leaving it behind if you think you are carrying enough already. I don't really see myself using it as a "man-bag", but it's cool that Booq includes it to make the Python XL even more versatile.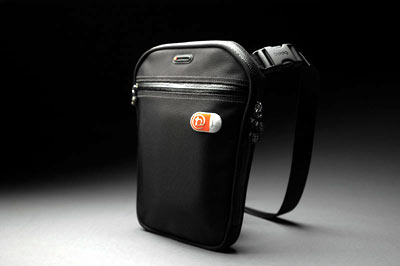 After you load up this bag, it can become pretty heavy. Already weighing a good 5 pounds, you put in a 17″ PC and power cords and other accessories, you can easily top 15 pounds of weight on your back. Don?t worry too much though. Booq did an incredible job of designing their backpack bags. When you slip the Python XL on, the load is very well distributed and the padding really does a good job of cushioning not only the contents, but your back and shoulders. For those of us who travel often, this is welcomed news and easily justifies the higher cost.
On a side note, Booq informs us that all of their bags and cases carry a "Limited Lifetime Warranty" which covers defects encountered in normal use of their products. This is again great news for those of us taking the plunge in investing in higher end products.