Super Talent MasterDrive MX 60GB SATA-II SSD Review
By
MasterDrive, A Not So Poor Man's SSD
Super Talent Technology, headquartered in San Jose, California, designs and manufactures a full range of DDR, DDR2, and DDR3 memory modules and Flash based storage devices for computers and consumer electronics. An ISO 9001 certified company, Super Talent utilizes its state-of-the art factory and leading-edge components to produce award winning products with outstanding reliability. Super Talent is an active member of JEDEC and ONFI standards bodies, and holds over 160 patents in Flash and DRAM technology. Enthusiasts have quickly become familiar with Super Talents memory, flash drives, MP3 Players and other lines of products that they have brought to the consumer world.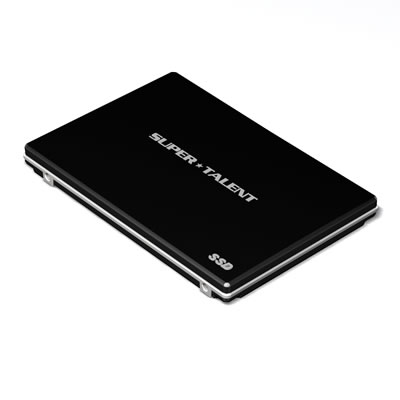 Above we have a stock shot of the SSD. Below we have the specifications of our SSD Drive. As you can see the drive has quite an extensive expected life time prediction. At almost 33 years of writing and erasing 50GB of data a day, its clear that the early complaints from naysayers that these drives would die faster than conventional rotational hard drives is just false.

Here we have the unboxed drive. The top is a metallic matte finish with just the Super Talent logo, and the word SSD in the bottom right corner, nothing fancy on Super Talents part. If you someone like me, that is accustomed to handling hard drives, you will notice right away how light this drive is. That can be attributed to the fact that the only internal components of this drive, is a PCB with the RAM modules attached to it, along with the connections for the SATA interface.
Above is a closeup of the Sata Connectors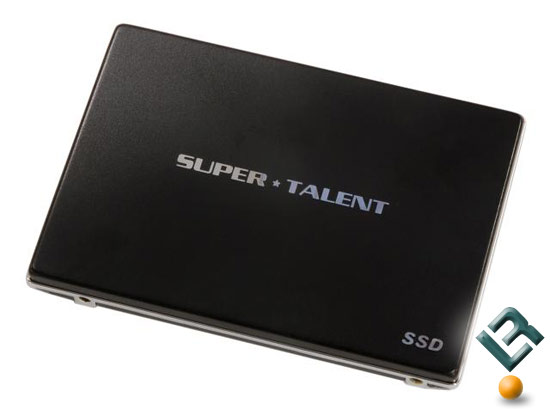 Here we see the bottom of the drive, the Super Talent Product Sticker, and the SATA Power and Data Connectors.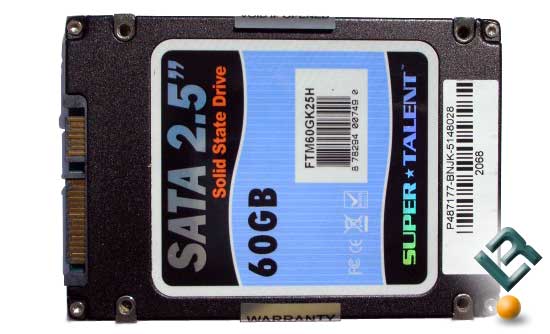 With the prices of Solid State Disks very quickly dropping, so much so that the average user can now afford one that has very
satisfiable performance, it was time for Legit Reviews to throw their hat into the ring, and give our readers a taste of what these drives
can do.