Spire Power Bank 4000 Battery Charger Review
By
The Spire Power Bank 4000
Spire recently introduced a new, and very slim Power Bank to their lineup, helping your mobile gadgets last just a little bit longer throughout the day. If you haven't guessed from the product title, the Spire Power Bank 4000 boasts a cool 4,000mAh Li-ion battery. The battery can be recharged via a DC adapter or simply a USB port on your computer. This Power Bank carries a retail price of $43.95.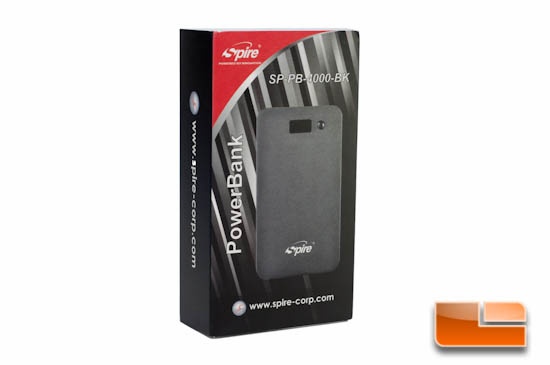 A real quick look at who Spire is; they are a Netherlands based company, founded in 1998. They offer products such as cooling solutions, power supplies (both batteries like this review, and a PSU for your PC), PC cases, and more.
Glancing at the packaging, you don't really see any details on the front or sides, but the back tells you about all of the product's features, specifications, and inclusions.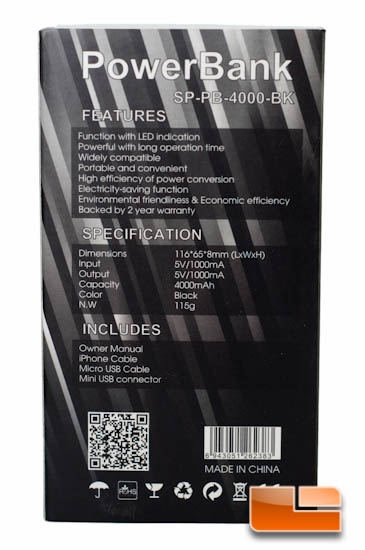 Looking inside the box, you have the SP-PB-4000-BK Power Bank, an assortment of cables, and the single page (double sided) user manual. I was impressed that Spire included as many cables as they did. You'll get a micro USB cable, iPhone/iPod (old style) cable, and a micro USB to mini USB adapter. With all of these cables out of the box, you'll be able to charge up just about any device that doesn't a proprietary connector. They are all fairly short, measuring in at a cool 6 inches. I found it funny that they placed a flimsy "Warranty void if removed" sticker on the Micro USB cable. I can see that falling off really quick.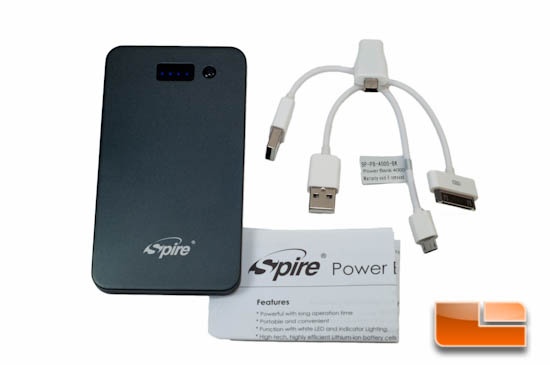 Spire Power Bank 4000 Specifications
Dimensions: 116 x 65 x 8mm (4.57 x 2.56 x 0.31in)
Weight: 115 grams (0.25lbs)
MTBF: 300 cycles
Warranty: 2 Years
Input: 5 volts
Current: 1,000mAh
As you can see from the specifications, the Power Bank 4000 is a reasonable size. I must say, it fit in my pocket nicely due to its slim nature. The weight of the unit is just right, too!
I absolutely love the construction of the Spire Power Bank 4000. It's made of a nice quality aluminum, which is painted a grayish black color. The finish seems fairly durable, but really only time will tell how it wears. I put it in my pocket and backpack multiple times over the course of two weeks, and the time that I've had the Power Bank, I did not acquire any scratches.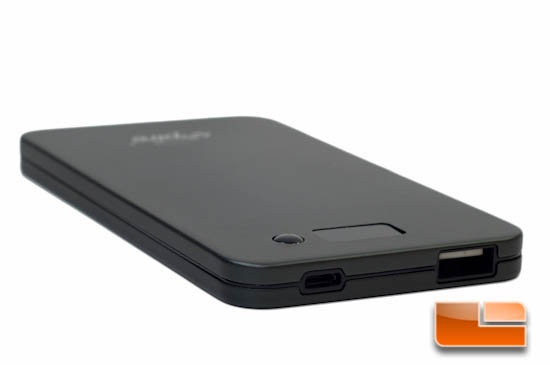 The LED's on the face are to tell you how much charge is left, or indicate that the unit is being charged. There is a raised button next to it, which is nice and easy to press. Unfortunately for the Spire Power Bank 4000, I feel that button is simply too easy to push. It just requires you to press it down and let go, and the unit powers on or off. I feel this should have an approximately 3 second delay before doing said functions. This would definitely help avoid mistakenly turning it off while in your pocket.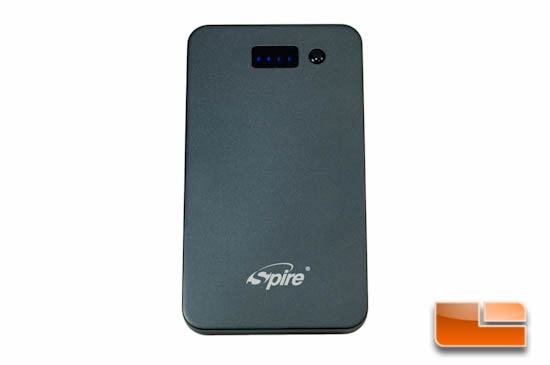 Looking briefly at the rear, there isn't much to see here, other than a few specs about battery capacity and voltage input/output. You'll also catch the physical input and output ports labeled here. Just for your reference, the input is a Micro USB port, while the output is a full sized USB 2.0 port.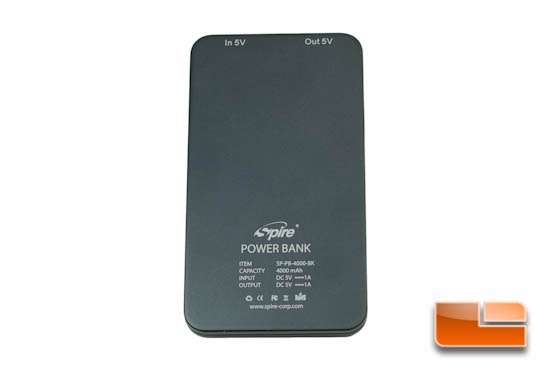 When I took the Power Bank 4000 out of its packaging, I noticed that the battery inside rattled around inside. Because the battery was rattling around, I decided that I wanted to take a look at the guts of the Power Bank 4000, so I took to opening it up. I found that it was rather simple to pull apart without any tools. Inside we see the battery soldered to the circuit board, but there isn't really much else worthy of looking at on this side. Removing the board from the case and looking at the other side, you'll see the LED's and the power button. You'll also notice that the battery only has a small amount of double sided tape here. This can easily be fixed by adding more double sided tape, or just likely by dropping a few dabs of hot glue down. That's about all that's under the hood.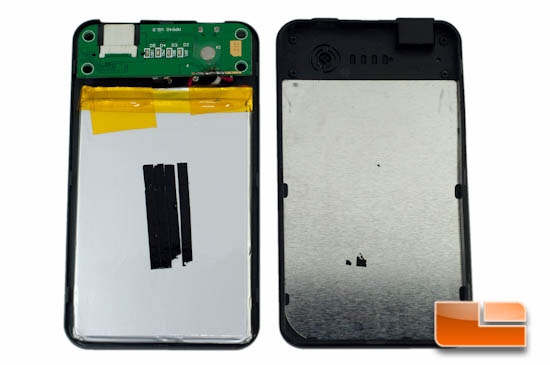 Spire mentions that this battery should extend the usage of your devices by a decent amount.
iPad2/iPod/Galaxy Tab: 5 hours
iPod/MP3/MP4: 110 Hours
iPhone/Smart phone: 18 hours
GPS: 11 hours
PSP: 20 hours
Bluetooth Devices: 125 hours
Power Bank 4000 Testing
I first charged up the Power Bank to full capacity, as you should do with any battery you receive. I then proceeded to charge up my completely dead 2,100mAh battery from my Samsung Galaxy S3.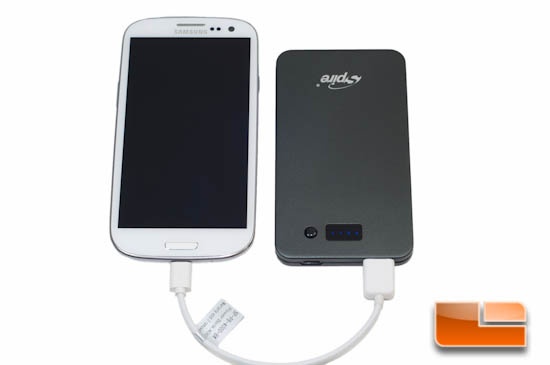 The very first time that I performed a charge test, I noticed that the Power Bank 4000 stopped charging my GS3 after it hit 67%. This puzzled me, as I thought maybe I hit that easy-to-press button, but I hit the button and it started charging again. It was able to fully charge my GS3, which is nothing short of pure awesome. It took a whopping 2 hours and 35 minutes, which is right on the mark of normal charging. The whole while it was charging, it showed me all 4 LEDs lit, which I thought was strange. It's supposed to tell you how much power is left, in 25% increments.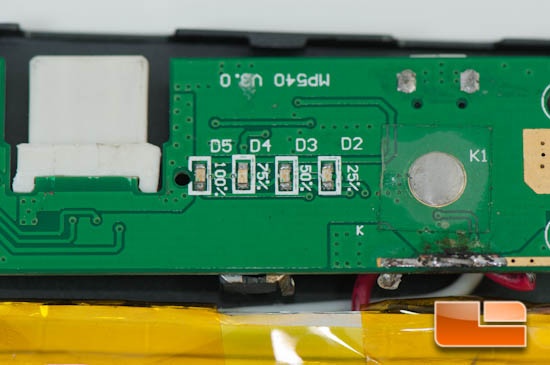 I knew the Spire wouldn't be able to fully charge my GS3 a second time, but I was really puzzled to see it had 3 LEDs lit up when it wasn't charging anything, saying that I only used 25% of the charge. Now that would be seriously awesome, but I knew it was false (Keep this in mind). When I tested it out after killing the battery in my GS3 again, it only charged up my GS3 to 6% and it finally shut down. Hmph… That was quite the tease.
I fully recharged the Power Bank 4000, which took over 7 hours via a USB port. The second time recharging was even more interesting. When the battery in my GS3 was fully depleted again, the Power Bank 4000 seemed like it didn't have the "oomph" to charge my phone. It would get up to 10%, and then just shut itself off. I just decided to recharge the unit fully and try again later.
I recharged the Power Bank 4000 once more, but this time I wanted to try another USB cable. This time, the unit worked absolutely flawlessly. Ah ha! A faulty cable! Talk about a head scratcher, otherwise! I pulled in a recharge time of 2 hours and 30 minutes. The LED indicator still told me I had 75% charge left this time and every other time I tried the battery, which tells me the LED system is completely inaccurate.