Seagate Momentus 7200.4 500GB Notebook Hard Drive
By
Seagate Momentus 7200.4 Hard Drives
Seagate Momentus 7200.4 hard drives are the fourth generation of Seagates laptop storage family to use the capacity-boosting power of perpendicular magnetic recording (PMR) technology. The Momentus 7200.4 is a 2.5 inch form factor hard drive that stands is 9.5mm tall and has a 7200-rpm spin speed with a Serial ATA 3GB/second interface for true desktop performance. This series is also power-efficient as Seagate designed the 7200-rpm drives to maximize battery life and comes in capacities ranging from 250GB to 500GB with a 16MB cache. Today, we will be looking at the Seagate Momentus 7200.4 500GB notebook drive. Each Momentus 7200.4 hard drive is available with the G-Force Protection Feature, so two part numbers per capacity are available. The review here today will be done using the standard model ST9500420AS drive, but remember the ST9500420ASG with the "G-Force Protection Feature" is also available. All Seagate Momentus 7200.4 drives come with a 3-year warranty.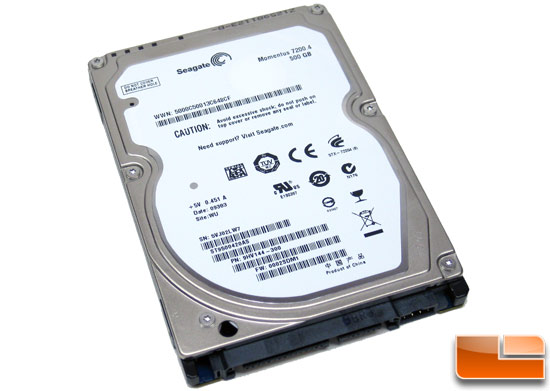 All of the Seagate Momentus 7200.4 hard drives are built tough enough to withstand up to 1,000 Gs of non-operating shock and 350 Gs of operating shock to protect drive data, making the drives ideal for systems that are subject to rough handling or high levels of vibration. For added robustness in mobile environments, the Momentus 7200.4 are offered with G-Force Protection, a free-fall sensor technology that helps prevent drive damage and data loss upon impact if a laptop PC is dropped. The sensor works by detecting any changes in acceleration equal to the force of gravity and parks the heads off the disc to prevent contact with the platter in a free fall of as little as 8 inches and within 3/10ths of a second. The Seagate Momentus 7200.4 hard drives with G-Force Protection (ST9500420ASG) starts at $136.59, while the model without G-Force Protection (ST9500420AS) runs $132.51. So, just a $4 price difference is present between the two drives at sites like Provantage. It should be pointed out that the Seagate G-Force Protection does not seem to be compatible with the G shock sensor in Apple Macbooks, so keep that in mind if you are a Mac user.
Hard Drive Features:
Form Factor: 2.5″ x 1/8H (9.5mm)
Capacity: 500 GB
Interface Type: Serial ATA-300
Buffer Size: 16 MB
Features: Native Command Queuing (NCQ), Perpendicular Magnetic Recording (PMR), QuietStep (Ramp Load)
Drive Transfer Rate: 300 MBps (external)
Random Read Seek Time: 11 ms (average)
Random Write Seek Time: 13 ms (average)
Average Latency: 4.17 ms
Spindle Speed: 7200 RPM
Shock Tolerance: 350 g @ 2ms (operating) / 1000 g @ 1ms (non-operating)
Manufacturer Warranty: 3 year limited warranty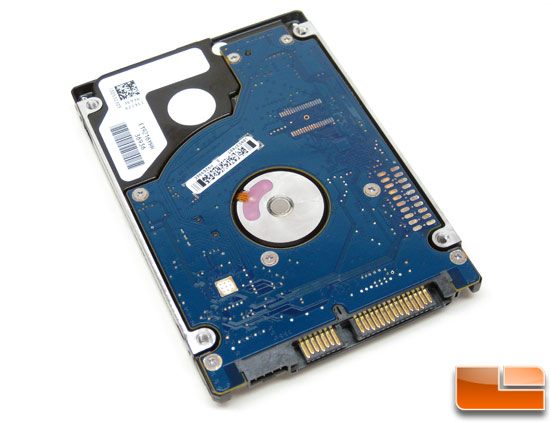 The back of this 2.5″ notebook hard drive gives a better look at the
SATA power connector and the SATA NCQ interface. There is a jumper just
to the left of the SATA data connection that enables the drive's 3GB/s
speeds. With the jumper in place the speed is limited at 1.5GB/s, and
with it removed the full potential of the drive is unlocked. This OEM
drive was shipped to us with no jumper installed.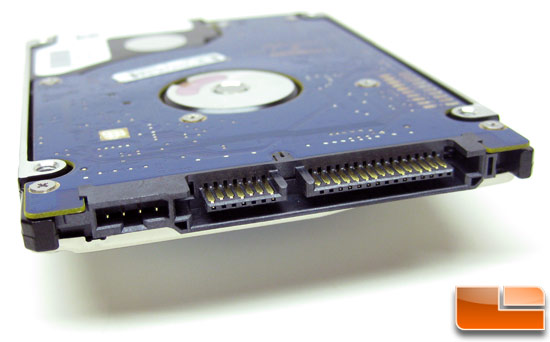 Since there is no labeling about this jumper on the drive and information about the jumper is hard to find it can be frustrating if you are having issues setting one of these drives up in your notebook and find that you encounter issues. Having the jumper installed will force the drive to operate in the 1.5Gb/s mode, which is needed on select notebooks like the Thinkpad T61p. This is due to the fact some older 1.5Gbits/sec SATA cards do not support auto negotiation with newer 3.0Gbits/sec drives. Systems using older SATA host adapters may stop responding during boot or may respond with a drive not detected error. If this happens on your notebook while trying to upgrade to one of these drives just place a two-pin jumper (not included with the drive) onto the two left pins of the jumper block and the errors should go away.
Now that we know the basics on the Seagate Momentus 7200.4 500GB hard drive, let's move on to the benchmarks!