Scosche freeKEY BTKB Bluetooth Keyboard Review
By
freeKEY Pairing and Final Thoughts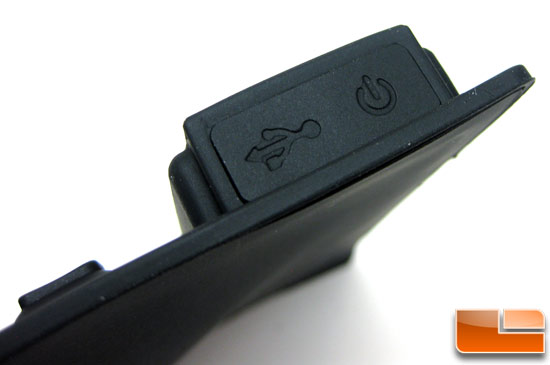 The Scosche freeKey might be a wireless keyboard, but you will have
to wire it to a USB device in order to charge it as it doesn't use
batteries. The freeKey has the power switch and a mini-USB charge port
under a small removable silicone cover. This cover worries us as the
device is 'water resistant' and if water were to do any damage this is
the location where that damage would occur.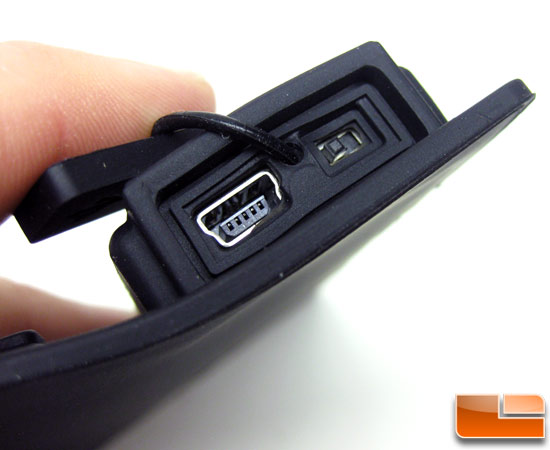 With the cover pulled out you gain access to the on and off switch
and mini-USB charge header. Scosche says that the freeKey contains a
Lithium-Ion battery that has a charging time of two hours. This is nice, but if you forget to charge the keyboard or the battery runs out there is no way to replace the battery pack as you must connect it to a USB port and wait for it to re-charge.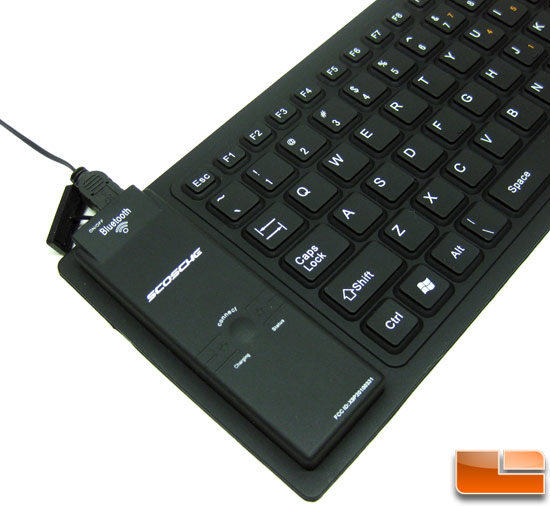 The large rectangle on the left side of the keyboard is for the
battery and all the electronics needed for the keyboard to work. On the
top of it are the charge port and the power switch that we already
covered. On the front of the area is a connect button that is used for
Bluetooth pairing and charging and status lights. The charging light
turns green when it charges and then the light turns off when the
battery is full. The status button blinks red in pairing mode, but
otherwise should remain off.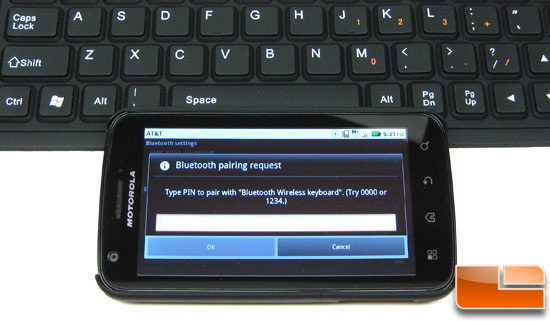 The first device that we tried to pair the freeKEY to was the
Motorola Atrix 4G and it ended in failure. Sure, Scosche said that it
would work with Android Smartphones, but if you read the fine print it only works on
Honeycomb 3.0.1 or newer devices. That means it only works on the newest Android
tablets! When trying to connect to the Scosche freeKEY BTKB Bluetooth
keyboard to the Atrix 4G w/ Froyo 2.2.2 it would ask for the PIN number to
pair the device and one is not given by Scosche. We have some Honeycomb
tablets around here, so we grabbed the Motorola Xoom and gave the freeKEY a chance to redeem itself.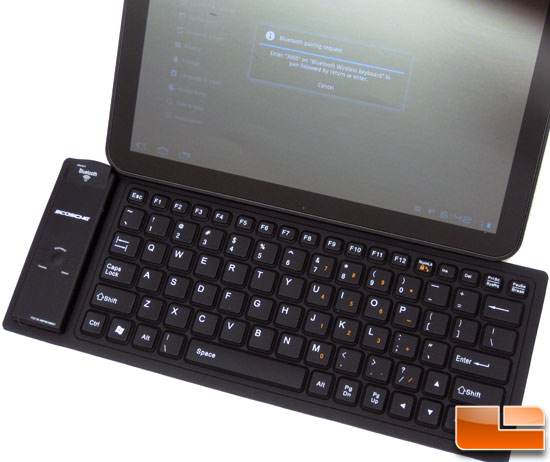 The Motorola Xoom runs Android 'Honeycomb' 3.1 and was able to connect
to the Scosche freeKEY without any problems as it gave us a four digit
number to type into the keyboard and then have the return key hit after we pressed the connect button. We were also able to successfully pair the freeKEY with the Apple iPhone 3G
S, iPhone 4 and the iPad 2. The only issues we had with the freeKEY was on Android smartphones, which is a deal breaker for owners of those devices as this keyboard won't work! For those that understand Bluetooth this keyboard will work with devices that use Human Interface Device (HID) Bluetooth protocols and not those that use Serial Port Profile (SPP) Bluetooth profiles.
The Bluetooth range on the freeKey is excellent. We tested the distance by sitting the Motorola Xoom Tablet PC on the floor and then typing a sentence every five feet. We made it to 30 feet without any issues, but at the 35-40 foot mark we started to get duplicate entries or missed entries as the signal wasn't strong enough. We should note that this test was done in our office hallway, so both devices had line-of-sight and were not blocked by any objects.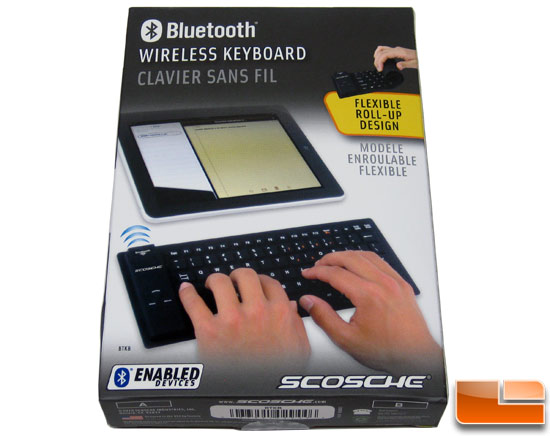 Final Thoughts and Conclusions:
We spent some time with the Scosche freeKEY on a recent trip and found it to be a decent little keyboard for the money. It takes some getting used to, but after a few hours of use you should be able to get the hang of it. It doesn't give us the same typing ability of our desk keyboard, but it greatly enhances our typing ability over that of the touch screen tablet or smartphone that you are wanting a keyboard for. If you've never typed on a non-rigid keyboard it will take some getting used to and you'll learn that you need to use the keyboard on a flat surface. Trying to use it on your lap is very tricky and something we couldn't master. We did encounter the random double entry, but often we found that auto-fix would correct many of the typos that were made.
The freeyKEY is also very travel friendly as it flexible and very light-weight. We never saw the weight of this keyboard mentioned, but on our scales it came in at 4.375 ounces or 124 grams. The only thing missing with this keyboard is a strap or rubber band to keep it rolled up, but who doesn't have a rubber band floating around there desk some place
The Scosche freeKEY flexible Bluetooth keyboard has an MSRP of $59.99 and is backed by a 1-year warranty should anything go wrong with it and for something that you roll up and can dunk in water it is possible something might fail inside. We also found out that Scosche is giving 20% off if you 'like' them on facebook, so you can pickup this keyboard for $47.99 plus shipping. Bluetooth keyboards typically range in price from $40 to $155 on Newegg, so this keyboard is priced and the lower-end of the price spectrum. What it offers that none of the other keyboards in this group do is the flexibility, size and the fact it is water resistant. If you are looking for a keyboard with those features then the freeKEY is likely the ideal solution for you as there aren't too many wireless Bluetooth keyboards out there to compete with it. Not too many keyboards out there can connect to your tablet or smartphone, have your morning coffee spilt on it and then be dried off and rolled up to fit into your backpack or laptop bag.
When we were finishing up this review we ran across a keyboard that appears to be identical for less money. The keyboard is called the Menotek Flexible Bluetooth Keyboard ($32.98 shipped on Amazon). It looks like the keyboard is from the same original design manufacturer (ODM) and have been relabeled by different companies that want to sell under their own respective brand names. This is very common and usually when that happens the biggest difference is the warranty and who you trust. Scoshe has been around since 2004 and is based in Oxnard California, so at least with them you have a company you can trust. We tried to find out where Menotek is located and couldn't figure it out. Check out the difference between the Scosche website and then that of Menotek. If you are worried about a warranty and want a 1-800 number to call with questions then Scosche is the easy choice.
Legit Bottom Line: If you are looking for a flexible Bluetooth keyboard for your tablet or Smartphone the Scosche freeKEY is one of a few options out there, but has the best support and warranty.