Scosche freeKEY BTKB Bluetooth Keyboard Review
By
The Scosche freeKEY BTKB Bluetooth Keyboard
Bluetooth devices are a dime a dozen today as you can find them for sale at the corner store and even the local auto parts store has a section for Bluetooth devices. With the majority of consumers embracing smartphones and tablets, the need for a solid performing wireless keyboard that is priced right is very high. Let's face it, Smartphones and tablets are nice, but don't expect to write a novel on them as that is not what these devices were designed for. On a recent trip out west to meet some of the companies that work with Legit Reviews we found ourselves cramming a laptop, tablet, smartphone and Bluetooth mouse into a laptop bag. Working in tech for a living has its perks, but all of the latest and greatest devices we use have their weak points. My current smartphone is the Motorola Atrix 4G and this device is powered by a 1 GHz dual-core NVIDIA Tegra 2 processor. This smartphone has more than enough power for basic internet tasks, so we wanted to try and ditch both the laptop and tablet and go on our next trip using just the smartphone. Since writing articles and news posts can be a chore on a smartphone, we figured that a Bluetooth keyboard would give us the wireless freedom that we needed while traveling yet retain the functionality that we needed for work.
When looking for new products on the market we ran across the marketing video for the Scosche freeKEY and found it to be something of interest. This keyboard looks to be very well done and notes that it works with Bluetooth ready smartphones and tablets. Remember this key point as we'll come back to that a little bit later. It also notes how it is flexible, water resistant and works up to 30 feet away from your device that it is paired to. Sold on the idea of this keyboard we contacted the PR team over at Scosche and they sent one over to us to try out.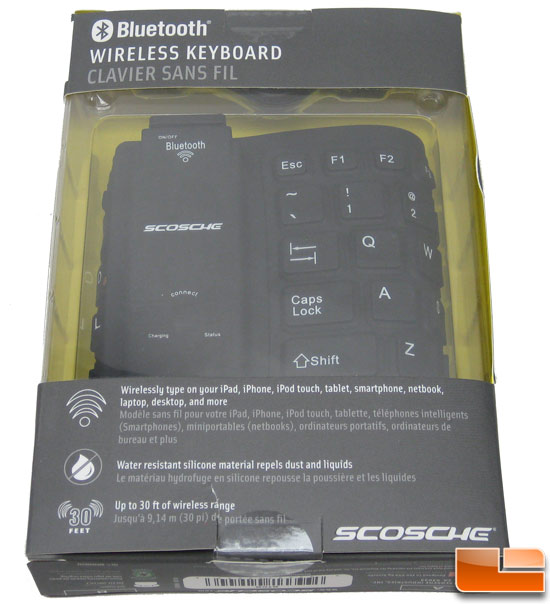 The Scosche freeKEY showed up in a bilingual box that showed off the wireless keyboard and also mentioned a few of the key points for the device. The front and box doesn't nearly show off all the details for this Bluetooth keyboard, so we'll include all of them below.
Scosche freeKEY Specifications:
Compatibility: Windows 98/2000, ME/2000/XP/WIN7 or MAC OS X; iPhone & Android Devices
Bluetooth: V2.0 Class 2
Battery: Built-in Lithium-ion
Charging Time: 2 Hours
Temperature Range: -20C to 55C
Humidity Range: 20%-50%
Operation Distance: 10m
Modulation System 2.4G FHSS
Transmission Power Class 2
Working Voltages: 1.9-3.3V
Operating Current: <1mA
Dimensions: 325mm x 113mm x 11mm
Inside the box we found that three items that are included. The flexible Bluetooth keyboard, a retractable USB to mini-USB charge cable and the instructions. The instructions are nicely done, but they weren't too detailed and didn't have an FAQ section for those that were having issues. The retractable USB charging cable is 32-inches in length, which is plenty of length for recharging only. Mini-USB is fairly common on new smartphones, so you likely already travel with a charger for a device like this and might not even need it. It should be noted that this keyboard does not come with a USB Bluetooth adapter, so if you plan on using it with a PC or any other device, be sure that it has built-in Bluetooth.

The freeKEY uses a standard QWERTY layout, with standard sized keys for everything except the top row of keys. Scosche went with half-height keys for Esc, F1 through F12 and the NumLk, Ins, Del, PrtScr and Pause buttons. The NumLk key changes a pattern of keys on the keyboard into a numeric keypad, with the numbers and functions marked in a bronze color. A flexible 'chiclet-type' keyboard usually doesn't have the best tactile feel to it, but the Scosche freeKEY isn't bad and you get used to the feel of this keyboard rather quickly.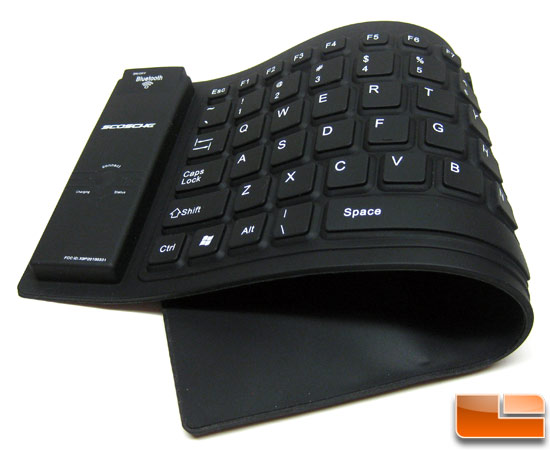 The freeKEY is marketed as being flexible and we have to admit that you can roll this keyboard up and fold it over on itself, so it is most certainly flexible. Scosche needs to ship this with a high-quality rubber band in a nylon sleeve or something to help keep it rolled up.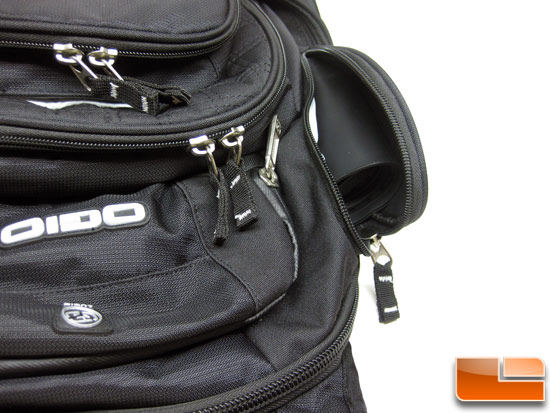 When we travel we've become fans of OGIO backpacks for their functionality and durability. We are happy to report that the freeKEY easily fits inside the small side compartments found on most of the companies street bags. You can also toss it in flat or folded in half, so packing and traveling with this keyboard is a breeze.