SanDisk Ultra II 240GB SSD Review – SanDisk's First TLC NAND SSD
By
The Ultra II Gets TLC With A Dash Of SLC – SanDisk's First TLC NAND SSD
When Samsung released their 840 Series drive back near the end of 2012, it was the first consumer drive to feature TLC (Triple Level Cell) NAND which took everyone by surprise as up until then, MLC drives ruled the consumer roost. The drive proved to be quite popular with decent performance and stellar power usage along with a very modest price tag. SanDisk has decided to drop some TLC NAND into their second iteration of the Ultra series drives which should provide some solid performance numbers along with budget level pricing. Without peeking at the specifications, we surmised that performance would be above average with low power consumption and we weren't wrong.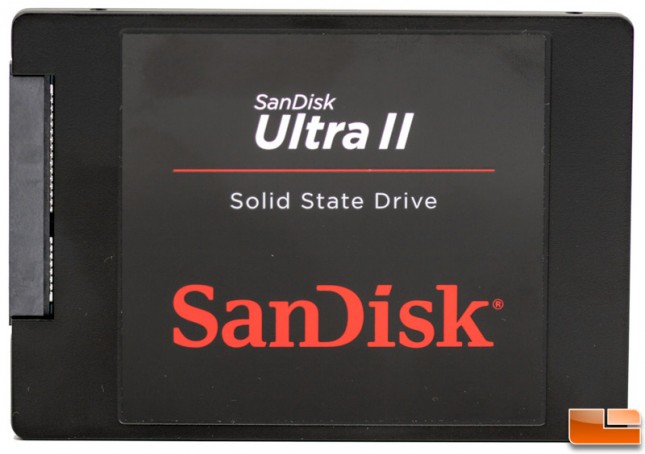 SanDisk has really been coming on strong in the SSD market and should be considered one of the premiere drive makers given their expertise and access to raw materials and manufacturing. As such, it didn't come as a total surprise to see them out a TLC based drive but there are many in the industry don't believe TLC is a viable long term component for client SSDs. Enter the SanDisk Ultra II Solid-State Drive. Available in capacities of 120GB, 240GB, 480GB and 960GB, it covers all the bases while offering a splendid read/write rating of up to 550MB/s and 500MB/s respectively. IOPS specifications are solid too with reads and writes all above 80K and then some depending on the model. So far, it's only available as 2.5″ drive although they could easily make an M.2 or mSATA drive given the size of the PCB in the review sample we received (check out page 2).
If you don't recall, TLC is technically a form of MLC (Multi-Level Cell) and contains three bits per cell rather than the two in MLC and the one in SLC. The diagram below shows, at a high level, how this works. With more data per cell, TLC NAND can cram in more dies per package and is generally a little cheaper to manufacture than MLC and a lot cheaper than SLC. The downside is, it's generally slower and because of increased write-amplification its overall endurance is typically less than the others. Having some SLC on board to cache the data before flushing to the TLC greatly reduces the write-amplification and therefore drive endurance is improved.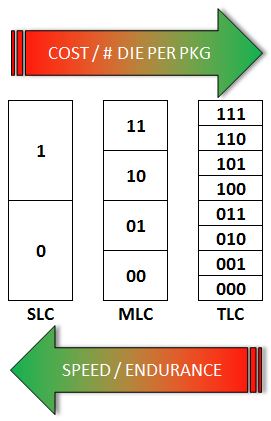 SanDisk Ultra II Specifications and Features
Specification:
Parameter:
120GB
240GB
480GB
960GB
Part Number:
SDSSDHII-120G-G25
SDSSDHII-240G-G25
SDSSDHII-480G-G25
SDSSDHII-960G-G25
MSRP/Retail:
$79.99 / $79.99
$114.99 / $109.99
$219.99 / $199.99
$429.99 / $379.99
Flash:
SanDisk 1Ynm, X3 ABL, Toggle
Interface:
SATA 6GB/s backward compatible
CrystalDiskMark:
Seq Read (up to):
550MB/s
550MB/s
550MB/s
550MB/s
Seq Write (up to):
500MB/s
500MB/s
500MB/s
500MB/s
Rnd Read (up to):
81K IOPS
91K IOPS
98K IOPS
99K IOPS
Rnd Write (up to):
80K IOPS
83K IOPS
83K IOPS
83K IOPS
Power (typical):
Active Power:
85mW
85mW
85mW
85mW
Max Read Operating:
2.5 W
2.7 W
2.7 W
2.9 W
Max Write Operating:
3.3 W
4.5 W
4.5 W
4.6 W
Slumber:
75mW
75mW
85mW
85mW
MTBF:
Telcordia, Stress Part
1.75 Million Hours
Weight:
Individual Product:
58 g
58 g
58 g
61 g
Size:
2.5″ SFF-8223 & -8201:
70mm x 69.85mm x 100.5mm
Environmental:
Operating Temp:
0C to 70C
Non-Operating Temp:
-55C to 85C
Warranty:
3 Year limited warranty
SATA 8Gb/s Compliant
ATA-ACS v6
NCQ support upo to queue depth = 32
Support for TRIM
S.M.A.R.T. feature supported
Advanced Flash Management:

nCache 2.0 – Non Volatile Write Cache
Multi-Page Recovery
XOR Recovery
Dynamic and Static Wear-leveling
Bad Block Management
Backgrounf Garbage Collection

Advanced features:

Tiered caching – Volatile and non-volatile cache
Supports multi stream – improves user experience in multitasking systems
Minimal write amplification – increase endurance and performance

Support For Thermal Throttling:

Performance will be throttled in the event junction temperature of critical components is measured to be exceeding the maximum allowable for the product
Along with the TLC NAND is a host of other technical features on the Ultra II that makes everything work. They are all there to bolster performance and mitigate undue wear on the drive as TLC has a lower endurance rating than MLC.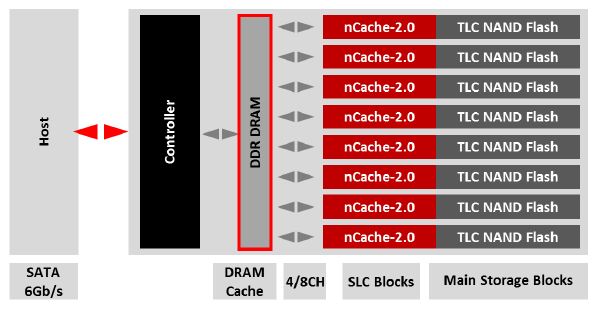 SanDisk's nCache 2.0 technology leverages tiered caching to handles this process and all the while improving write performance as an added perk. The nCache process assures all of the data is written to the SLC blocks initially prior to flushing to the TLC. Note that the diagram indicates that the number of channels is split between four and eight channels because the 120GB and 240GB drives use a four channel controller and the larger capacities use an eight channel controller. This is simply because on the larger drivers, the are more than four dies available in the array.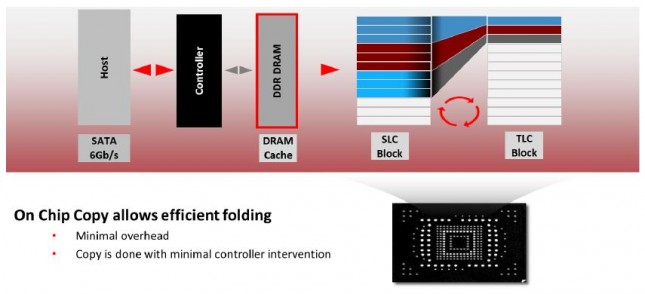 Since, as our diagram above illustrated, there are three bits of data in TLC cells versus the one in SLC, the data that is cached in SLC is "folded" in triplet to the TLC cells. Since this is handled on die, any extra overhead on the controller is mitigated and latency is not unduly impacted. This "On Chip Copy" as they term it, is unique to SanDisk and is the most efficient method of handling this process that we've seen.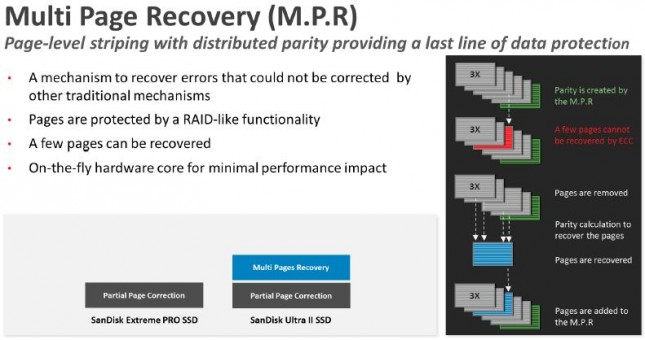 A big concern with SSDs is accuracy and the need for error correction. In addition to the normal controller ECC, SanDisk is leveraging what they call Multi Page Recovery (M.P.R.) to handle error correction by means of parity and redundancy of pages. If an error is detected that ECC cannot recover, the page is recovered thanks to the redundancy and all is right with the world again. The illustration actually does a nice job of showing what occurs.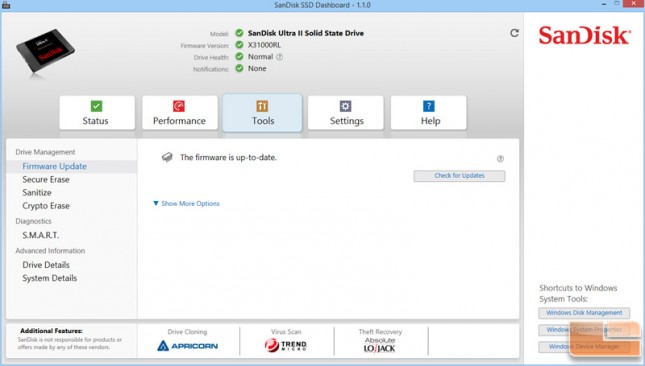 Finally, we've discussed the SanDisk Dashboard application before and it's a super nice tool for checking out drive metrics, secure erasing, updating firmware. They've made a few improvements in this version including support for 17 languages, a sanitize function, crypto erase and assistance from "Live Chat" or ask a tech support question via buttons in the GUI. Bundled with the SSD Dashboard is a suite of software tools although all are either limited or trial versions. First is cloning software from Apricorn call EZ GIG IV, then Trend Micro Titanium Antivirus+ and rounded out with Absolute LoJack security software.