SanDisk Sansa Fuze+ 8GB MP3 Player Review
By
Introduction – The Sansa Fuze+
SanDisk is a company that can use little introduction sometimes. It is a house hold name, being the flash drive vendor that almost everyone in your school probably has. SanDisk has been a huge player in the Flash Memory
market for years; SanDisk has been a presence in the MP3 player market since 2006 when they originally launched the SanDisk e200 Series of MP3 Players. They've come a long way since then to include more features, larger storage capacities, and updated device hardware.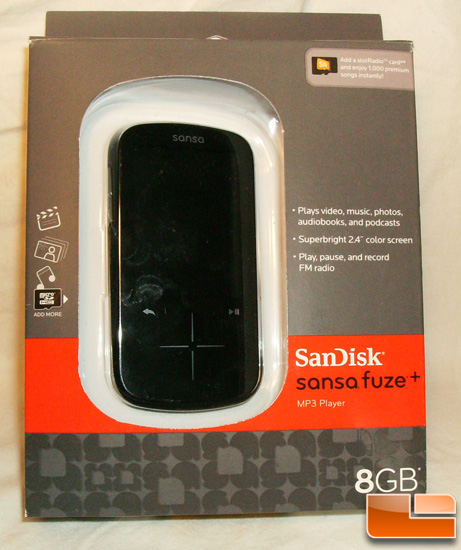 Today we'll be looking at the SanDisk Sansa Fuze+ 8GB. This device is an update to the Sansa Fuze which was launched back in 2008; though in terms of hardware and design it's a completely new product and not just a minor update.
The front of the box here lays out a few basic functions of the device for us to know about:
Plays Video, Music, Photos, Audiobooks, & Podcasts
Superbright 2.4″ Color Screen
Play, Pause, & Record FM Radio
The top right corner of the box also tells us that we can add a SlotRadio Card to this device to "enjoy 1,000 Premium Songs instantly!" but we will get into that later on the features discussion. The left side of the box lets us know that we can use MicroSDHC (Secure Digital High Capacity) cards with this device.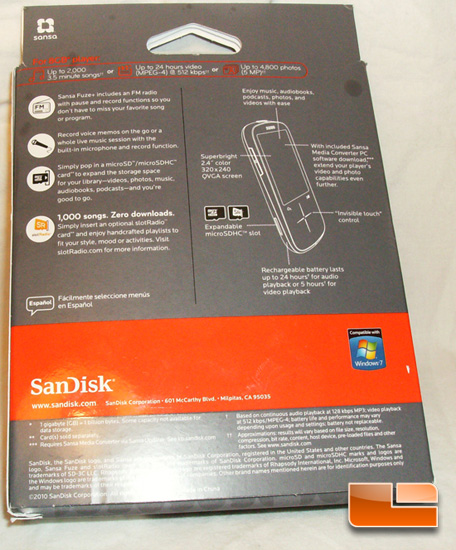 Here's the back of the box with some basic information available on it as well.
The top of the box lets us know that this 8GB player can hold up to 2000 3.5minute songs encoded with the MP3 Encoder at 128Kb/s, or 24 Hours of video encoded in the MPEG-4 standard at 512Kb/s or up to 4800 Photos that are 5 Megapixels in side. Obviously, most people won't load this device with just one kind of media so it'll be mix and match and users' experience with the number of files will vary.
The left panel says:
Sansa Fuze+ includes an FM Radio with pause and record functions so you don't have to miss your favorite song or program.
(Pausing the radio does not act like a DVR and store the broadcast to a temporary memory, so you'll have to click record first, and then pause to be able to fast-forward and rewind through broadcasts. )
Record Voice Memos on the go or a whole live music concert with the built-in microphone and record function.
Simply pop in a microSD/MicroSDHC card to expand the storage space for your library – videos, photos, music, audiobooks, podcasts – and your good to go.
1,000 songs. Zero Downloads.
Simply insert an optional slotRadio card and enjoy handcrafted playlists to fit your style, mood, or activities. Visit slotRadio.com for more information.
To test out slotRadio and give you information on this part of the device I bought a slotRadio card separately and I will include an analysis of slotRadio in this review.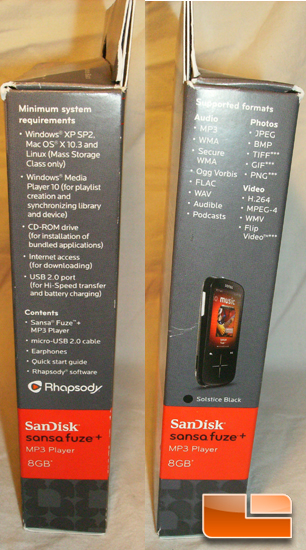 Here is the side of the box. Each side gives you a bit of info on what you need for this device and what it can do.
System Requirements:
Windows XP Service Pack 1, Mac OS X 10.3 and Linux Operating Systems supported.
Windows Media Player 10 (for playlist creation and synchronizing of library & devices.)
CD-ROM Drive (for installation of bundled applications)
Internet Access (for downloading software and device updates)
USB 2.0 Port (for high-speed transfers and battery charging)
The listed contents of this box are as follows:
Sansa Fuze+ MP3 Player
micro-USB 2.0 Cable
Earphones
Quickstart Guide
Rhapsody Software
The Sansa Fuze+ also supports a number of media containers and codecs:
Audio
Video
Picture
OGG Vorbis
H.264
JPEG
FLAC
MPEG-4
BMP
WAV
WMV
TIFF***
Audible
Flip Video
***
GIF***
PodCast
PNG***
Secure WMA
***Requires the Sansa Media Converter to convert the file to a device appropriate type.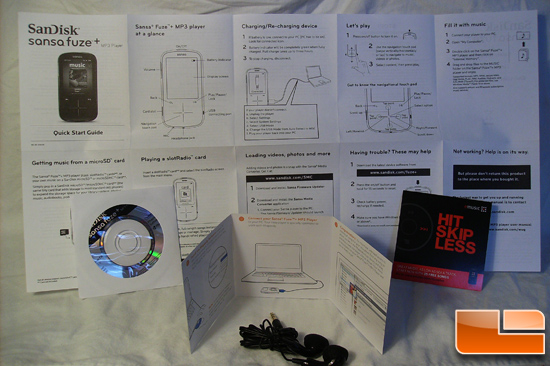 Here's our bundled accessories, which actually included an extra card with 30 free downloads from eMusic.
The headphones included are basic ones that you'll find included with many Portable Media Players. They do feature cloth covers on the tips which is a step up from the hard plastic tips offered by some vendors.
Let's move on and take a look at the device.