Samsung Portable SSD T7 Touch Drive Review
By
Samsung Portable SSD T7 Touch Testing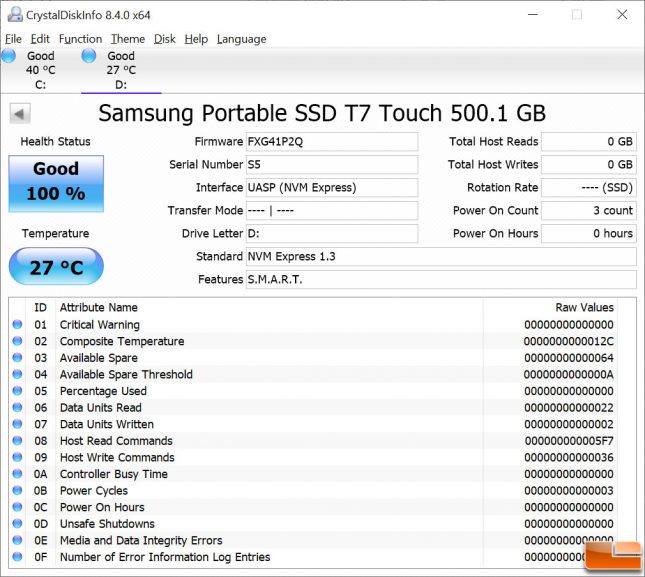 The Samsung Portable SSD T7 drive comes formatted with the exFAT file system and the overall capacity shows up as 466GB in Windows. Samsung went with exFAT for compatibility with Windows and macOS systems when you use the drive for the first time, but you can reformat if you'd like to change it. Our T7 Touch drive came with firmware FXG41P2Q and that is what we used for benchmarking.

To test the performance of the Samsung Portable SSD T7 Touch 500GB drive we plugged it into our Microsoft Surface Laptop 3 for business (10th Gen Intel Core i7-1065G7 Processor) and ran a few benchmarks to see how it would perform.
The first test that we wanted to run was CrystalDiskMark (version 7.0.0g for Windows x64). This benchmark topped out at 1,049 MB/s read and 880 MB/s write with the security mode enabled. With the security mode disabled the Random 4K performance improved a touch, but sequential read speeds remained the same and a decrease was noted on the write sided. Performance will vary from system to system, so .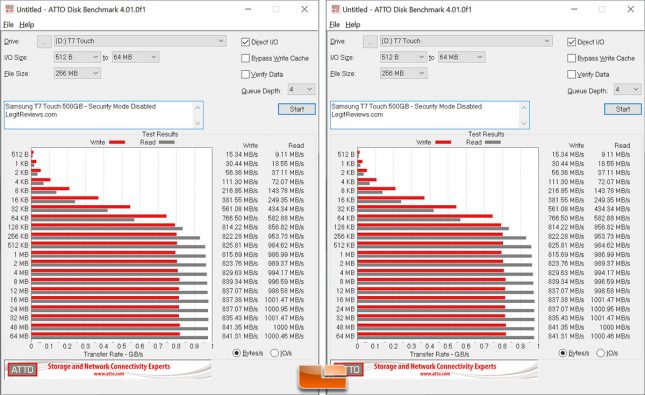 Next up we ran ATTO Disk Benchmark 4.01 and reached top speeds of 1,001 MB/s read and 841 MB/s write at QD4.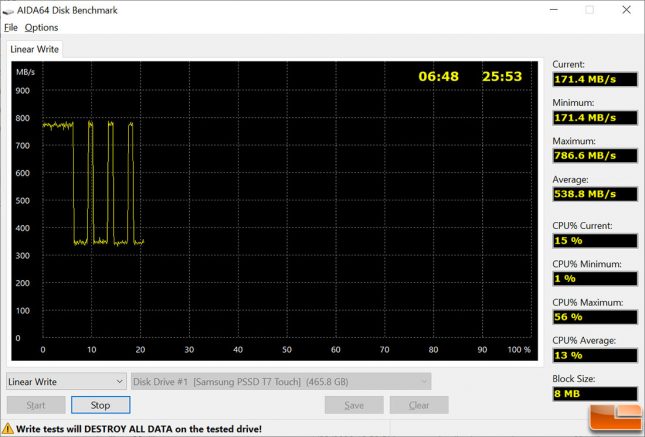 The last test we ran was the linear write test in AIDA64 Disk Benchmark. This is a punishing test where data is written to the drive with no interruptions. The Samsung T7 Touch uses Samsung 3-bit MLC V-NAND in combination with TurboWrite Technology and it did pretty good in this test. You'll need to write about 6-7% of the 500GB drives capacity to fill the SLC cache to the point that you are writing directly to the QLC NAND Flash. Once you trigger this action the write speeds on our T7 Touch 500GB drive dropped down to around 350 MB/s. You can see some garbage collection and other cache flushing firmware algorithms running as the drive recovers from ~350 MB/s up to around 790 MB/s at regular intervals.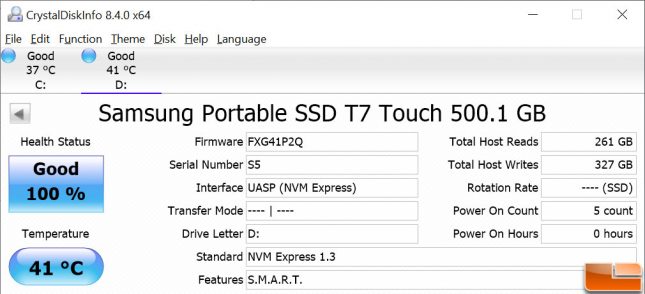 After writing over 100 GB of data to the drive we took a quick look at temperatures and found the T7 Touch running in the 40-42 C temperature range. This meant the drive was warm to the touch, but was not hot to the point that you coudln't handle it for long periods of time on your bare skin.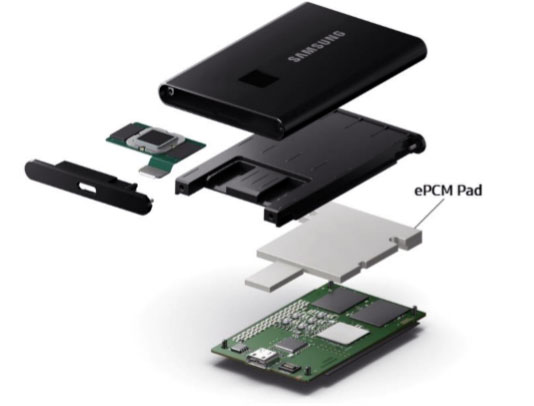 The T7 Touch integrates the thermal management technologies (Dynamic Thermal Guard and ePCM) to keep the surface temperature below 45C. Samsung Dynamic Thermal Guard technology safeguards against overheating by automatically maintaining optimal operating temperatures. ePCM (Encapsulated Phase Change Materials) absorbs and gradually releases heat in order to stabilize the devices temperature. As you can see from the image above, Samsung is using a single fully custom PCB for this enclosure.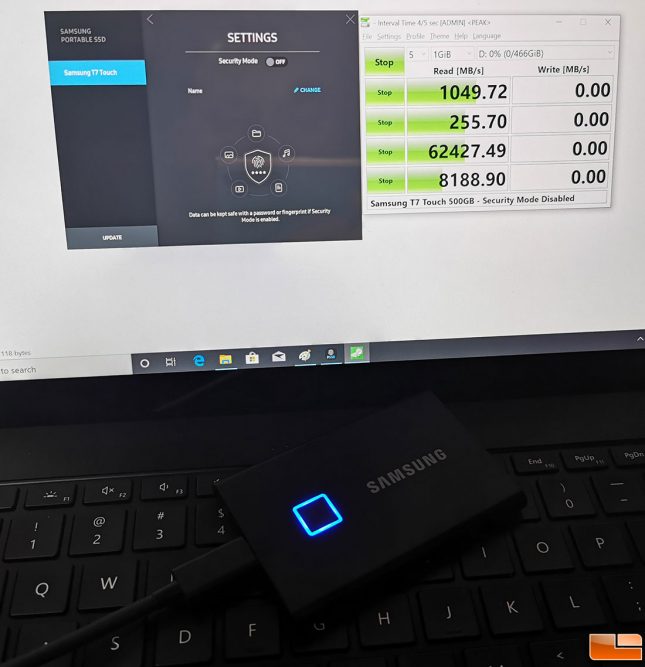 Final Thoughts and Conclusions
The Samsung T7 Touch is an innovative portable SSD that takes data protection to the next level thanks to the built-in fingerprint sensor and AES 256-bit hardware data encryption. This is the first built-in fingerprint scanner that we have seen on a portable SSD and is what makes this drive special. If you are looking for a secure portable drive that offers fingerprint recognition on top of password protection this is the only solution on the market.
When it comes to performance the T7 Touch supports PCIe NVMe drives and the USB 3.2 Gen 2 interface allows for at least 1GB/s of both sequential read and write performance. We were able to come close to the drives rated speeds on the Microsoft Surface Laptop 3 for business that was used for testing. The Portable SSD T5 series from 2017 uses SATA drives, so we are glad that here in 2020 Samsung has moved over to NVMe drives on their external drives.
If you are looking for a portable drive with biometrics the Samsung T7 Touch make securing your data simple and you don't have to rely on just the password. If the fingerprint sensor is something you want then the T7 Touch is what you need. If you want the additional speed, but have no use for the fingerprint sensor you'll be better off waiting for the Portable SSD T7 series that is scheduled to come out in Q2 2020 at lower price points.
The T7 touch is offered in 500GB, 1TB and 2TB sizes with pricing of $129.99, $229.99, and $399.99, respectively.