Samsung Portable SSD T3 2TB Review
By
Samsung Portable SSD T3 2TB Review
Samsung's mighty fast and compact Portable SSD T1 that was launched last year has been improved and had it's capacity increased! Samsung unveiled the Portable SSD T3 at CES 2016 and we've patiently waited for a review sample to show up that we could take a look at ourselves. The new and improved portable Solid-State Drive (SSD) features an aluminum enclosure, USB-C connector, the latest Samsung 3D NAND and speeds of up to 450 MB/s. If you were a fan of the original Samsung Portable SSD you should like the Portable SSD T3 even more!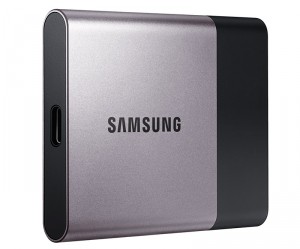 The Samsung Portable SSD T3 measures in slightly larger than the original as it measures in at 74mm x 58mm x 10.5mm in size and weighs in at just 51 grams! The drive has chunked up a bit since last year, but it's still relatively small considering you can get it in 250GB, 500GB, 1TB and 2TB capacities. The 2TB capacity is a brand new size for the Portable SSD T3 and should appeal to those that need to carry around large amounts of data with them. The pricing and model numbers for the four capacities are listed below.
When it comes to Suggested Retail Pricing you are looking at $0.42 to $0.52 per Gigabyte with regards to the Samsung Portable SSD T3 series. We expect pricing to come down from the SRP in the weeks and months ahead.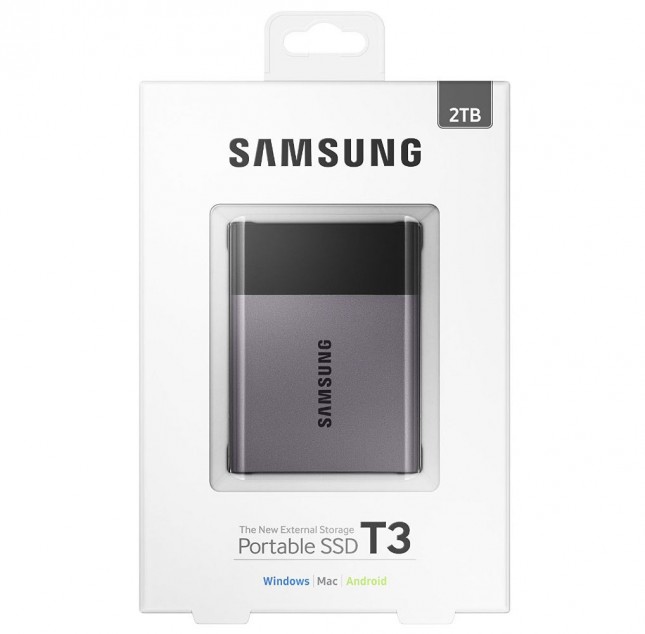 Legit Reviews got our hands on a Samsung Portable SSD T3 2TB drive. This is the largest capacity drive of the bunch and is available under part number MU-PT2T0B/AM.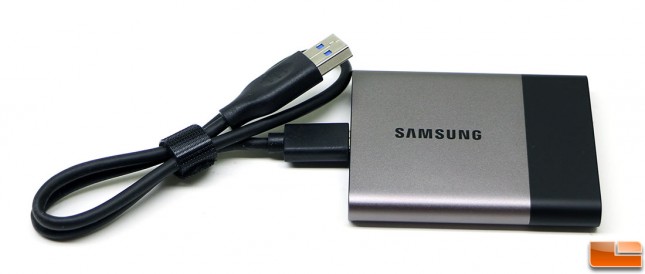 The T3 comes with a USB 3.0 cable and a small instruction booklet that ensures you are up and running without needing to call Samsung tech support or that tech savvy friend of yours. The included SuperSpeed USB 3.0 cable features USB-C to USB 3.0 Type-A ends and measures in at 18-inches in length. The USB cable carries the power needed for the drive, so no external power source is needed. It should be noted that this is a USB3.1 (Gen.1, 5Gbps) device.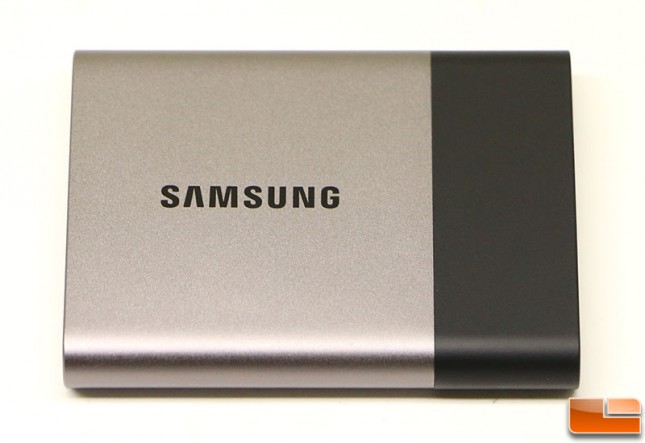 The Samsung Portable SSD T1 weighs 1.8 ounces by itself, so it is very light despite having a metal/plastic enclosure. That said the feel of the drive is nice and is has enough heft to it to feel like it is well built. Samsung rates the drive as being able to sustain a up to 1500G of forceand will survive a drip of up to two meters!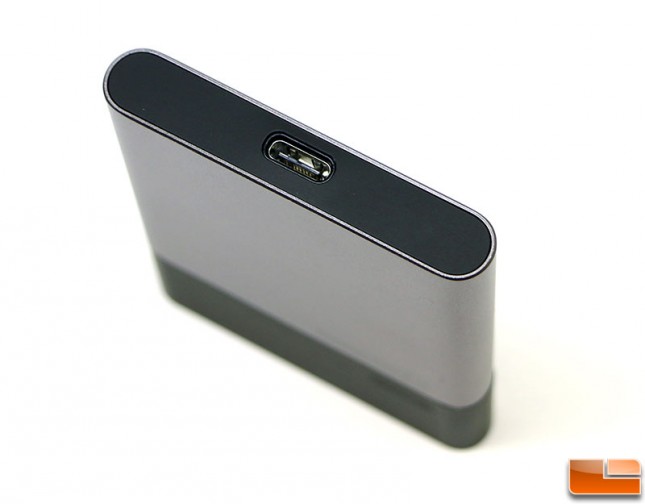 On one end of the Portable SSD T3 you have the USB-C port (5Gbps) and off to the side of that there is a blue LED activity light. The light glows blue when the drive is properly connected to a USB port and then flashes when the drive is being actively accessed by the system. Most portable drives use a micro-USB 3.0 port, so this is one of the key features that make this drive stand out from the crowd. Samsung includes a USB-C to USB-A cable that allows this drive to work on all existing computers, laptops, TV's and Blu-ray players that have regular USB ports. Samsung does not include a standard USB-C cable to work with new systems that have a USB-C port for some reason. It would have been nice to see one included for a premium storage device like this!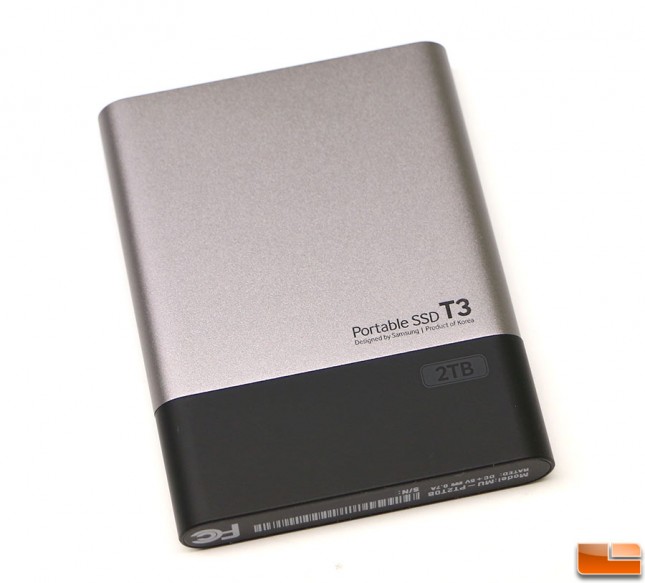 On the back side of the T3 you'll find the product name, capacity and other information laser etched into the housing. On other end of the drive you'll find the serial number, model number, capacity and power ratings among other things. This particular drive is rated at 5V and 0.7A. If you'd like to void the Portable SSD T3's 3-year warranty anyway you could remove the serial number sticker and remove two screws to gain access to the circuit board. Samsung told us that the Portable SSD T3 uses the latest Samsung TLC V-NAND memory along with the Samsung MGX controller. The internal design is basically an mSATA SSD plugged into a USB adapter, so it is pretty straight forward.
The Samsung Portable SSD T3 comes pre-formatted in the exFAT file format and will work right out of the box. When you first plug the drive into a USB port you'll discover software on the drive called 'T3 Security Enabler' for Windows and Mac that will allow you to enable the AES 256-bit security. Android users will find a text file that points them to Google Play for the Samsung Portable SSD App. This software, once installed, will allow you to manage the drives security functionality. This basically means you just enable the password settings on the drive and that activated the AES 256-bit encryption standard. If you forget your password, a Samsung T3 can be restored to its factory settings at a Samsung Service Center. This means that you will loose all your data in the process due to the advanced AES 256-bit encryption technologies Samsung is using. Please exercise caution not to forget or misplace your password as you'll end up with a total data loss.
Let's take a look at the test system and move along to the benchmarks!