Samsung 950 PRO SSD Announced At The 2015 Samsung SSD Global Summit
By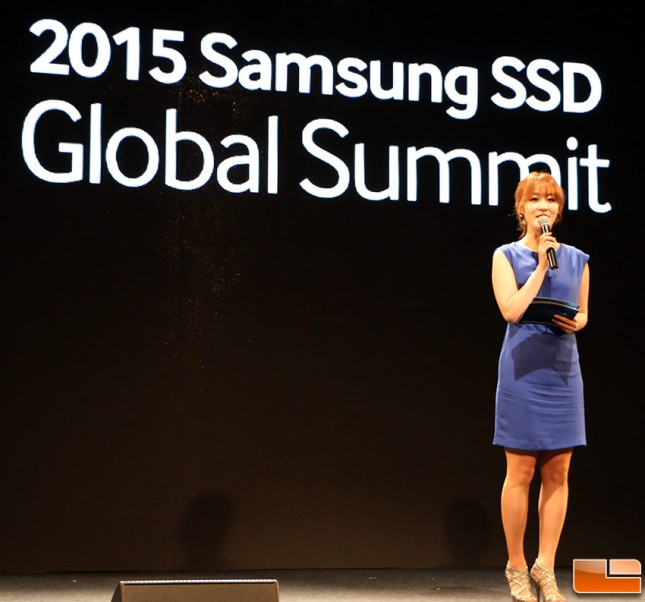 Samsung Electronics today held the 2015 Samsung SSD Global Summit (4th Anniversary of the event) at the Shilla Seoul in conjunction with the launch of its new solid-state drive (SSD), the Samsung SSD 950 Pro. The Samsung 950 PRO SSD is Samsung's first consumer-ready Non-Volatile Memory Express (NVMe) M.2 form factor SSD using the PCI Express Gen 3.0 x4 interface!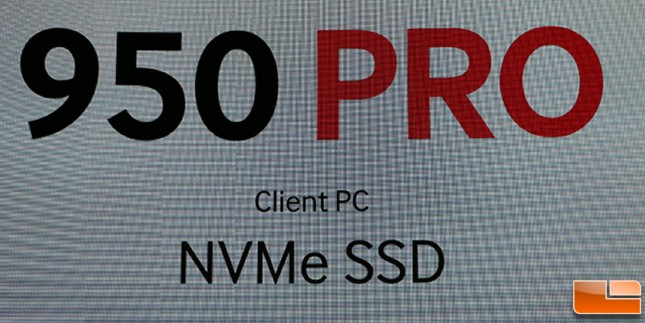 The Samsung SSD 950 PRO M.2 drive comes in the standard 2280 M-key configuration and will be ready for use in recent desktops, laptops and other form factors that are capable of supporting M.2 NVMe drives.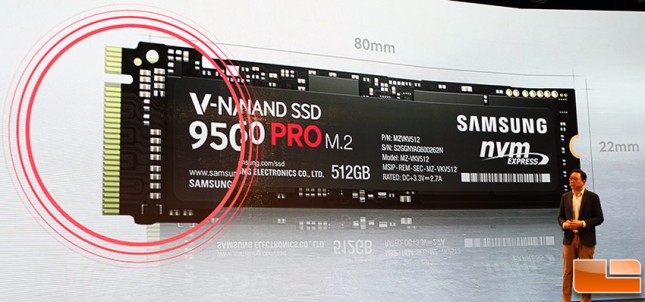 The Samsung SM951 NVMe that we reviewed back in May 2015 was only available to the OEM market, so the Samsung 950 Pro SSD will be something you will be able to readily purchase when it comes to market later this year. The Samsung 950 Pro and SM951 NVMe drives are similar in the sense that they share the same controller (Samsung UBX), but they differ in the NAND Flash they are using and of course the firmware. The new Samsung 950 PRO SSD will be using Samsung's second generation MLC V-NAND (32-layer, 2-bit, 128Gb dies), while the SM951 NVMe used 16nm MLC NAND Flash memory. Some might have been hoping to see Samsung's 3rd generation 256Gb V-NAND (48-layer 3-bit MLC V-NAND) being used, but that ground breaking technology that will usher in larger capacity drives remains a ways off as it is still ramping up. The good news is that Samsung confirm that the summit that a Samsung 950 PRO NVMe SSD will be coming in 2016 that is 1TB in capacity with the new V-NAND technology!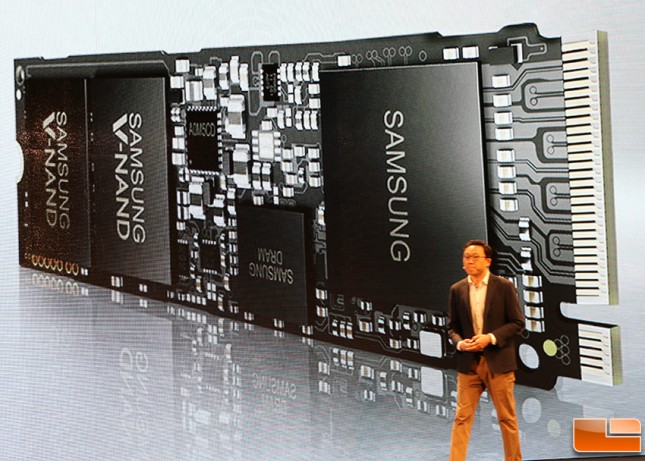 If you haven't purchased a Samsung SM951 NVMe drive you will be happy to learn that the Samsung 950 PRO SSD looks to be slightly faster than the 'old' SM951 NVMe-based SSD.
Samsung SM951 NVMe versus 950 PRO 512GB M.2 PCIe SSD Drives
Model
Capacity
Sequential (R/W)
Max 4K IOPS (R/W)
Price
SM951 NVMe
512GB
2260/1550 MB/s
Up to 300k/100k IOPS
$385.95
950 PRO
512GB
2500/1500 MB/s
Up to 300k/110k IOPS
$349.99
The Samsung SM951 NVMe 512GB SSD is capable of sequential data read and write performance up to 2,260 MB/s and 1,600 MB/s! The peak random 4K Read performance is said to be up to 300,000 IOPS. The new Samsung SSD 950 Pro 512GB SSD is rated to deliver sequential read/write speeds of 2,500 MB/s and 1,500 MB/s with 4K Random performance of up up to 300,000 IOPS read and 110,000 IOPS write.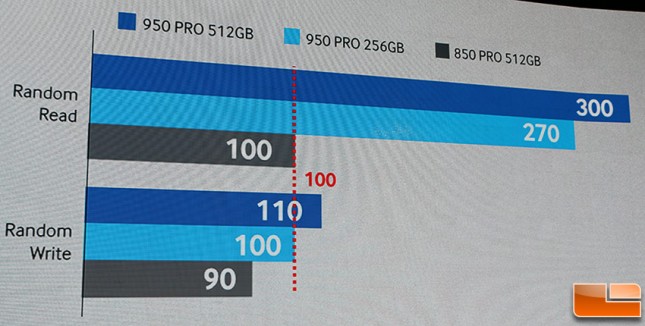 The new performance numbers aren't mind blowing, nor are they higher across the board compared to the SM951 M.2 NVMe drive, but the big thing here is that Samsung has launched their first M.2 2280 form factor drive with NVMe and PCIe for the consumer market. Compared to the Samsung SSD 850 PRO 512 GB drive that uses the SATA interface along with the AHCI instruction set you'll see massive performance gains as shown by the slides above. With regards to sequential read/write performance you are looking at 4.5x to 2.8x performance increases!

Samsung's 950 PRO SSD will be made available in 256GB and 512GB capacities in October 2015, with a price of $199.99 and $349.99, respectively. The 950 PRO series is backed by a 5-year warranty and with regards to endurance the 256GB drive is rated for up to 200 TBW (TeraBytes Written) and 400 TBW for the larger 512GB capacity drive. The Samsung 850 PRO SSD series had a 10-year warranty, so the 10-year to 5-year warranty reduction might be disappointing to some. Samsung did point out that they are allowing more TBW and that consumers would rather have the higher TBW than the longer warranty period. Samsung didn't divulge all the power numbers to us just but, but we did see a placard that showed it consuming 2mW of power in an L1.2 power saving state and that it would be under 6 Watts when fully active.
There will be a proprietary drivers for the Samsung 950 PRO SSD as Samsung wanted to make sure that the user experience is spectacular. The operating system support for the Samsung 950 PRO SSD on launch day will include driver support for Windows 7, 8, 8.1 and 10 with driver support coming later for Linux and Windows Server.
Legit Reviews will be getting our hands on a Samsung 950 PRO drive to review and you can read the official Samsung press release here.