Samsung SM951 NVMe M.2 PCIe SSD Review
By
Samsung SM951 NVMe 256GB M.2 PCIe SSD Testing
The Samsung SM951 AHCI M.2 PCIe SSDs might be the most talked about enthusiast SSD at this moment, but what about the Samsung SM951 NVMe drives? If you thought the OEM-only Samsung SM951 AHCI drives was tough to purchase you will likely lose some hair trying to find someone that has the Samsung SM951 NVMe drives available to purchase today. Though the SM951 NVMe drive is not available through retail channel just yet, we managed to get our hands on one and have been using it on a number of systems over the past few weeks.

The drive we received is the Samsung SM951 NVMe 256GB M.2 PCIe SSD that is listed as model MZ-VPV256 with the full part number of MZVPV256HDGL-00000. This is one of the new SM951 NVMe-capable devices. The Samsung SM951 series use the PCI Express 3.0 x 4 interface and feature Samsung UBX 3-core controllers that are paried with 16nm MLC NAND Flash memory. This combination on the new NVMe-based SM951 SSD achieves sequential data read and write performance up to 2,260 MB/s and 1,600 MB/s! The peak random 4K Read performance is said to be up to 300,000 IOPS, but for some reason the write IOPS are not given.
Samsung SM951 NVMe M.2 PCIe SSD Drives
Part Number
Capacity and Features
Sequential (R/W)
Max 4K IOPS (R/W)
Price
MZ-VPV128
M.2 Form Factor 128GB
2060/650 MB/s
Up to 300k IOPS
unknown
MZ-VPV256
M.2 Form Factor 256GB
2260/1260 MB/s
Up to 300k IOPS
unknown
MZ-VPV512
M.2 Form Factor 512GB
2260/1550 MB/s
Up to 300k IOPS
unknown
Samsung SM951 NVMe M.2 Features:
PCIe Gen4 8Gb/s Interface, up to 4 Lanes
Compliant with PCI Express Base Specification Rev 3.0
Compliant with NVMe Express Specification Rev 1.1a
Power Saving Modes: APST & L1.2 Mode
Support Admin & NVM Command Set
End-to-End Data Protection
RoHS Complaint
Support up to 1 Namespaces
Support up to 8 I/O Queues
Support up to 15K Queue entries for each I/O Queue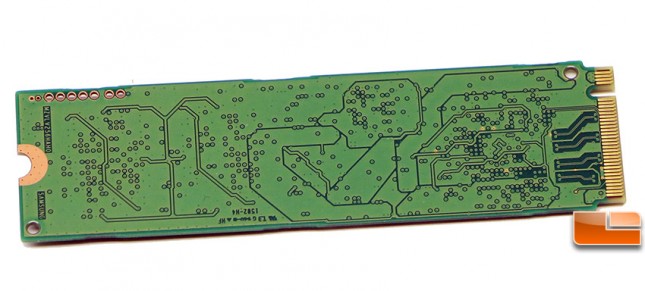 The back of the SM951 NVMe 256GB M.2 drive has no NAND Flash packages or components on the back. The Samsung SM951 NVMe has a MTBF rating of 1.5 million hours.

Here is what the front of the Samsung SM951 NVMe 256GB M.2 SSD looks like with the label removed. You can see two 128GB NAND packages that make up the drives 256GB of storage space. You can also see the Samsung UBX controller and 512MB DRAM cache chip that were hidden before we removed the label.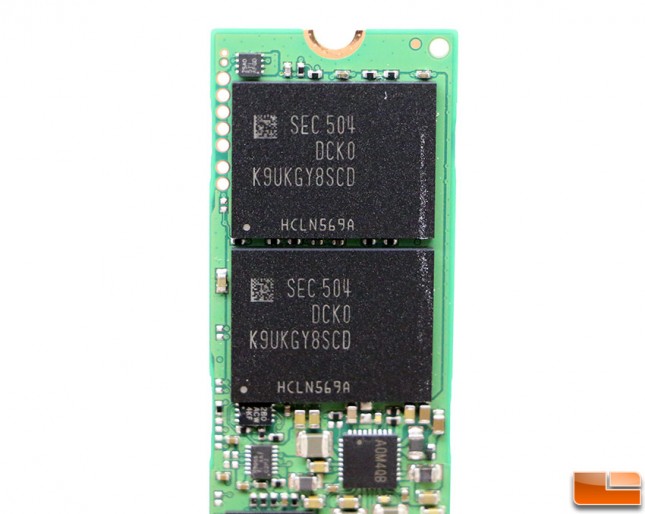 The two 16nm NAND chips on our Samsung SM951 NVMe 256GB drive are labled K9UKGY8SCD-DCKO. These are the same exact NAND Flash memory that is used on the AHCI drives, so the NVMe and AHCI drives use the same Flash. Samsung has plans to incorporate its next-generation 3D V-NAND technology into its NVMe SSDs, but they have not said a firm date as to when that change will be happening.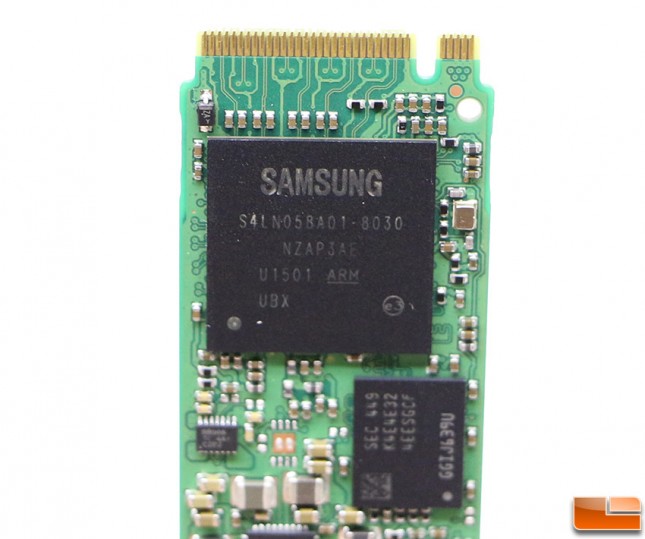 The Samsung UBX controller is ARM-based 3-core SoC that was labeled S4LN058A01-8030 on our test sample. The Samsung SM951-NVMe has adopted the L1.2 low-power standby mode (which allows all high-speed circuits to be turned off when a PC is on sleeping mode or in hibernation), as defined by PCI-SIG, the PCIe standards body. By embracing the L1.2 level of standby operation, the SM951s power consumption is drastically reduced to under 2mW, representing about a 97 percent decrease from the 50mW consumed using an L1 state, which is the most widely used low-power mode today. This is a big deal in mobile devices like ultra-slim notebook PCs where battery life is of utmost performance. Typical active power usage is 6.5 Watts and typical average idle is 50mW.
Now that we know the basics of the Samsung SM951 NVMe we can take a look at performance!