S3 DeltaChrome S8 AGP Video Card Review
By
The Drivers:
| | | |
| --- | --- | --- |
| Driver Information Tab | DirectX Configuration | Chromotion Settings |
Shown above are three important driver tabs. The first tab shows system, S3 driver, and DirectX information. So you can see that we are using the 33.4 driver. The next pic shows the tab that most of you are interested in: 3D configuration. Here we show that the max Anti-Aliasing and Anisotropic Filtering for this card is 2xAA and 16xAF. The last picture shows the S3 Chromotion settings. This is the DeltaChrome S8's trademark feature. Here you can overlay different filters over images and DVD playback.
As you can see, we have the 'Emboss' filter shown in the screenshot. The 'Neon Edges' filter is pretty sweet, too! We would have a screenshot or two to show you of this feature, but due to the fact that this feature is an overlay filter, any screenshots you take will not be saved with the filter still on the image. So in the end, you just see the original image in the screenshot or nothing at all. Nevertheless, it is still a neat feature to play around with, especially during DVD playback.
Our Test System:
Intel Pentium 4 2.4 "C" Processor @ default
ABIT IS7 "Springdale" Motherboard
Western Digital 40Gb 7200RPM ATA 100 Hard drive
Thermaltake Purepower 380W PSU
2 512mb modules of Kingston PC-3500 HyperX memory (2-6-3-2, 1T)
Video Cards Used:
S3 DeltaChrome S8 128mb (Driver: 15_06-33.4) (Speed:300/600)
Chaintech Apogee FX-71 nVidia 5600 Ultra 128mb (Driver: 53.03) (Speed:400/800)
HIS Excalibur 9600XT 128mb (Driver: 3.10 Cat's) (Speed:500/650)
The Benchmarks:
Our early DeltaChrome S8 sample came with beta drivers so please keep this in mind!
Epic Games; Unreal Tournament 2003:
Using the full installation of Unreal Tournament 2003 along with the newest patch gives us a very nice real world benchmark! We ran the map Asbestos on botmatch at 1024×768, which is a more realistic game play test utilizing bots. FRAPS was used to monitor how the cards handle each of the scenes.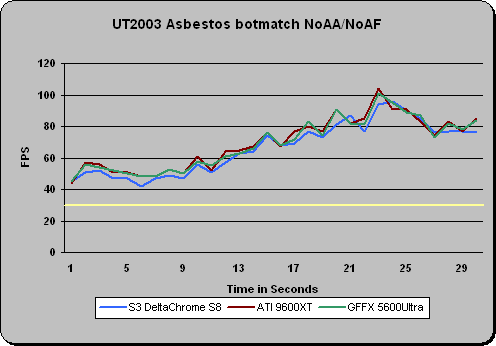 We then turned on 2x AA and 8x AF to see how the new S3 can handle some cleaner lines: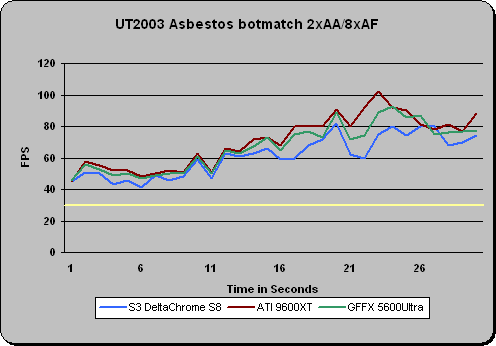 Microsoft; Halo: Combat Evolved: (DirectX9 title)
For our Halo testing we used the built in timedemo function of Halo while using FRAPS to monitor how the cards are handling the scenes.The built in Timedemo functionality takes four in-game cutscenes and times how long it takes to ender all the frames in the scenes.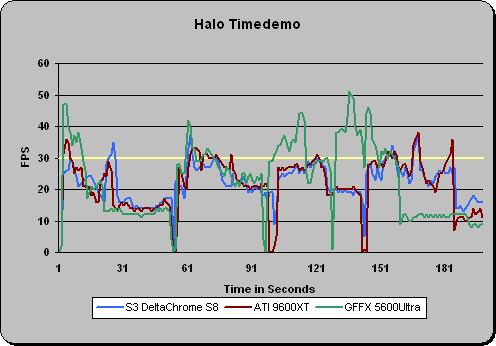 Results: As you can tell from our graphs, the DeltaChrome S8 is right on target with its competition. In UT2003, the DeltaChrome is consistently a few frames per second slower than the 9600XT and 5600Ultra. However in Halo, the DeltaChrome actually has a chance to peak ahead of the competition and show that it can handle one of the most graphic-intensive games on the market today.
As you probably can tell, this is not the end of our testing of this card. We have been working with S3 throughout our testing, and we feel it has become obvious that the drivers available for us now are not mature enough to show the DeltaChrome's true potential; especially with OpenGL performance. Plus the fact that ATI officially released 3.10 Cats two days before the product was to be released. With that said, we will be posting a follow up review that will feature our new video card test suite when mature drivers are available or the product is available for purchase.