S3 DeltaChrome S8 AGP Video Card Review
By
Introduction: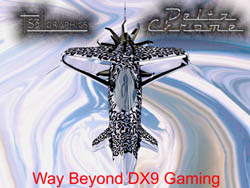 S3 Graphics is back and entering the graphics war again with there new card, DeltaChrome, which is currently aimed at the mid-range consumer graphics market. This is a card that I have been hearing about for almost a year and review samples were received just this past weekend! I have seen the card running at several stages of development so this has been exciting product for us to look at since we have been there from the idea to the creation! While attending Comdex 2003 I was able to play Max Payne 2 on the DeltaChrome card and the game was smooth and left me wondering how much more tweaking was left till the card was to be launched. Well, it seems that S3 Graphics is ready for the critics to either tear it apart or praise it, so here we go!
The DeltaChrome S8:
S3 Graphics will be producing two S8 cards, the S8 and the S8 Nitro, with the only difference between the two cards being clock speeds. S3 clocks the standard S8 at 300MHz on the core and its memory, while the S8 Nitro runs at 315/315MHz. The video card that we received was the DeltaChrome S8, which is a a six-layer board with core and memory set at 300MHz/600MHz. S3 went with TSMC to produce the DeltaChrome S8 chip and it has been built on the 0.13-micron fabrication process. How does the card specifications compare to the others?
| Specification | ATI Radeon 9600 XT | S3 DeltaChrome S8 | GeForceFX 5600 Ultra |
| --- | --- | --- | --- |
| Manufacturing process | 0.13 micron | 0.13 micron | 0.13 micron |
| Chip technology | 256-bit | 256-bit | 256-bit |
| Transistor count | 75 million | 60-80 million | 80 million |
| Core clock speed | 500MHz | 300MHz | 400MHz |
| Memory clock speed | 300MHz (DDR=600MHz) | 300MHz (DDR=600MHz) | 400MHz (DDR=800MHz) |
| Memory Bus width | 128-bit DDR | 128-bit DDR | 128-bit DDR |
| Memory bandwidth | 9.6GB/sec | 8.8GB/sec | 12.8GB/sec |
| Rendering Pixel pipelines | 4 | 8 | 4 |
| Texture units per pipeline | 1 | 1 | 1 |
| Textures per Texture unit | 16 | 8 | 16 |
| Pixel fill rate | 2.0Gpixels/sec | 2.2Gpixels/sec | 1.6Gpixels/sec |
| Vertex shader units | 2 | 2 | 1 Array |
| Colour bits per channel | 10 | 10 | 10 |
| AGP 4x/8X | Yes + DX9 | Yes + DX9 | Yes + DX9 |
| Max displays/Ramdacs | 2/2 | 2/2 | 2/2 |
As you can tell this card has some interesting features, as the 8 rendering pipelines! Although S3 will not announce the official numbe of transistors we have been told that there are between 60 and 80 million transistors present. This is amazing when you think that ATI's eight-pipe R300 core (9500Pro/9700Pro) has almost 110 million transistors for it's eight pipelines!
The Actual Card:
| | |
| --- | --- |
| Our Pre-Release Demo Card Front | Our Pre-Release Demo Card Rear |
Here is the card in all it's pre-production glory. Our S8 reference board was dated August 2003, so chances are the final boards will look much different than the board youre looking at today. Actually, we were told that the final revisions may come in some different colors so it will be interesting to see if the color code them to show which model they will represent. Our DeltaChrome come on a six-layer 8x4 BGA PCB with a layout that we had no concerns with.
| | |
| --- | --- |
| Heat is not a big issue! | The final A1 revision S8 core |
As you can tell by the rather small heatsink this graphics core does not look like it will be running extremly hot. This will make OEM's happy since cooler processors means quieter computers and less power consumption. Board temperatures were observed to be very good during game play and testing. Once the heat sink was removed we discovered the power plant behind the DeltaChrome S8 and also noted that it's the final A1 revision! By now this core should be well into production.
| | |
| --- | --- |
| Additional Power header | What's the Blue thingy? |
We found that our DeltaChrome S8 evaluation card came with an additional power header that uses a standard floppy drive power connector. This is something that has become standard on most main stream cards, so it is no suprise to see it on the DeltaChrome S8 evaluation board. We looked up the BGA form factor Samsung K4D263238E-GC2A memory used on the evaluation board and found it to be rated at 2.86ns or 350MHz (700Mbps/pin). Seeing how our test card is rated at 300MHz memory this leaves with with ample head room for future overclocking!
We aslo found the familiar Silicon Image Sil 164CT64 DVI transmitter has been used for the DVI connection while the output on the cards backplate can be used to hook the card up to an HDTV, or your regular television.