Razer Destructor Pro Mouse Pad Review
By
Razer Destructor Gaming Mouse Pad
Mouse pads are not exactly a common item reviewed here at Legit Reviews, but today we have the Razer Destructor, the premier mouse pad from Razer. Many people do not really care what they have their mouse sitting on be it just the table, a mouse pad they received free with a purchase or a Wal-Mart $3 replacement pad. However, for the intensive gamer, a standard cloth pad is just not enough and that is where Razer holds their customer base. Razer produces some of the finest gaming peripherals, from mice to headsets to keyboards, and of course, mouse pads. So what makes the destructor better than an ordinary cloth mouse pad? Let us find out.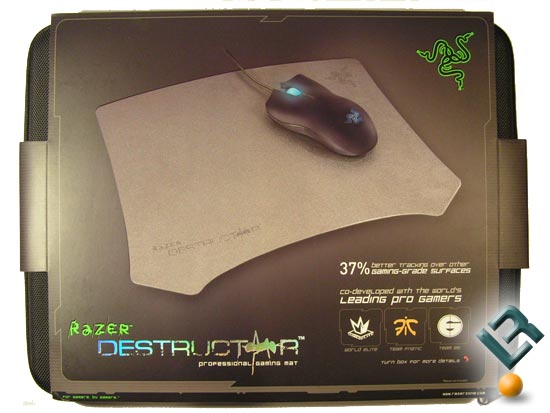 Here we see some endorsements from professional gamers along with a claim of 37% better tracking than their competitor and, of course, a picture of the mouse pad.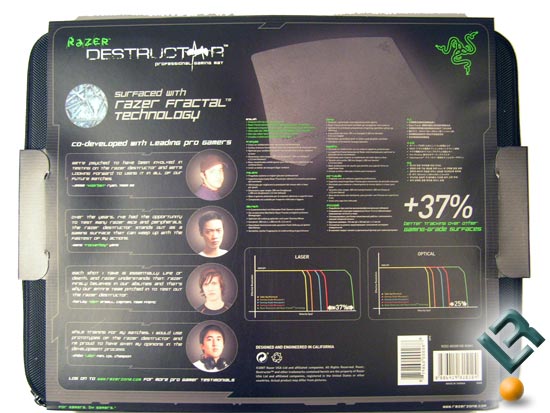 The back shows some testimonials from the professional gamers along with their pictures, and it provides graphs for comparisons of other mouse pads for velocity in IPS (inches per second) for optical and laser mice at up to 2000 DPI. It also lists features in very small print in eleven different languages, with English highlighted with green font.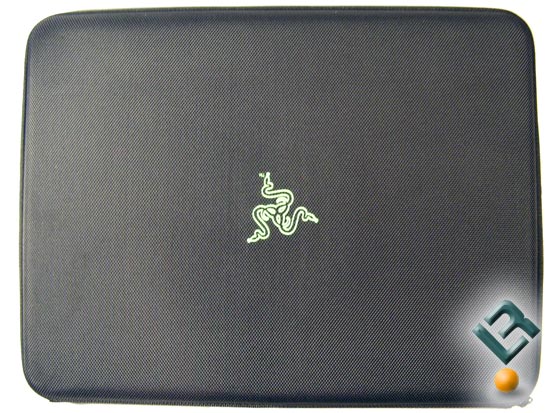 Here is the quite luxurious, lightweight, reinforced case for the Destructor, with a bright lime green logo right in the center which is quite appealing. This case is much harder than cases that come with most other pads; this case was designed with LAN parties in mind and is a key point if a buyer can't decide between the Destructor and another nearly identical pad for similar price.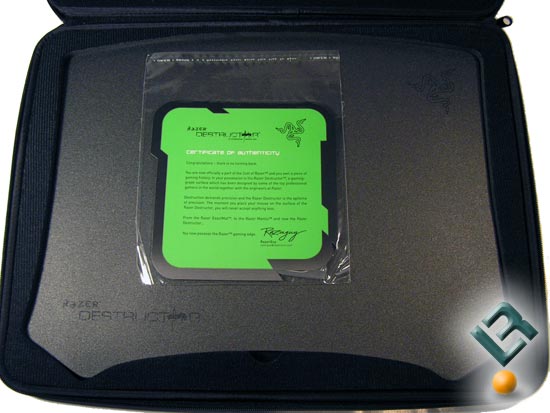 When we open up the case (which is easy to open, due to a high quality zipper and no loose threads to jam it up), we see a bag with the certificate of authenticity, and a booklet of other gamers' essentials from Razer, including keyboards, headsets, and mice among other things. Under the bag is the mouse pad, in its perfectly shaped recessed slot in the case.
Now let's take a closer look at the mouse pad.