Qualcomm Snapdragon 865 Mobile Platform Details
By
** Qualcomm sponsored the travel and accommodations for Legit Reviews to attend Snapdragon Technology Summit. **
Yesterday at the 2019 Qualcomm Tech Summit the Snapdragon 865 mobile platform was announced for the premium tier market. We have been told how this platform is loaded with 5G and AI capabilities that were designed to make next generation capabilities possible, but weren't told all the details on Day 1. On Day 2 of the tech summit we were able to get more of a deep dive with specifics on the inner workings of the Snapdragon 865.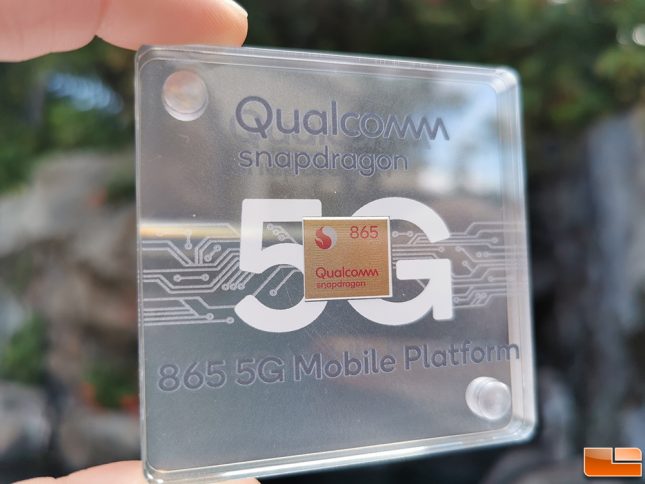 Qualcomm is bringing to market new and improved architectures across the board Snapdragon 865. Qualcomm tapped TSMC to make the Snapdragon 865 on the 7nm node. The block diagram for this platform shows the it is powered by the Hexagon 698 processor and Adreno 650 GPU. One of the things not integrated into this platform is 5G. This was a design decision made by Qualcomm three years ago that allowed them to pack more features onto the chip by moving the modem off. Some of the features that got 'extraordinary' enhancements this time around would be the camera, AI and gaming. When you do look at the new 5G solution, Qualcomm Snapdragon X55 5G Modem-RF System, you'll see that it is capable of delivering peak speeds of up to 7.5 Gbps, surpassing most wired connections. That is also at least two to three times faster than most integrated solution. This system supports both 5G mmWave and sub-6 GHz, standalone (SA) and non-standalone (NSA) modes as well as Dynamic Spectrum Sharing (DSS.)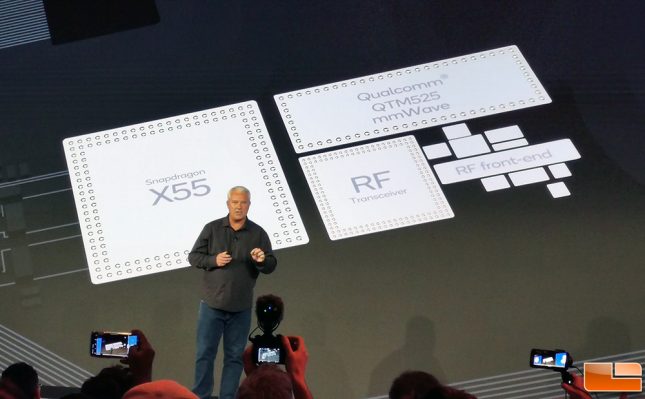 Speed is just one piece of it right we have a complete solution. There are many pieces that make up a truly global IP solution. And the complexity you see here is just the heart of it. Qualcomm says that they deliver the complete 5G solution and that there are many pieces that make up a truly global IP solution. Anywhere from 20 to 40 pieces make up Snapdragon X55 5G Modem-RF System as you have a transceivers, modules to make up mmWave, and you have an RF front end system as well.
In addition to 5G connectivity, the Snapdragon 865 supports Wi-Fi 6 and Bluetooth audio thanks to the new Qualcomm FastConnect 6800 mobile connectivity subsystem. FastConnect 6800 is also among the first to be designated Wi-Fi CERTIFIED 6 by the Wi-Fi Alliance and supports speed approaching 1.8 Gbps with improved latencies. You also now have 8-stream sounding (for 8×8 MU-MIMO) as well as Bluetooth 5.1, aptX Voice aptX Adaptive and TrueWireless. Snapdragon 865 the first mobile platform to wirelessly support Super Wide Band (SWB) voice over Bluetooth for better audio.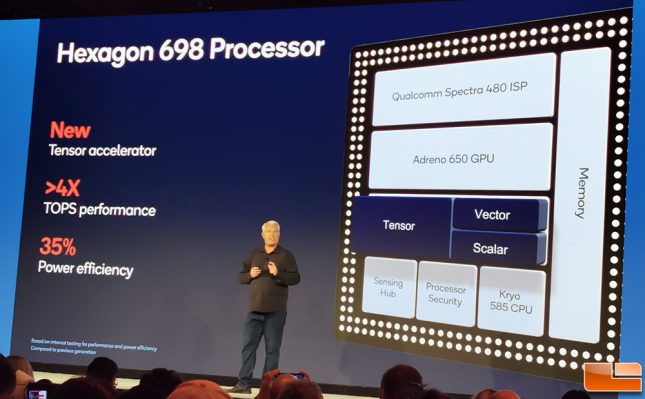 The three big area of improvement that Qualcomm really highlighted today was AI, camera, and gaming. Artificial Intelligence (AI) has become a buzz word in recent years, but Qualcomm has been creating AI engines for years with the first being in Snapdragon 820. This year we are seeing the introduction of Qualcomm's 5th Gen AI engine and it promises a huge leap forward for AI performance.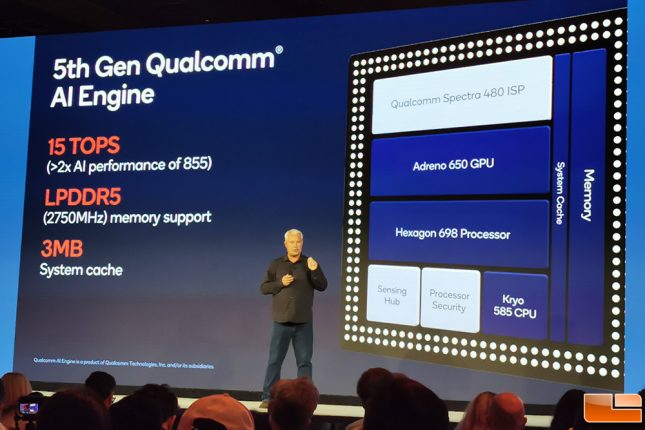 When you look at the TOPS performance, that's trillions of operations per second, Qualcomm has doubled the performance of the Snapdragon 855 platform from last year. This boost is from the new Adreno GPU, Hexagon GPU and moving over to LPDDR5 (2750MHz) memory. Moving to LPDDR5 memory improves performance of the everything, but it gave a huge bump to the AI performance.The hexagon processor also got a new and larger tensor accelerator. The new tensor accelerator is massive and delivers over 4x more performance than the previous tensor accelerator in Snapdragon 855 with that is 35% better power efficiency.
The next piece of the AI engine is the Adreno 650. Adreno 650 will bring 20% faster graphics rendering than last years Snapdragon 855 Adreno 640 GPU. It also happens to be 35% more power efficient and that is important as gamers game for a long time. Sustained gaming performance with the Snapdragon 865 is said to be better and that is important as most gamers play for lengths longer than the common benchmarks.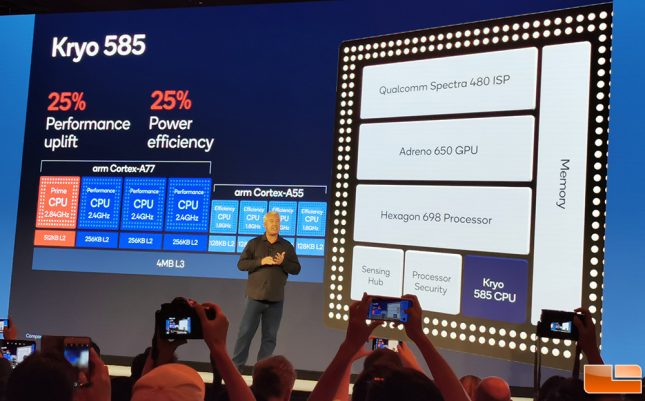 Next up we have the Kryo 585 Octa-core CPU. It is based on the ARM Cortex-A77 architecture on the big cores and primary core clocks up to 2.84 GHz. There are three performance CPUs that clock up to 2.4GHz and then four ARM Cortex-A55 efficiency CPU cores that are capable of running at up to 1.8 GHz. Combined, along with the 4MB of L3 cache, Qualcomm was able to get a 25% performance uplift and a 25% efficiency improvement.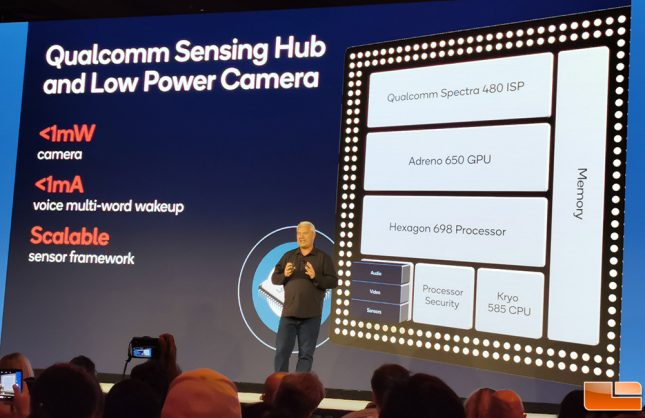 The other piece of new hardware that was introduced at the Tech Summit was the Qualcomm Sensing Hub. What makes this sensing hub special is that in the past it was limited to camera sensors, but it now includes voice audio. It uses less than 1mW power and will help drive new use cases as it is basically always on.
Some of the new use cases for the Qualcomm Sensing hub discussed at the Tech Summit includes a driving infection for driving safety they're seeing detection for example if you're in the office or in a movie theater, your phone will be able to detect that and do some additional things with that knowledge. The sensing hub supports Google Now, as well as Amazon Alexa among others.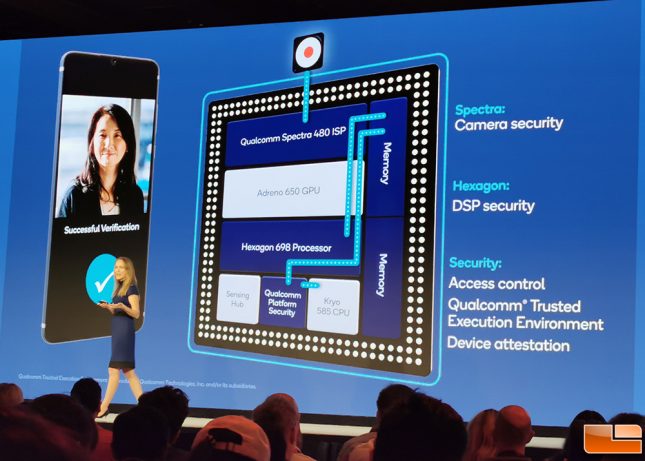 Snapdragon 865 has had a significant is going to have a significant camera updated. Qualcomm wanted to introduce something that makes all of of the features introduced on the Snapdragon 855 faster and better. That seems like a tough task as the Snapdragon 855 camera ISP was the first capable of 4K HDR video capture with portrait mode, first for HDR 10+ capture format, as well as it was the first Snapdragon with HEIF.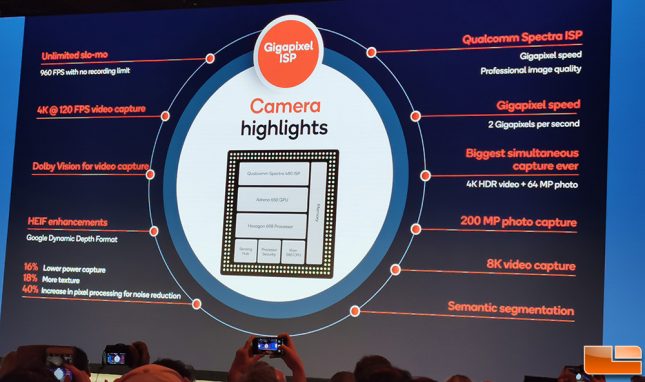 So, Qualcomm placed Spectra 480 ISP inside of Snapdragon 865 and it is their fastest camera core yet. It runs at 2 Gigapixels per second and that speed is how Qualcomm is going to help deliver all of the new amazing camera features. Previous versions of Spectra could process one pixel per clock cycle. On Snapdragon 865, Qualcomm has re-architected Spectrum to deliver four pixels per clock cycle. Now that Qualcomm is able to get four times the work done per cycle they ended up with all these extra clock cycles that weren't needed. So, they actually slowed down the clock cycle on Spectra to get power savings when you use your camera. The other benefit of doing this is that smartphones will also run cooler!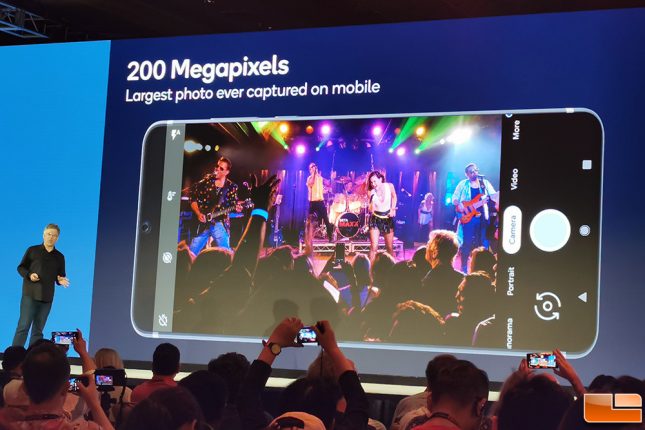 So, at the end of the day these improvements have allowed for ability to capture 4K HDR video and 64 megapixel images at the exact same time. Nobody else is doing that and this is a first on mobile. Snapdragon 865 is capable of supporting 200 megapixel pictures, which is the largest photo ever captured on a mobile device. This isn't a theoretical number, either. Qualcomm says that they are working with a major image sensor provider to deliver devices later this year that have 200 megapixel image sensors.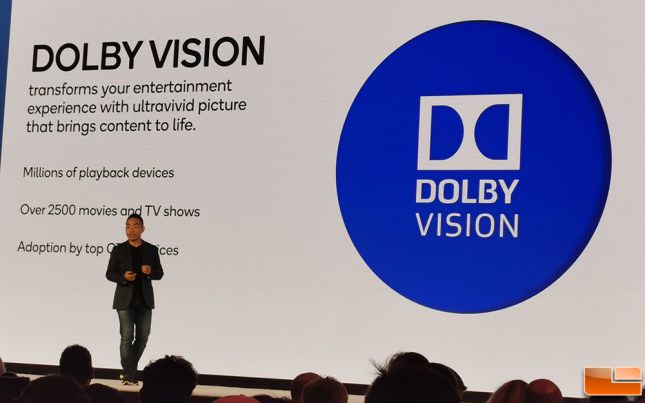 Snapdragon 865 is going to be the world's first camera to capture in Dolby Vision. There's no camera yet that can just sure capture Dolby Vision video in real time. When you watch a movie in Dolby Vision say on Netflix, that footage was captured with a camera, and later taken into a lab with color scientists from Dolby, and they convert the footage into Dolby Vision. Snapdragon 865 is going to create, Dolby Vision 4K on the fly, and is supposed to look gorgeous.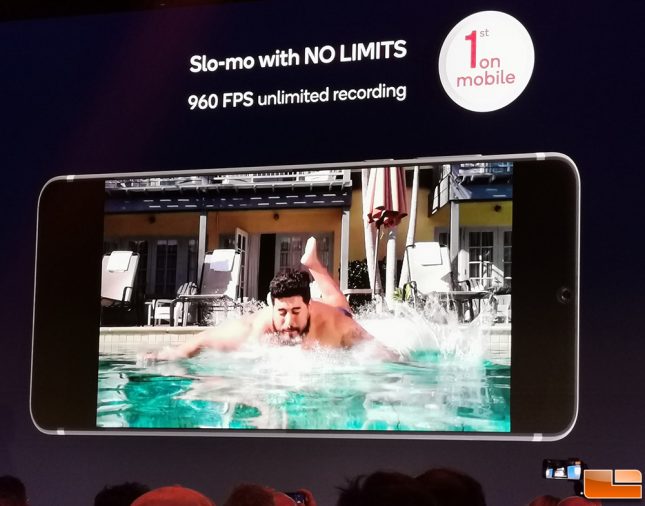 Qualcomm is also improving the speed as Snapdragon 865 is going to be capture 4K at 120 frames per second (FPS). This is going to be big for two reasons. The first is, when you capture and it's going to make slow motion was so much sharper so this is like 4x slow motion at 4K resolution. Slow motion has been taken to new extremes here and Snapdragon 865 is the first to offer 960 FPS recording with no recording limit. This means you'll never have to worry about missing that moment as this is a usable 960 FPS capture.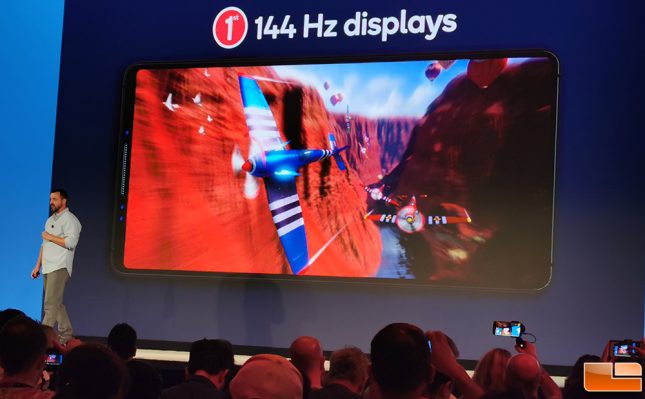 Many features that you're familiar with on gaming desktops is making its way into the mobile market. Last year we saw Qualcomm announce 60Hz displays, but with Snapdragon 865 they have been able to utilize 144 Hz displays!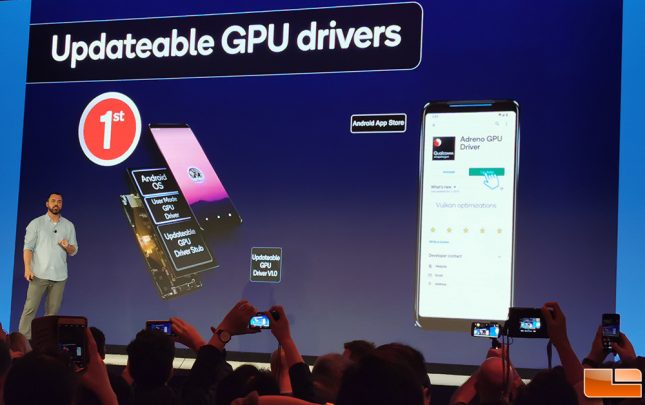 Qualcom also proudly announced something that's never been done on Android before. Qualcomm works closely with Google and has been able to deliver updatable GPU drivers on Android. The GPU driver has traditionally been tied into operating system updates, but it has been decoupled. That means you'll be able to update the GPU driver, just like you can, an app from the Google Play Store. This is going to allow Qualcomm to provide updates to the GPU for its lifespan. Qualcomm believes they will be able to improve gaming performance and add even new features with updateable GPU drivers.
This is all great sounding news for the Snapdragon 865 and sums up the bulk of what was talked about at the Day 2 keynote.
Qualcomm sponsored the travel and accommodations for Legit Reviews to attend Snapdragon Technology Summit.